Rio Olympic Infrastructure Left in Economic Chaos, Was It Worth the Gamble?
Posted on: May 26, 2017, 06:00h.
Last updated on: May 26, 2017, 07:04h.
The Olympics no longer have the upper hand in determining where its summer and winter games will be contested. That's because the international sporting competitions have left a path of destruction, both in a financial and infrastructural sense, in recent decades.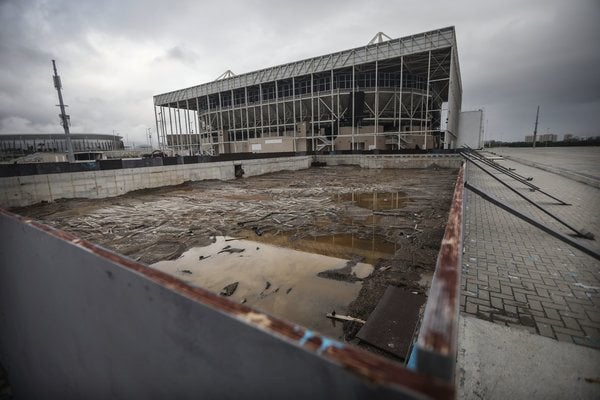 Cities are finally wising up that the gamble on hosting the Olympics far outweighs the potential reward. The chances of a country striking it rich from hosting the quadrennial summer or winter spectacle are about as likely as a casino gambler hitting that progressive slots jackpot.
Case in point: Rio de Janeiro. Brazil's 2016 Olympics price tag was over $12 billion, and what it got in return for its sizable investment is a cluster of abandoned stadiums and venues that are expected to cost the country millions of dollars in maintenance each year.
Two of the stadiums constructed for the 2016 games were earmarked for future use. One was to be renovated into a school, but today remains boarded up. Another, an outside stadium that hosted rugby and the modern pentathlon, was scheduled to be transformed into a public park. It also remains vacant, and trash and debris from the Olympics is still littered throughout the venue.
Good for Gambling, Bad for City
One area that does benefit from hosting an Olympics is the gambling industry. When London welcomed the 2012 Summer Games, UK sportsbooks took in over $100 million in bets. Four years earlier in Beijing, the same oddsmakers generated a handle that barely eclipsed $5 million.
Brazil tried to pass gaming laws prior to its Olympics hosting, but failed. Legalization talks continue today in an effort to find new forms of tax revenue. Las Vegas Sands billionaire Sheldon Adelson is once such mogul who is reportedly interested in building in Rio should the market become liberalized.
Japan won't be making the same mistakes as Brazil. Its National Diet passed an integrated resorts bill to end commercial gambling prohibition in December, and the expected two casinos could be ready in time for the 2020 Summer Games in Tokyo.
Few Suitors Remain
While the 2016 Olympics avoided complete catastrophe, it was certainly a scandal-riddled two weeks in South America. Inadequately built venues and athlete housing, sanitary issues, concerns over crime, the Zika virus, and more plagued the games.
The International Olympic Committee can cross South America off its list, leaving Africa as the only inhabitable continent not to host an Olympics. But it will likely stay that way for decades to come due to the ever-growing cost surrounding the Games.
Los Angeles and Paris are the two finalists for the 2024 Summer Olympics after Budapest, Rome, and Hamburg all withdrew their bids.
Bottom Line
Oxford University recently compiled data on what it takes to host the Olympics. With costs adjusted for inflation, from 1960 through Sochi in 2014, the average price was $5.2 billion for the Summer Games, and $2 billion for the Winter Games.
Top 5 Offenders
Sochi (2014, Winter) $21.9 billion
London (2012, Summer) $15 billion
Rio (2016, Summer) $12 billion
Barcelona (1992, Summer) $10 billion
Beijing (2008, Summer) $7 billion