Allegations Levied Against Mike Pence: Casino Industry Donated to Campaign Despite State Gaming Ban
Posted on: October 4, 2016, 06:45h.
Last updated on: October 4, 2016, 06:50h.
Donald Trump's running mate Mike Pence has been accused of benefitting from campaign donations from casino companies, despite an Indiana law prohibiting gaming industry donations to state officials.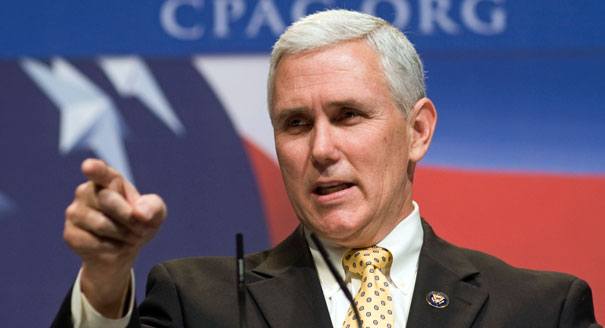 A report in the International Businesses Times also notes that Republican vice-presidential candidate Pence has furthered casino company interests within the state, contrary to his declared socially conservative principles. Pence, who was elected the state's governor in 2013, claims never to have even bought a lottery ticket and has always declared his opposition to gambling expansion in Indiana.
But IBT claims that groups supporting Pence have received over $2 million from Indiana's gaming sector since he announced his intention to run for governor. Almost $500,000 of this figure came from lobbying firms linked to casino companies and was deposited straight into his campaign account, according to documents seen by the online news publication.
Legal Loophole
According to IBT, Pence was also a leader and fundraiser for the Republican Governors Association, which the site claims freely accepted money from Indiana gaming operators. The RGA donated $1.1 million to Pence's gubernatorial campaign at a time when Caesars Entertainment and Centaur Gaming, the Indianapolis company that owns both Indiana's racinos, were among the organization's biggest benefactors.
Meanwhile, during his tenure as governor, Pence has signed into law tax legislation benefiting the casino industry, as well as a bill that permitted riverboat casinos to move to dry land.
Election regulators told IBT that a loophole in the law permits third-party organizations and lobbyists to make donations on behalf of the casino industry. But former state Senator Larry Borst, the architect of the statute that banned donations from the industry, is dismayed that his legislation is being abused. It was, he said, the first he had heard about it.
"That was supposed to be prohibited," Borst told IBT. "I absolutely intended that those kinds of donations were prohibited. I thought I had included everybody."
Proud to Support RGA
Pence's 2016 campaign spokesperson, Marc Lotter, said the gambling industry has "a long history, dating back a decade, of supporting the Republican Governors Association because they want to see the type of strong, pro-growth leadership that has led to Indiana becoming one of the best states in the nation for business continue and expand to other states.
"Governor Pence is proud to support and have received support from the RGA," he insisted. "Since taking office, Governor Pence has held the position that gaming should not be expanded in Indiana and every executive action he has taken on legislation has been consistent with that principle."
Indiana is the fifth-largest gaming state in the US, with 13 casinos and racetracks, and the industry is worth about $2 billion per year.
Most Read