MGM Breaks Ground In Massachusetts As Casino Border War Breaks Out
Posted on: March 27, 2015, 04:51h.
Last updated on: March 27, 2015, 04:51h.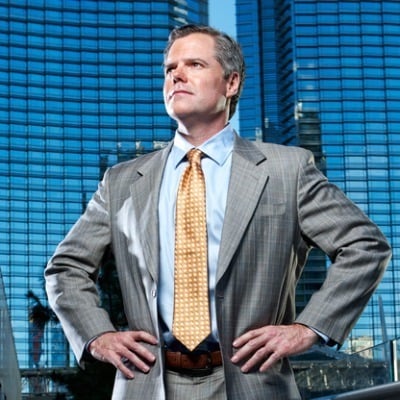 MGM Resorts International broke ground on its $800 million West Massachusetts casino project this week, and MGM CEO Jim Murren couldn't resist the opportunity to take a dig at one of his competitors in the process.
Addressing assembled press and local casino supporters at the Springfield site, Murren lampooned Mohegan Sun's proposal to build a casino along Interstate 91, on the Connecticut border, in an attempt to drive foot traffic away from the Springfield project. The proposal, he said, was no more than a "box of slots."
"I'm a little bit bemused, I have to say," Murren said. "Connecticut has had a duopoly for decades and instead of attempting to improve the quality of entertainment on the existing resorts, there seems to be a desire to sprinkle slots around the state.
That's not entertainment, I can tell you that," Murren told reporters. "It might raise some revenue, but it doesn't create many jobs."
"I think the people of Massachusetts, at least, would vastly prefer to go to a brand-new, luxury resort than a box of slots on the Connecticut border."
Where Eagles Dare
Mohegan Sun, which owns Foxwoods and Mohegan Sun in Connecticut, recently lost a costly battle for the East Massachusetts casino license to Wynn Resorts, and is now facing a future threat to its highly-leveraged Connecticut properties from the Springfield project.
Moodys Investment Analysts recently warned investors that the tribal gaming company could face "financial peril" after losing the East Massachusetts casino license. Both Connecticut casino resorts were hit hard by the global economic downturn of 2008 and are each over $1 billion in debt.
"The competition is on. The competition has begun," declared Chairman of the Mohegan Tribal Council Kevin "Red Eagle" Brown recently. "We need to do something in the face of the development of Massachusetts gaming. To do otherwise would be short-sighted on our part.
"[The Massachusetts casino developers] certainly have not been shy about saying they are not ones to lose any more revenue from Massachusetts gamers going to Connecticut," he added.
Border Wars
The Mohegan and Mashantucket Pequot tribes, which operate Mohegan Sun and Foxwoods Resort Casino, are fighting back and are currently lobbying Connecticut lawmakers for permission to build up to three new casinos, with the Interstate-91 proposal a top priority.
Meanwhile, across the border, the MGM Springfield project is being hailed by city and business leaders as a vital economic boost for an ailing former industrial city. It's expected to create 3,000 permanent jobs once completed, 2,000 temporary construction jobs while it's being built. MGM will pay $17.6 million annually to its host city.
The ground-breaking ceremony this week, however, was very much symbolic; before construction can really start MGM needs approval from the state historic commission to demolish a number of historic building at the site. MGM Springfield President Michael Mathis said the company is confident of resolving these issues in the next few weeks