Maryland Live! Casino Poised for Expansion as Cordish Continues Investment Spree
Posted on: February 10, 2023, 12:02h.
Last updated on: February 10, 2023, 12:35h.
Maryland Live! Casino & Hotel is The Cordish Companies' flagship resort, the property that laid the foundation for the company to eventually become one of the country's largest gaming and hospitality firms.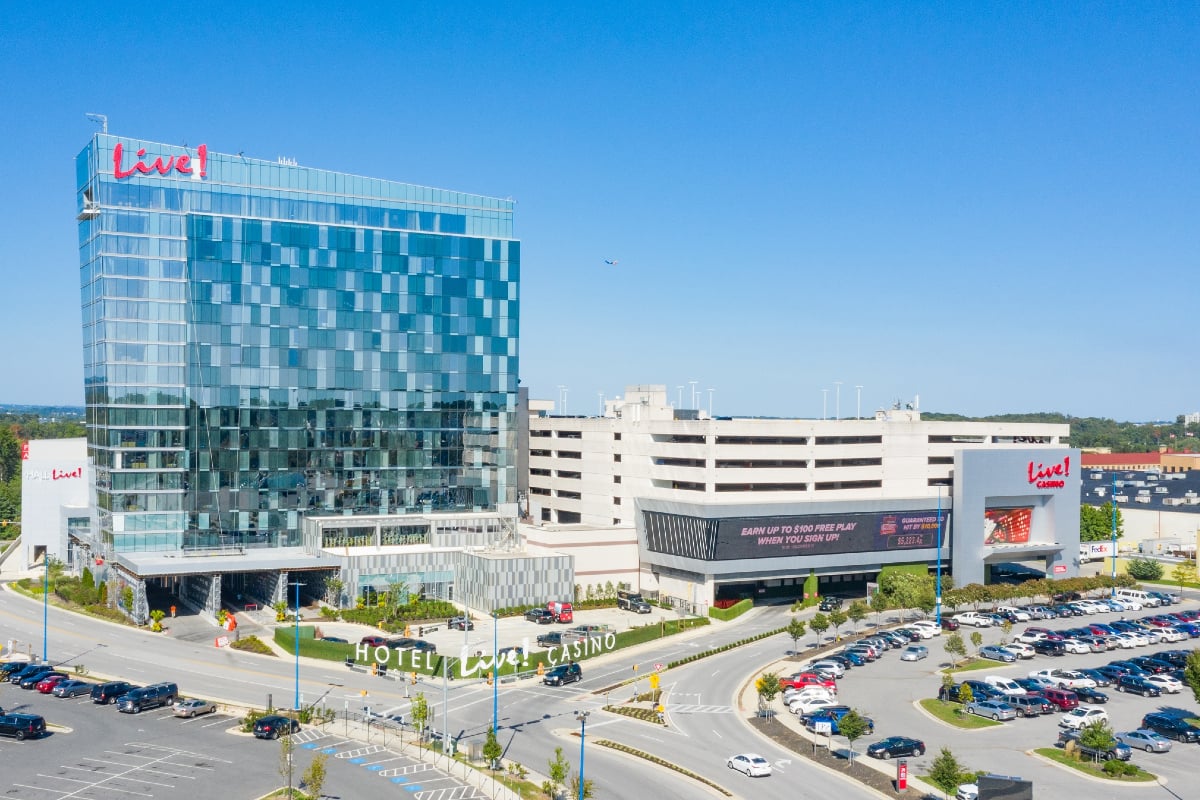 Maryland Live! was the first Live!-branded casino to open in 2012. Cordish has since opened two more Live! casinos in neighboring Pennsylvania — Live! Casino & Hotel Philadelphia in 2021, and Live! Casino Pittsburgh a year earlier.
Cordish is currently amid an investment binge, as the company is seeking authorization to build a $1.4 billion integrated casino resort in Petersburg, Va., and continues to pursue a second mini-casino in Pennsylvania.
As for its mixed-use division, Cordish is partnered with Caesars Entertainment to build a residential community and shopping district adjacent to Caesars' Harrah's Pompano Beach racino in Florida. Cordish is also progressing with a $70 million housing project in Arlington, Texas.
The spending comes after Cordish, in late 2021, agreed to sell the property assets of its casinos in Maryland and Pennsylvania to Gaming and Leisure Properties, Inc. (GLPI). The real estate investment trust controlled by Penn Entertainment paid Cordish $1.81 billion for the three properties. Cordish continues to operate the casinos and retain profits through a lease-back arrangement with GLPI.
Flush with cash, Cordish is mulling its next steps. And the odds are good that Maryland Live! will receive a significant expansion and/or renovation budget.
Early Planning Stages
David Cordish, the family patriarch, recently sat down with the Baltimore Business Journal for a wide-ranging interview on the future of his organization. He revealed that it's likely that the company will add another development to the Hanover casino in the coming years.
We have three major divisions at the company and all are growing at a very rapid pace. They are exploding," Cordish told the BBB. "We have four other casinos in the works in four states that we are not currently operating out of."
While Virginia is one of those four states, Cordish didn't reveal the three other states that the company is targeting. Texas could be another, though commercial gaming there remains illegal despite recent legislative efforts.
Cordish said the company is also "constantly adding to our existing casinos."
Live! Casino Maryland won $493.8 million on its slot machines last year. Table games added $211.5 million for combined retail gross gaming revenue of approximately $705.3 million. That ranked second in the state, behind only MGM National Harbor at $884.5 million.
MGM Competition
Before MGM Resorts opened National Harbor in December 2016, Maryland Live! was the top casino in the state. MGM, in its early years, led to reduced GGR at Live! But the Hanover property has since rebounded and expanded its revenues, although its market share has stagnated.
In 2017, Maryland Live! GGR totaled $545 million — down more than $108 million from the $653.1 million the casino won in 2016. MGM won $608.6 million in 2017.
Statewide GGR in 2017 totaled about $1.6 billion, meaning MGM's market share was around 38% and Live! controlled about 34%.
Last year, Maryland casino revenue from the six properties totaled $2.05 billion. MGM's $884.5 million represented a 43% market share, and Live!'s $705.3 million accounted for a 34% market share.