112,000-Square-Foot Marijuana Dispensary Complex Near Strip Seeks to 'Out-Vegas Vegas'
Posted on: July 22, 2018, 12:00h.
Last updated on: July 20, 2018, 01:37h.
Planet 13 — one of the world's largest marijuana dispensaries — is scheduled to open come November 1 near the Las Vegas Strip. But the $7.5 million complex's developers are positioning the outlet as more than simply a cannabis hotspot.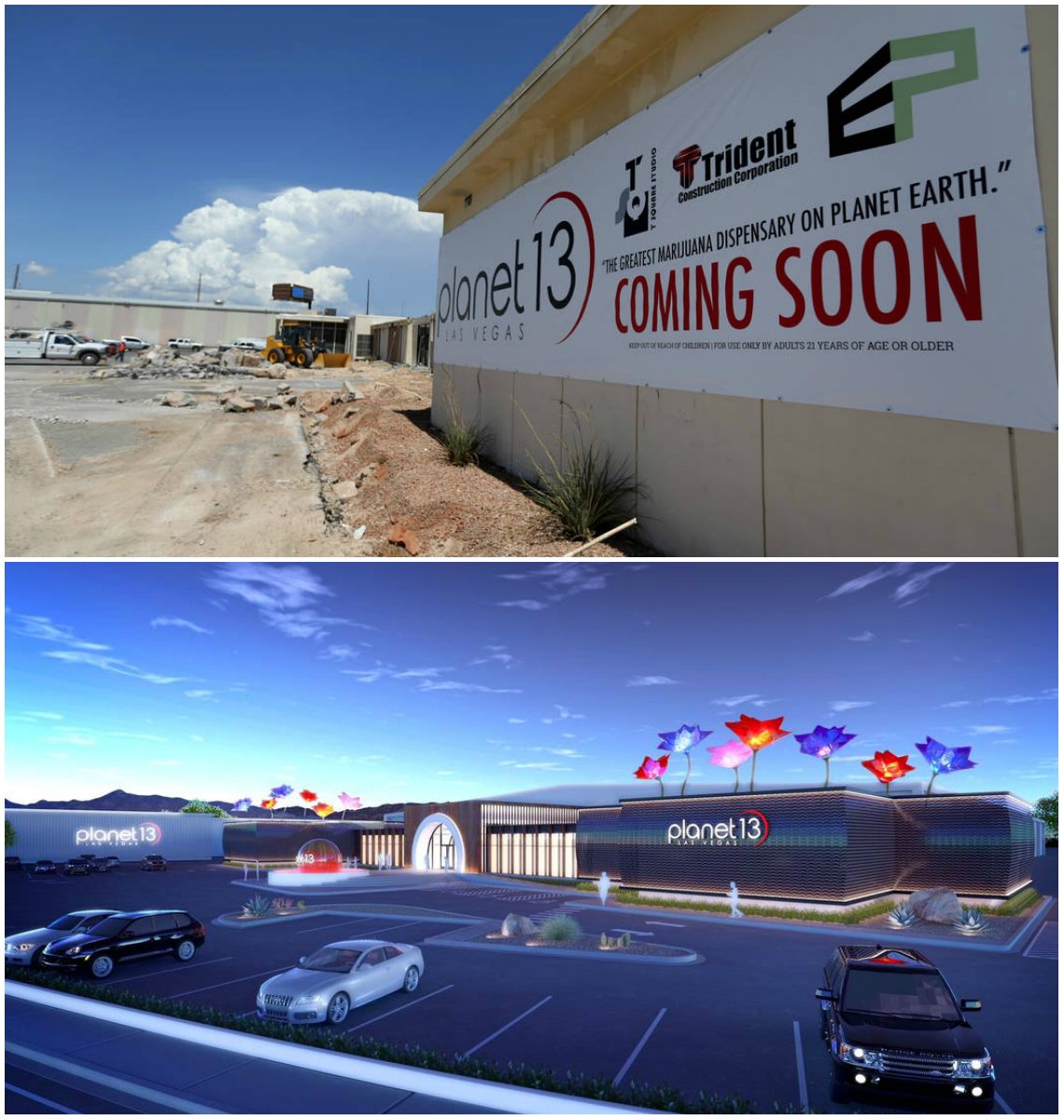 Envisioned by former Henderson Mayor Bob Groesbeck and City Councilman Larry Scheffler, the marijuana superstore will also have a brewery, coffee shop, and food offerings.
Located near the non-gaming Trump International hotel at the intersection of Desert Inn and Sammy Davis Jr. Drive, Planet 13 will be about as close to the Strip a marijuana dispensary can get due to local zoning ordinances.
Once complete, the 112,00-square-foot complex will feature 45 checkout registers, sensory-activated floors that illuminate as customers walk on them, aerial orbs that float throughout the building, and "laser graffiti." The goal, Groesbeck says, is to create a destination store, and in the process, to  "out-Vegas Vegas."
The first phase opening in November totals 40,000-square-feet and will offer marijuana to those aged 21 and older. Nevada law permits the possession of up to one ounce, or up to 1/8 of an ounce of concentrated marijuana.
Planet 13's current dispensary is located at Sunset Road and Decatur Boulevard west of I-15.
The Nevada Gaming Control Act mandates that casinos comply with all federal, state, and local laws. Since the US government maintains its classification that marijuana is a Schedule 1 narcotic, casinos cannot associate or invest in the industry.
Confined Consumption
Recreational marijuana has been sold in Nevada for just over a year now, but its consumption remains confined — legally, anyway — to private property. That means visitors to Las Vegas aren't supposed to be consuming or smoking pot in their hotel rooms.
It also means that customers at Groesbeck and Scheffler's Planet 13 won't be permitted to use marijuana as they experience the floor lights, floating balls, and innovative wall graffiti.
That could shift if Clark County Commissioner Steve Sisolak — who is running against Republican nominee Adam Laxalt — is elected governor of Nevada this fall. The Democratic gubernatorial candidate said this week while touring the Planet 13 construction site that he wants to give dispensaries the right to allow patrons to consume the products they just purchased on site.
He also supports authorizing pot-smoking lounges throughout Las Vegas.
Las Vegas city officials wrangled with the idea of marijuana lounges last year, but opted not to vote on the issue. Denver became the first city in the country to legalize marijuana lounges in 2016. It remains the only US city where some sort of public cannabis consumption is permitted. For now, at least.
Legal or not, enforcement of the "no public pot smoking" laws have been lax at best on the Las Vegas Strip and downtown. Tourists have reported the stench as overwhelming in both areas, indicating that the heavy Metro presence isn't putting any muscle into arresting anyone.
Non-Gaming is the New Gaming
Las Vegas was once by far the highest gaming revenue center in the world, but was surpassed by China's Macau few years back. But the city has excelled like no other in introducing non-gaming revenue sources, from pricey nightclubs to massive entertainment venues, and pot lounges could be just another option for visitors who want to get their rush the old-fashioned way.
And then there's the millenial issue: the generation coming of age in the first decades of the 21st century has shown little affinity for gambling in the way their parents and grandparents did. Casinos have struggled to find a solution, but efforts to offer skill-based gaming and esports have met with less than rousing success.
The Pew Research Center says those born between 1981 and 1997 support the legalization of marijuana more than any other generation. The polling agency found that 70 percent of millennials say marijuana should be made legal, while 66 percent of Gen X (born 1965-80) and 56 percent of Boomers (1946-64) expressed support.
While casinos must stay away from marijuana for now — due to the federal laws against its usage — cannabis social lounges would give Las Vegas yet another weapon in its arsenal to attract what has become America's largest generation.