Manchester City Wins Record-Breaking EPL, No Final-Day Twist for Liverpool
Posted on: May 13, 2019, 05:06h.
Last updated on: May 13, 2019, 05:06h.
Manchester City was crowned English Premier League Champion on Sunday with a 4-1 defeat of Brighton, becoming the first team to win the title back-to-back since arch rival Manchester Utd pulled off that feat exactly ten years ago.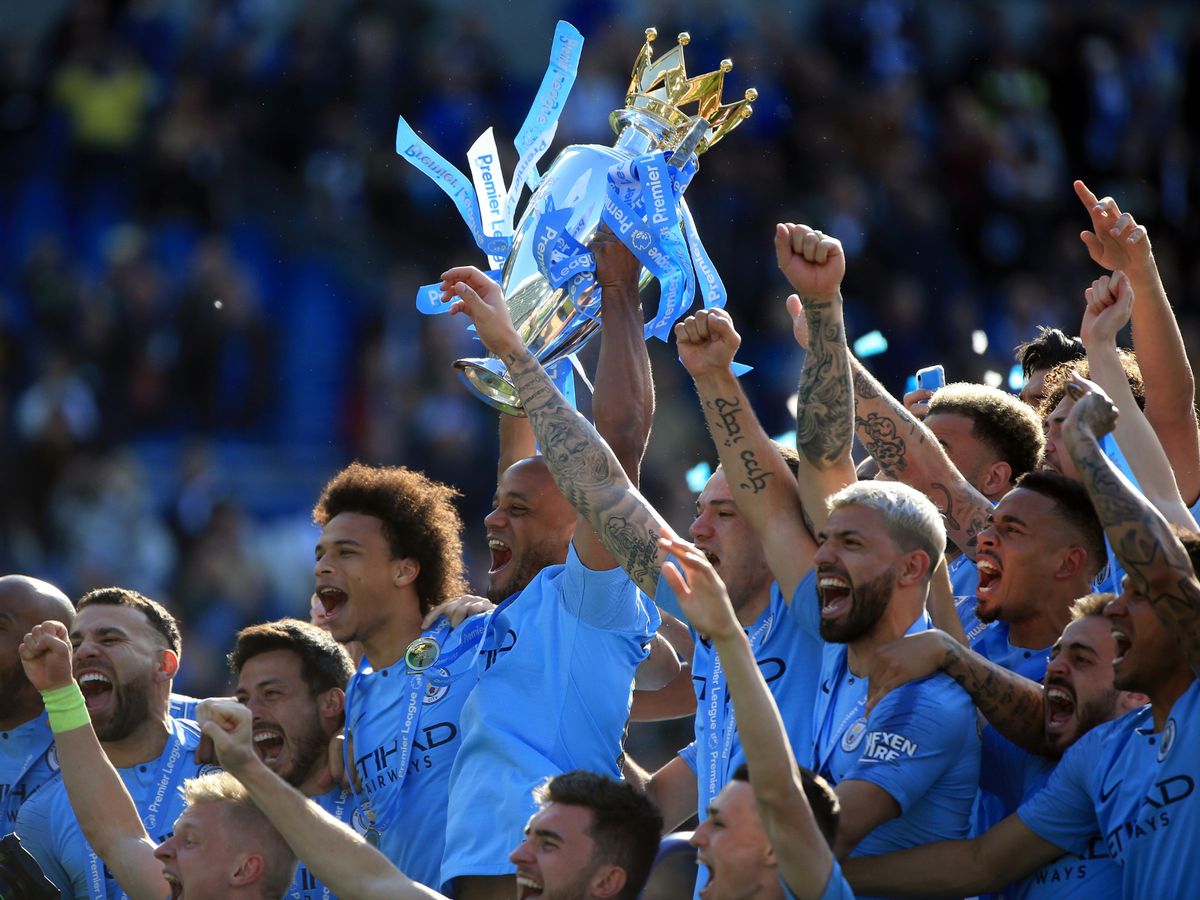 While the celebrations in the sky-blue half of Manchester raged into Sunday night, you had to feel sorry for Liverpool. A second-place finish in the most fiercely contested EPL season in history is still only second place.
Liverpool's total haul of points, 97, has only been topped twice in the league's history — once was by Manchester City last year. Unfortunately for the Reds, the other was by City this year.
It's a testament to the supreme level of elite competition the EPL has attained this year that a team can go an entire season losing only once and still not win the title. It's little wonder that both finals of Europe's two major club competitions will be contested purely by EPL teams for the first time ever.
Fine Margins
Liverpool's only loss this season came at the hands of City – a 2-1 defeat at the Etihad Stadium that illustrates the incredibly fine margins between victory and defeat.
The Reds began that game leading the EPL by seven clear points. With 18 minutes played, a shot from Liverpool's Sadio Mane hit the post, bounced back into City goalkeeper Ederson and hurtled towards the goal line before John Stones hooked the ball away.
It looked like it had crossed the line, but not according to goal-line technology. In fact, it was 11.7 millimeters away from doing so, which the BBC has pointed out is the width of nine grains of sand.
With both the top two close to invincible against any team but each other, those 11.7 millimeters may have decided the title four months later.
By March 2, City had clawed its way back in contention and to the top of Premier League and was leading by point. Extraordinarily, with nine games to play, neither team relinquished any more points for the entire season. City had to go on a 14-game winning streak to win by a hair's breadth — or at least the breadth of nine grains of sand.
Two-Horse Race
Liverpool still had hope going into the final game on Sunday, but its destiny was not in its own hands. The Reds kept their part of the bargain, beating Wolves 2-0, and for 21 minutes on the final day of the season they were top of the league when City conceded first at Brighton.
But City soon grabbed the game by the scruff of the neck, dashing Liverpool's hopes, and wrapping up an EPL season that has offered fans the highest quality of soccer in its 27-year history.
But Liverpool still has the Champions League final and will be back next season to try to push City even harder. Meanwhile, the bookies have wasted little time in installing the reigning champions as 4/6 favorites (-150), with Liverpool close behind at 11/4 (+275).
Similar Guides On This Topic
Latest Casino Stocks:
Retrieving stocks data...
Retrieving stocks data...
Retrieving stocks data...
Retrieving stocks data...
Retrieving stocks data...