Major League Baseball to Take Another Swing at Sports Betting
Posted on: February 9, 2017, 03:00h.
Last updated on: February 9, 2017, 02:03h.
Major League Baseball (MLB) is planning to review its stance on sports betting, as Commissioner Rob Manfred continues his conversation on gambling.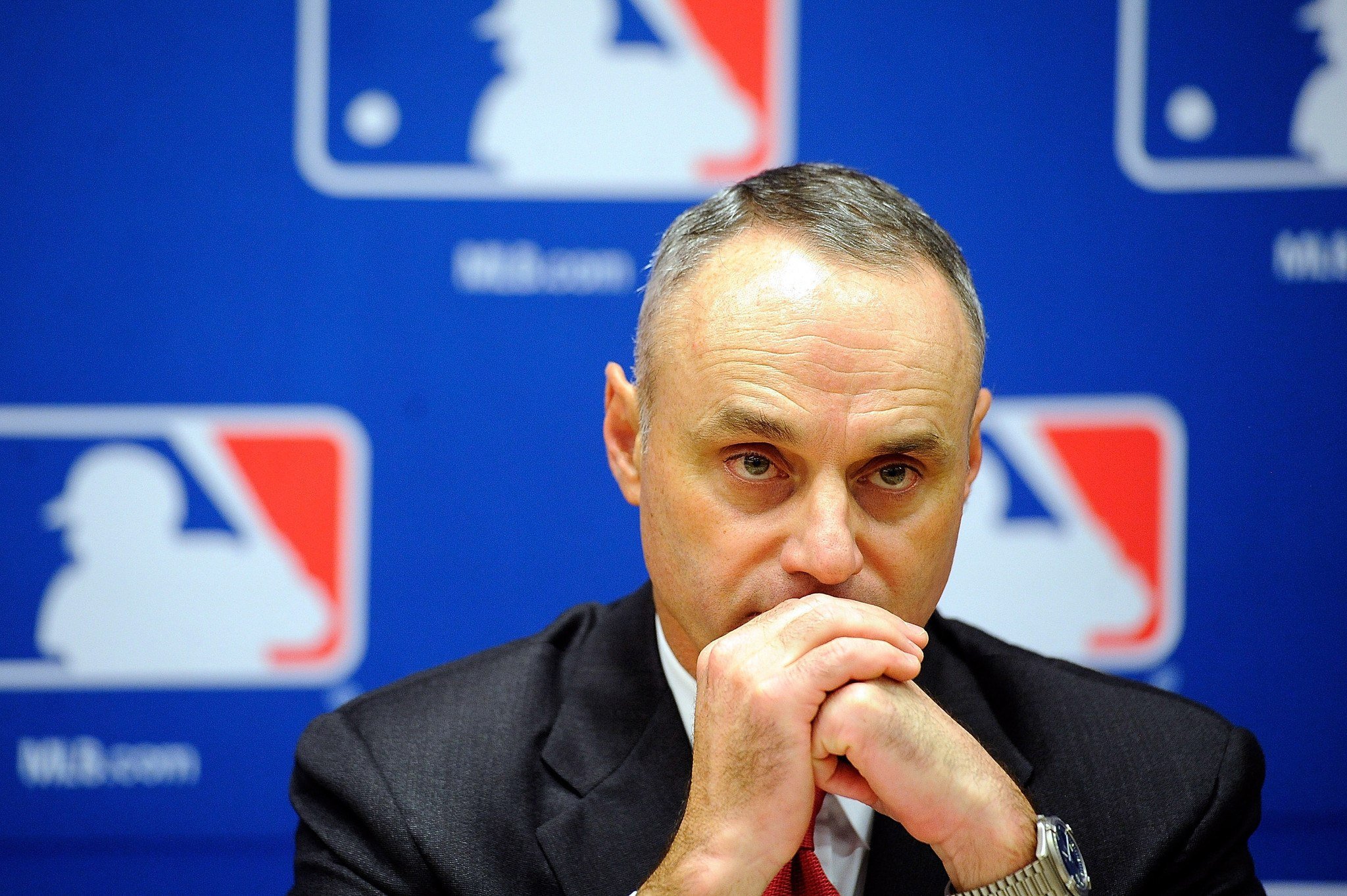 Appearing this week at the Yahoo Finance All Markets Summit in New York City, Manfred said during a discussion titled "The Business of Sports" that his league is reviewing the pros and cons of sports betting.
"Sports betting happens. Whether it's legalized here or not, it's happening out there," Manfred explained. "Are we better off in a world where we have a nice, strong, uniform federal regulation of gambling that protects the integrity of sports? Or are we better off closing our eyes to that and letting it go on as illegal gambling?"
Manfred hasn't wholly come out in support of legalizing sports gambling, though his comments come close.
Super Opportunity
The sports betting legal debate has been on the front pages thanks to last weekend's wildly successful Super Bowl. Even President Trump joined the conversation, saying that he might "sit down with the commissioners . . . to get their input."
The big game that saw the New England Patriots top the Atlanta Falcons in dramatic fashion generated a record handle at Nevada sportsbooks. Americans placed $138.45 million in wagers in the Silver State, the most ever for any NFL title game. Oddsmakers held about eight percent for a win of nearly $11 million.
The American Gaming Association estimates that another $4.5 billion was bet on the Super Bowl through illegal channels.
However, while sports betting was great in Vegas, the Super Bowl picture wasn't so wonderful on the television. Ratings for the most-watched event in America came in at 45.3, the game's lowest Nielsen share since 2010.
Sports bettors are highly valuable to advertisers, as they're more engaged with the games. The NFL experienced a ratings slump during the first half of its regular season, and though they rebounded in the second half, the league remains focused on making sure its fans stay interested.
Rosy Picture
Major League Baseball, like the other Big Four professional sports leagues in America, has opposed gambling on its games for decades. In fact, one of the best to ever play the game, Pete Rose, remains barred from the Hall of Fame due to betting on games he played and managed.
Baseball's all-time hit leader, the three-time World Series champion and 17-time All-Star says he never bet against his team while playing.
Should Manfred fully embrace sports betting, Rose's chances of one day entering Cooperstown might increase. In 1989, the great agreed to accept a permanent place on the baseball's ineligibility list in exchange for MLB agreeing to make no formal finding in regard to the gambling allegations.
Now 75-years-old, Rose has petitioned the league in recent years to remove his baseball ban. Manfred rejected his most recent appeal in December of 2015, the commissioner saying, "I respect Mr. Rose's accomplishments as a player, and as a result, I will continue to allow him to participate in ceremonial activities that present no threat to the integrity of the game."