Macau Considering New Smoking Ban Despite Poor Revenues
Posted on: February 7, 2015, 12:18h.
Last updated on: February 7, 2015, 12:18h.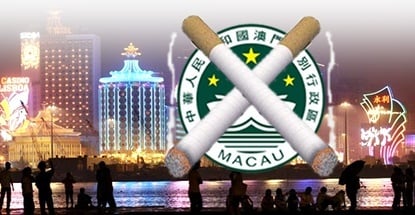 The Macau gaming industry hasn't seen a monthly revenue increase since last spring, and while many speculate banning smoking on main casino floors is at least partially responsible for the drop, the Asian gambling mecca might soon become entirely smoke-free.
Following last year's 2.6 percent dip, the first annual gaming revenue drop since American casinos entered the market in 2003, China's Vegas will soon consider prohibiting smoking in all casinos including private rooms.
Government officials forced main casino floors to go smoke free in 2014, however private and VIP rooms, as well as smoking lounges, remain permitted.
Gaming analysts largely agree the change played a role in diminishing earnings, saying it disrupts player betting patterns. Deutsche Bank analyst Andrew Zarnett said the ban was "worse than originally expected," but also "difficult to pinpoint" due to other pressing issues in Macau.
Smoking Scapegoat?
China is responsible for one-third of the world's smoking population, with a staggering 52.9 percent of men regularly puffing.
While the ban certainly affected total revenues to some degree, it likely wasn't the main culprit for Macau's dismal year. In 2013, the Chinese territory brought in $45 billion in revenue, nearly seven times that of Las Vegas.
The 35 casinos on the 11 square mile peninsula didn't see their numbers bust simply because of cigarettes, but a more culpable agent in that of the government cracking down on junkets.
Chinese law limits residents to transferring more than $50,000 out of the country. Macau's gambling strip provides a loophole for wealthy mainlanders trying to move their money to capitalize on foreign investments or simply purchase outside goods.
Through junket operators, which are similar to tour companies in America, gamblers can visit Macau and use yuan to buy casino chips, and later cash out in other foreign monies including the US dollar. With the money now transferred into a new currency, it is no longer subject to laws regulated in Beijing.
Considered a form of money laundering by Chinese officials, the government is cracking down on junkets in order to prevent the money from leaving the country. Of Macau's $45 billion in 2013 gambling revenues, 60 percent came from high rollers who visited through a junket operator.
Although more middle class Chinese are now visiting Macau, the average worker takes in less than $10,000 per year. For Macau to remain being China's gambling hub, the country's ultra-wealthy must continue to be enticed to visit.
Smoking Ban Beneficial?
The United States is much less smoker-friendly than Asian countries, but considering how recent smoking laws have impacted Vegas poker rooms, Macau might be smart to embrace new legislation.
Although casino floors are still filled with smoke in Nevada, most poker rooms have followed the Mirage and Bellagio's lead in only offering smoke-free tables. The response has been well received, as players and casino employees have championed the decision. Aria, quickly becoming the go-to poker casino on the Strip for professionals, proudly advertises its smoke-free tables.
Macau's Health Bureau says its proposed smoking ban comes regardless of potential economic impact. Its three-year review found that 70 percent of Macau citizens and 80 percent of casino employees support a complete ban.
The bill will be introduced this spring, but it remains unclear when it might be implemented.
How the ban might sway gambling revenues one way or another won't be realized for some time, but what we do know is that the ban will immediately create a healthier environment in Macau. With a country infamously known for its toxic air quality, a cleaner casino floor certainly can't be a bad thing.