Macau Casinos Post 15th Straight Month of Gains, October Revenue Best in Three Years
Posted on: November 2, 2017, 09:00h.
Last updated on: November 2, 2017, 09:13h.
Macau casinos took full advantage of China's Golden Week holiday last month, as the country's special gaming enclave reported its highest gross revenue win in three years.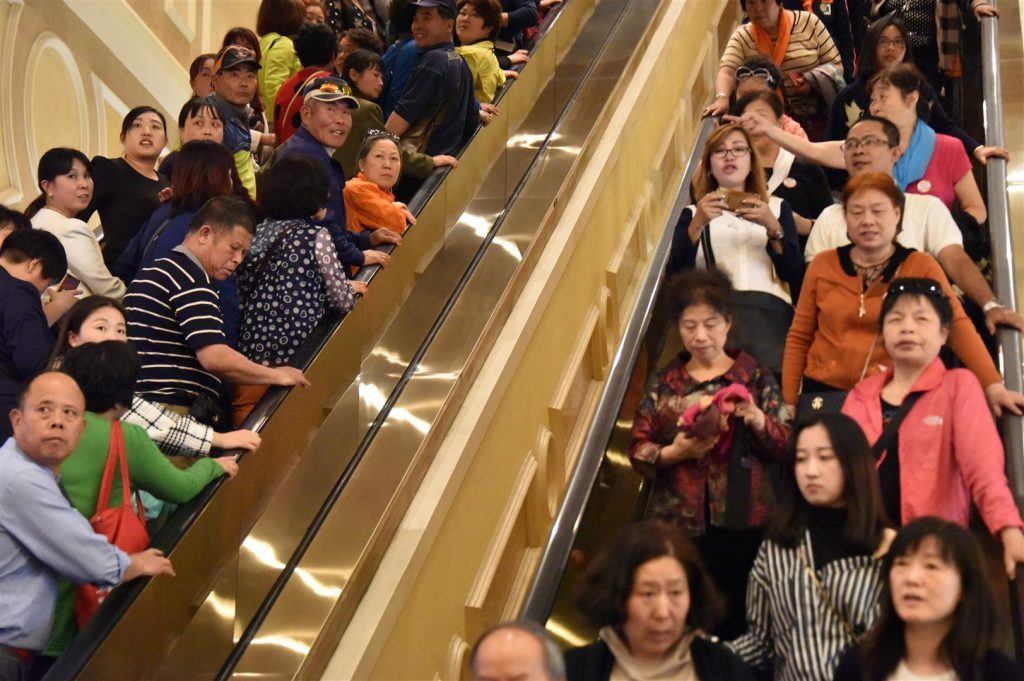 The Macau Gaming Inspection and Coordination Bureau reported that the region's casinos won 26.6 billion patacas ($3.3 billion) in October, a 22.1 percent surge on the same month in 2016. The $3.3 billion win marks Macau's best monthly performance since October of 2014, and its 15th straight month of revenue growth.
Year to date, gross gambling revenue stands at $27.4 billion, a 19.2 percent premium.
China's Golden Week, a weeklong national holiday that ran October 1-8, saw an estimated 710 million Chinese citizens travel. And many descended on Macau, where casino hotels raised room rates as much as five times and still sold out.
The 22 percent October increase far outpaces the average median forecast as recently as September by nine Bloomberg analysts, who predicted just 14.5 percent growth for the gaming enclave.
Macau is Back
After three years of financial declines, Macau is seemingly on track to return to its pre-2014 level. The revenue slumps resulted after People's Republic of China President Xi Jinping added junket companies under his anti-corruption campaign, which led to VIP operators closing shop and fewer high rollers in Macau casinos' private rooms.
2017 will mark Macau's first year-over-year win since 2013. With two months still remaining, casinos need to collect just $600 million over the next 61 days to post a gain on last year's $28 billion mark.
If the industry stays on its current pace, the final number should be somewhere north of $33 billion, which would equal the city's total in 2011.
Macau casino revenue totaled $38 billion in 2012, a record $45 billion in 2013 (which finally caught Jinping's attention), $43.9 billion in 2014, and $28.8 billion in 2015.
The Macau government is reaping the tax rewards of the casino industry resurgence. Prior to 2017, the Asian gaming destination budgeted to receive about $8.94 billion in gambling taxes. It's now expected to top that number by more than $2.5 billion.
Stocks Respond
Gambling stocks are often up and down rides for investors, and that's certainly been the case in 2017. The recent crackdowns by the Chinese government, paired with new regulations including smoking restrictions and updated ATM technology requirements, have kept shares fluctuating, despite revenue gains.
But now on a 15-month growth streak, investors are sold that Macau is still a safe bet. Following this week's latest financial numbers, and an analyst report from Nomura that said there's "a noticeable pickup in demand" in Macau's VIP and mass market gaming segments, casino stocks are rallying.
Nomura said post-Golden Week demand has trended much better than expected, and casino floors remained active throughout the month.
Sands China was up over four percent on Wednesday, as was MGM's China holdings unit and Galaxy Entertainment. Wynn Macau grew 3.25 percent, while SJM Holdings was up 1.5 percent.
Melco Resorts was the big winner, gaining almost five percent in value.