Macau Casino Billionaire Lawrence Ho Pays $65 Million for NYC Pad
Posted on: March 28, 2017, 03:00h.
Last updated on: March 28, 2017, 02:35h.
Lawrence Ho, the billionaire chairman and CEO of Melco International Development and Melco Crown Entertainment, has reportedly shelled out a staggering $65,163,580 for a top-floor unit of 432 Park Avenue, the tallest residential skyscraper in the Western Hemisphere.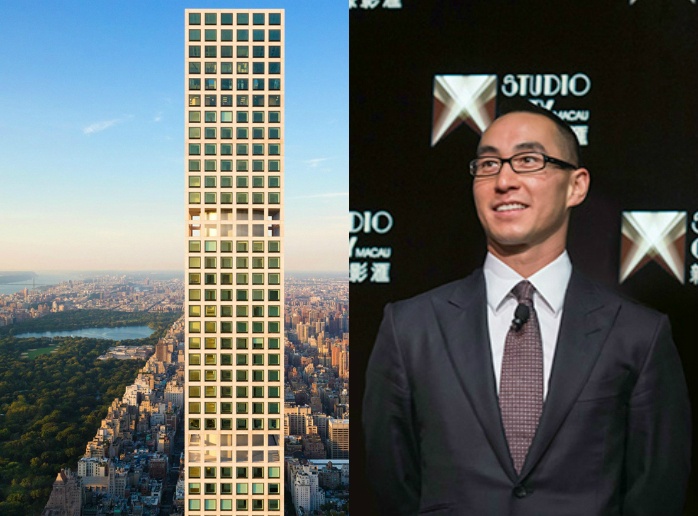 Melco Crown is a joint venture with Crown Resorts, and owns Studio City and Altira casino resorts in Macau, as well as the City of Dreams complex in Manila, Philippines.
According to public realty records, the $65.16 million transaction was sold to Valor Dragon Limited, a holdings company that Ho uses for international dealings. The single residential unit is numbered 83, but it's unclear if that corresponds to the floor number.
The condo comes with six bedrooms and six baths, with approximately 8,000 square feet of living space. 432 Park Avenue is a grand 85-floor skyscraper, or skyline eyesore, depending on who you ask.
The tower was completed in December of 2015, with construction costing over $1.25 billion. There are 104 condominiums in the building, and yes, they come with a doorman.
Melco Crown is reportedly working to rebrand and will unveil a new business name by the end of the year. Crown Resorts has recently reduced its stake in the partnership, with Crown billionaire James Packer selling over $1 billion worth of shares in 2016.
Building Wealth
It's unclear if Ho's real estate purchase is an investment of sorts, or whether he plans on spending more time in America. Neither Melco International nor Melco Crown presently holds business interests that are predominantly based in the US.
Worth an estimated $1.75 billion per Forbes, Ho's not the only foreigner invested in the casino market that's recently made a real estate purchase in the states.
Earlier this month, Maxim Smolentsev, a Russian casino owner, bought a $15 million home in Hillsboro Beach, Florida. The exclusive beachfront community is just north of Fort Lauderdale on the Atlantic Ocean.
$15 million seems almost cheap compared to Ho's buy. But on Billionaire's Row, the name given to the set of ultra-luxury residential skyscrapers near Central Park in Midtown Manhattan, $65 million isn't exactly out of the ordinary.
Saudi billionaire Fawaz Al Hokair paid nearly $88 million for a full-floor penthouse at 432 Park Avenue last year. An anonymous buyer also paid $65.6 million for another unit.
Active Listings
New York City's most expensive residential real estate purchase is reportedly in the works at 220 Central Park South where a four-floor palatial penthouse is listed at $250 million. If it sells at listing price, or anywhere near it, the unit would break Manhattan's residential record.
For the non-billionaires, there are plenty of "cheaper" options, including chances to become Ho's downstairs neighbor.
There are currently 18 apartments listed for sale at 432 Park Avenue. The cheapest is a $6.5 million one-bedroom unit. The most expensive is a full-floor condo similar to Ho's being offered at $82 million.
And for the majority who can never even dream of a seven-figure condo purchase, the chance to live like a multimillionaire or billionaire can be theirs through three rental units that range from $35,000 to $75,000 per month.
Similar Guides On This Topic