More Las Vegas Casinos Now Monitoring Players Before Offering 'Free' Cocktails
Posted on: July 22, 2017, 10:00h.
Last updated on: July 21, 2017, 03:47h.
Add the Golden Nugget in downtown Las Vegas to the ever-growing list of Sin City casinos which no longer want to give their customers unmonitored freebies where booze is concerned.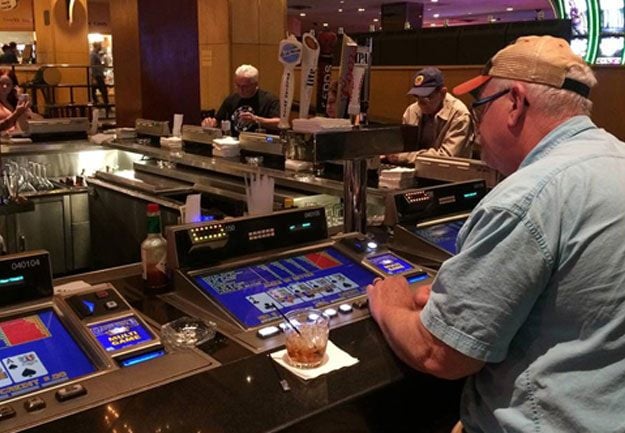 The Nugget joins Caesars Entertainment, which instituted the policy at its Strip properties last year, which was then quickly picked up by Las Vegas Sands Corp. for its Venetian and Palazzo casinos. The off-Strip Westgate also followed suit.
It's yet another revenue-generating move, as more Las Vegas casinos embrace the idea of a comp drink monitoring system that decides if gamblers are wagering enough to warrant free alcohol.
The Hard Rock, also off-Strip and a favorite among millennials, is contemplating going the "pay as you play" route for adult beverages as well.
Arden Progressive Systems & Games created the technology. The Las Vegas-based company provides a monitoring device, as well as tracking software, that can be connected to slot machines to see how much money a player has invested before "complimentary" adult beverages come their way.
The company's Complimentary Validation System has three lights on the back of a machine. When a player puts in cash, a blue light appears. When they spend enough to merit a drink, a green light flashes, showing the bartender they have earned a free drink. Slow your roll and a red light shows up and instant buzz kill commences.
"We are making a concerted effort to reward our larger-spending customers," said Rich Broome, executive vice president of communications at Caesars Entertainment. "This discourages people who are just looking for a free drink."
That's one way to redirect the move's motives, anyway.
Similar but different machines are also being used at the Cosmopolitan and Mirage. They use a voucher that spits out a free drink coupon when a predetermined level of play has been reached.
Bean Counters Run Amok
Trying to cut costs whenever possible, regardless of public outcry, has been the mindset with large casino conglomerates for several years now.
Two years ago, MGM Resorts implemented a program to reduce the amount of alcohol in their mixed drinks. According to VitalVegas.com, the company went from 1.5 ounces of liquor in its mixed drinks to 1.25 ounces, but that's only for paying customers.
Gamblers who get "free" booze can expect one ounce in their glass, an odd move, considering they are likely to spend far more in a machine than their "drinking-only" counterparts.
An MGM spokesman last year responded to VitalVegas regarding the cost-cutting measure.
"We did analysis last year across our resorts and across Las Vegas," the statement read. "We found that bars and restaurants at MGM resorts were not dispensing liquor in mixed drinks at uniform levels. We also did search across Las Vegas and found the standard liquor pour is 1.25 ounces at most Las Vegas resorts."
Whether or not that is true, we cannot say, but reaction on forums was swift and harsh. After the story hit local TV news station KTNV in Las Vegas, these were some of the comments that appeared:
"I miss mob-run Vegas" … "Lol they are the kings of nickel and diming and charging fees upon fees. Murren got to get his profit growth plan bonus" … "Then they have the balls to try to say 1.25 oz is a standard shot" … "Just had two draft dos equis and two shots of f***g canadian club at the MGM centrifuge bar on sunday – total price? $56. The shots were rung in at a total of $16 per shot … "
Ouch. Not quite the spin MGM was going for.
Paid Parking Problem
The move came in tandem to one that created the most outrage among the public, and especially among Vegas locals: Strip casinos charging for parking. MGM began the policy on June 6, 2016 and Caesars joined the bandwagon this year. Wynn, Encore, and Cosmopolitan all announced in 2017 that they would begin charging for parking,with various caveats and exceptions.
MGM was so excited about the increased revenue that they raised prices for parking less than a year after beginning the controversial practice. The prices jumped in some cases as much as 39 percent. The fees range anywhere from $7 to $25, depending on which MGM resort you're at. Caesars parking fees go from $8 to $18.
The only properties on the Strip that don't (yet) charge for self-parking are Circus Circus, the Venetian, Tropicana, Palazzo, SLS, and Southpoint and the M at the far south end of the Strip.
Similar Guides On This Topic
Latest Casino Stocks:
Retrieving stocks data...
Retrieving stocks data...
Retrieving stocks data...
Retrieving stocks data...
Retrieving stocks data...