Lowering Nevada Gambling Age to 18 Meets With Resistance in Silver State
Posted on: February 12, 2017, 02:30h.
Last updated on: February 10, 2017, 11:39h.
The Nevada gambling age has been 21 since the state legalized gambling back in 1931, but State Assemblyman Jim Wheeler (R-District 39) wants to lower it to 18.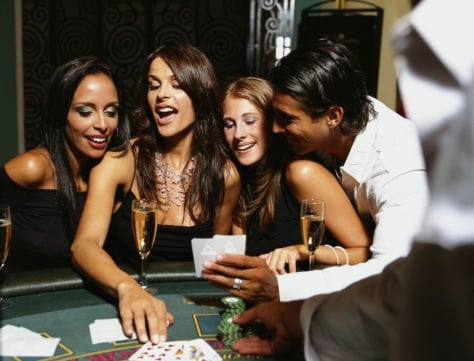 The Deputy Minority Floor Leader introduced Assembly Bill 86 this week, a piece of legislation that would amend the Silver State's gambling threshold from 21 to 18 years of age. Wheeler is under the thinking that if an 18-year-old can go fight for the country in places like Afghanistan and Iraq, then surely he or she should be able to place a bet in Vegas if they wish.
"I think if you're old enough to fight, if you're old enough to drink in some states, if you're old enough to vote, then you ought to be old enough to gamble," Wheeler opined.
While Wheeler's remarks might come with validity to the servicemen and women who protect America, other state lawmakers in Nevada aren't so keen to the concept. Nor are problem gambling organizations.
"I just have a little concern we'd be making available to a risk-taking group of people a new risk activity," Las Vegas Problem Gambling Center Founder Dr. Robert Hunter told NBC News Las Vegas.
Wheeling and Dealing
It's unclear what exactly is motivating Wheeler in trying to lower the gambling age. Even though he took the time to draft the legislation, he conceded its chances of passing are slim.
"This bill very well may not go anywhere," Wheeler admitted.
A similar effort was presented in 2008 amid the economic recession to allow a new group of gamblers into casinos in Nevada. The bill never made it to a floor vote.
Only four states explicitly allow 18-year-olds to gamble at casinos. They are Alaska, Idaho, Minnesota, and Wyoming. A slew of other jurisdictions permit the 18-to-21 crowd to participate in some for of betting. Pari-mutuel wagering, bingo, and lottery games are often given special exemptions to allow under-21 persons to play.
Native American casinos are also sometimes allowed to welcome 18 and over guests despite state laws that mandate patrons be at least 21 in commercial gambling facilities.
Controversial Politician
Wheeler is known much more for just the cowboy hat he often wears in Carson City. The outspoken conservative said in 2013 he would do whatever his constituents asked of him, and that would even include voting to reinstate slavery.
"They'd probably have to hold a gun to my head, but yeah, if that's what the constituency wants that elected me," Wheeler said in October of 2013. "That's what a republic is about. You elected a person for your district to do your wants, not the wants and wishes of a special interest, not his own wants and wishes."
Lowering the gambling could potentially create a regulatory nightmare for Vegas casinos.
Though carding patrons is extremely rare on the Strip, allowing under-21 customers to hang out in areas where alcohol is consumed would present a host of complications for both dealers and cocktail servers.
Wheeler's District 39 encompasses Douglas and Storey counties, as well as part of Lyon. The western district doesn't have the mega resort casinos found in Vegas, but smaller, regional gambling venues.