Los Angeles Lakers President Magic Johnson Resigns Following Disappointing Season, LeBron Shocked
Posted on: April 10, 2019, 10:34h.
Last updated on: April 10, 2019, 10:34h.
The Los Angeles Lakers scored last off-season's biggest prize: LeBron James. But fast-forward nine months, and the purple and gold shockingly won't be one of the 16 teams going to the NBA Playoffs.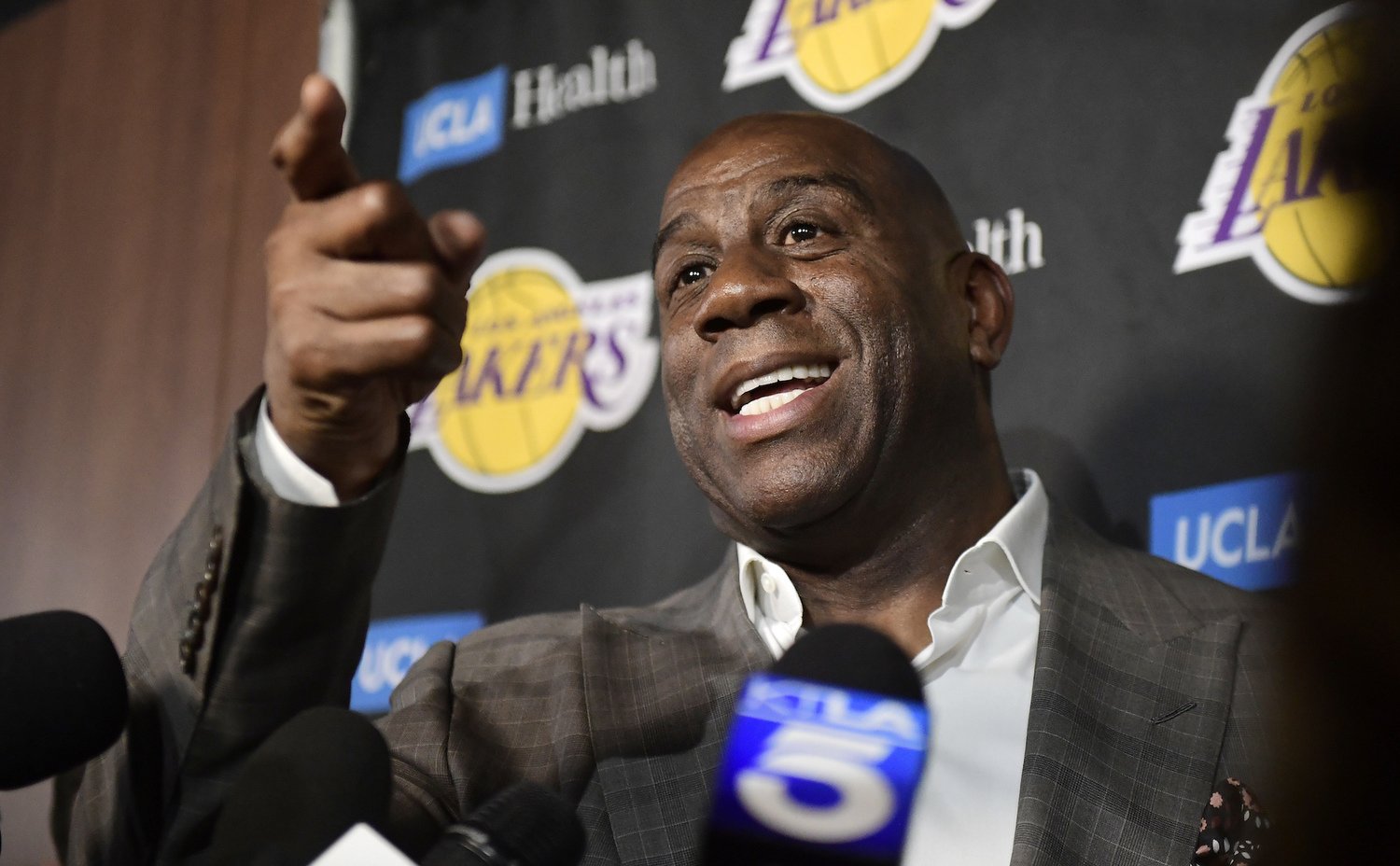 Lakers President Magic Johnson – who won five NBA titles in Los Angeles as a player – is resigning as a result of the dreadful season. Owner Jennie Buss gave "Showtime" free rein to govern the organization. Decisions to trade players and fire coaches was left up to his discretion.
Magic's formula didn't work. Following James' decision to take his talents to Los Angeles from Cleveland last July, oddsmakers slashed the Lakers' title odds from +800 to +350. That was the second-shortest line behind only the Golden State Warriors (-110), the team that has won three of the last four NBA Finals and competed in each.
I was happier when I wasn't the president," Johnson said this week. "When you have to make trades, you're not happy."
He added that he didn't like "the backstabbing, the whispering" surrounding his management. "I got a great life outside of this. What the F am I doing? I got a beautiful life. I'm going back to that beautiful life," Johnson stated.
NBA Odds
Today marks the final day of the NBA regular season. The 16-team playoff picture is all but set, as only the No. 8 seed in the Eastern Conference is up for grabs between the Detroit Pistons and Charlotte Hornets.
The Pistons solidify their spot in the postseason if they win tonight in New York against the Knicks. The Hornets get in if Detroit loses and they win against the Orlando Magic at home.
The Milwaukee Bucks will enter the playoffs with the best regular season record. They will be the only team this year to win at least 60 games.
The Westgate SuperBook in Las Vegas still has the two-time defending champion Warriors as the team to beat. Golden State is at -200, which implies odds of 66.67 percent. To net $100 on Golden State, bettors will need to risk $200.
The Bucks – along with the Houston Rockets – are next at +600. A $100 bet nets $600 should either of those teams win. The Toronto Raptors are fourth at +1200, and Philadelphia 76ers and Boston Celtics at +2000.
LeBron Left in Dark
King James will miss the NBA Playoffs for just the third time in his career – and first since his second season with the Cavs back in 2004-2005. Apparently it's not only the playoffs that LeBron is missing, but also a heads up from Magic regarding his departure from the team.
ESPN sources say James was shocked to learn through social media about Johnson's resignation. Magic admitted he didn't even tell Buss.
"I want to thank my sister for allowing me to do this," Johnson said of Buss before a horde of reporters. "I couldn't face her to tell her, so I had to do it this way because we love each other so much."