Like Many Players, NFL Ratings Take a Knee, as Trump Wages War Against Football League
Posted on: September 25, 2017, 10:00h.
Last updated on: September 25, 2017, 10:33h.
NFL ratings are down in the early weeks, but all eyes will be on the audience numbers for week three after President Donald Trump engaged in a culture war with the professional football league.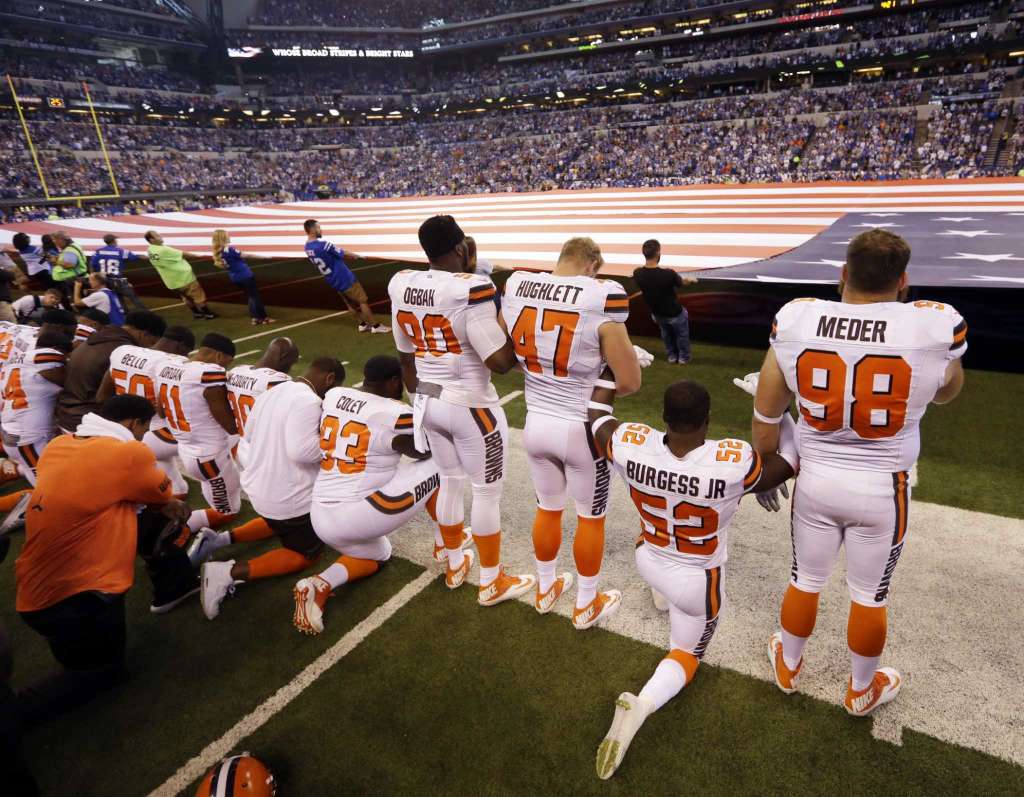 Numerous players and teams took a "stand" on Sunday by taking a knee during the national anthem, protesting social injustices of minorities. Trump, never one to back down from a controversy, injected himself into the discussion via Twitter.
"If a player wants the privilege of making millions of dollars in the NFL, or other leagues, he or she should not be allowed to disrespect our Great American Flag (or country) and should stand for the National Anthem," Trump tweeted. "If not, YOU'RE FIRED. Find something else to do!"
Some teams kneeled, one stayed in their locker room, and others stood with their arms interlocked.
On the field, it was a very good week for Las Vegas oddsmakers. Of Sunday's 13 underdogs, 10 covered the spread according to ESPN gaming writer David Purdum. That delivered big wins for the house.
"It was certainly one of the best days we've had," CG Technology sportsbook director Jason Simbal explained.
Underdogs on Top
The Chicago Bears upset the Pittsburg Steelers, the latter being the team that opted to stay inside their locker room during the playing of the national anthem. And the New England Patriots, always a favorite in Las Vegas, won by just three points over the Houston Texans, which nulled wagers on the Pats.
Speaking of the defending champs, billionaire owner Robert Kraft, a close friend to Trump, denounced the president's actions on Sunday.
"There is no greater unifier in this country than sports, and unfortunately, nothing more divisive than politics," Kraft said in a statement. "I think our political leaders could learn a lot from the lessons of teamwork and the importance of working together toward a common goal. Our players are intelligent, thoughtful, and care deeply about our community and I support their right to peacefully affect social change and raise awareness in a manner that they feel is most impactful."
Goodell Weighs In
NFL Commissioner Roger Goodell has navigated the league through plenty of controversies in recent years.
It was only in 2014 when former Baltimore Ravens running back Ray Rice knocked out his girlfriend in the elevator of Atlantic City's shuttered Revel Casino. With surveillance video in hand, Goodell initially suspended the star player for just two games. Once the footage was made public, Goodell admitted he "didn't get it right" in deciding the suspension.
By comparison, Goodell banned Patriots quarterback Tom Brady for the first four games of the 2016 season for his alleged involvement in the "Deflategate" scandal where game balls were purposely underinflated.
But Goodell's most pressing concern might be the national anthem kneeling. It all began with former San Francisco 49ers quarterback Colin Kaepernick, who did it to bring awareness to "the treatment of blacks in the United States."
The NFL League Rulebook states, "The National Anthem must be played prior to every NFL game, and all players must be on the sideline for the National Anthem. During the National Anthem, players on the field and bench area should stand at attention, face the flag, hold helmets in their left hand, and refrain from talking."