Las Vegas Sands and Madison Square Garden Partner on New Off-Strip Concert Venue
Posted on: May 26, 2016, 03:54h.
Last updated on: May 26, 2016, 04:15h.
Las Vegas Sands and the Madison Square Garden Company (MSG) announced on May 25 that the two companies are uniting to construct a "first-of-its-kind" 400,000-square-foot entertainment and concert venue that will be the world's largest facility built specifically for touring acts.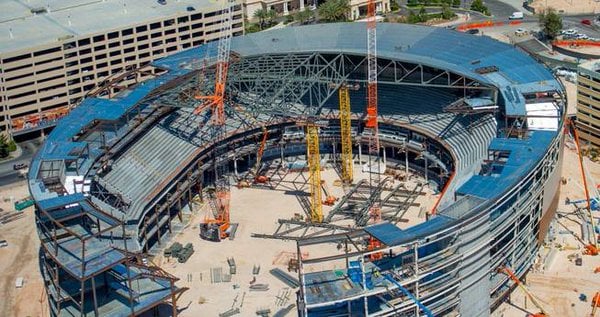 According to a jointly issued press release, the arena "will feature a unique seating design that places all 17,500 seats in front of the stage and, with a scalable seating capacity, will present a wide variety of shows."
The building will be constructed where Sands Avenue and Manhattan Street intersect in Las Vegas, a block behind LVS' Venetian and Palazzo casino resorts, as well as the Sands Expo and Convention Center.
"At a time when significant conversations are taking place about the city's future tourism needs, a state-of-the-art venue designed, built and exclusively dedicated to bringing the world's greatest musical and entertainment acts to Las Vegas is the type of development we should all be excited about," Las Vegas Sands Chairman and CEO Sheldon Adelson was quoted in the presser.
Having Stadium Power
The movers and shakers in Las Vegas have made no secret about their beliefs that a vital component to the future of Sin City is entertainment, possibly even greater in weight than casinos themselves. The fact of the matter is that gambling revenues have seemingly flat-lined on the Strip, with annual revenues hovering between $6 and $6.5 billion over the last five years.
Meanwhile, non-gaming revenues have progressively increased and now represent a larger percentage of Las Vegas' overall economy.
Utilizing data supplied by the Nevada Gaming Control Board, industry analyst Bank of America Merrill Lynch says non-gaming accounted for about 43 percent of Strip revenues in 1990, while gaming was responsible for roughly 57 percent back then. In 2012, non-gaming accounted for almost 65 percent of the economy in the gambling capital of the United States.
Adelson and MSG aren't alone in rushing to build spectacular facilities to attract the biggest stars in entertainment. The $375 million, 20,000-seat T-Mobile Arena, half-owned by MGM Resorts, opened last month next to the New York-New York Casino and has already hosted monster acts, including the legendary Billy Joel.
Critics of Atlantic City believe the East Coast gambling resort city hasn't properly adjusted to the changing gambling market. Commercial gambling was once largely confined to Nevada and Atlantic City, but today, 18 states have commercialized gambling.
Billionaire's Backyard Playground
The as-yet-unnamed Sands and MSG venue will be built directly across the street from Steve Wynn's golf course, which the billionaire is planning to remove to make way for a 38-acre manmade lake and water park.
A two-mile walk south from the Sands Ave and Manhattan Street site, and you've arrived at the proposed location of the $1.4 billion, 65,000-seat domed NFL stadium, the potential home of the Las Vegas Raiders.
It's theoretical that a Las Vegas tourist could attend a Raiders game at noon, walk to the Sands MSG venue for an evening concert, and then cap off the night in the water park, all without ever stepping foot in a casino. And that could be a harbinger of things to come in Sin City.
Similar Guides On This Topic