Las Vegas Raiders Could Provide Boost to Gambling Stocks, Mark Davis Thanks Sheldon Adelson
Posted on: March 28, 2017, 10:45h.
Last updated on: March 28, 2017, 07:26h.
The Las Vegas Raiders are likely coming to town for the start of the 2019 NFL season.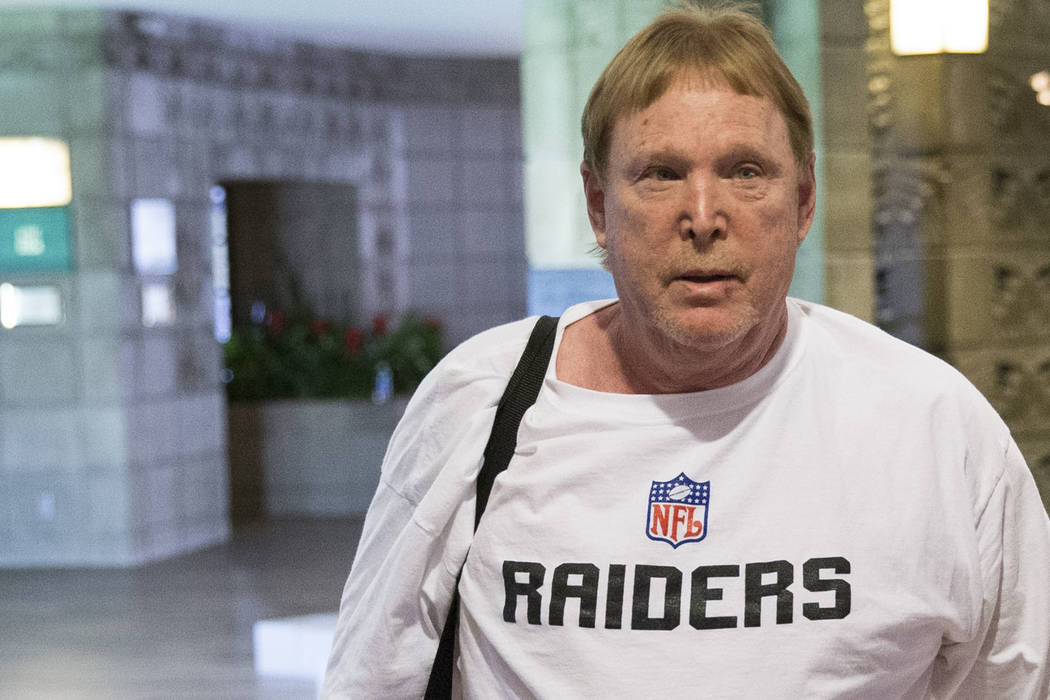 Welcoming professional football to the city, the most popular sport in America, will provide an economic boost to the Strip, and theoretically, help boost the bottom line of gambling stocks. Financial analysts are becoming bullish on publicly traded casino companies following this week's NFL owners' vote that approved the Oakland franchise relocating to the gambling and entertainment mecca of the United States.
On Monday, the day of the approval, Wynn Resorts, MGM Resorts, and Las Vegas Sands all traded higher on the New York Stock Exchange and NASDAQ.
While NFL leadership has long opposed Las Vegas hosting a team due to the city's widespread legalized sports betting, current Commissioner Roger Goodell says the move doesn't change the league's stance on gambling.
"We are not changing our position as it relates to legalized sports gambling," Goodell told Sports Illustrated prior to the vote. "We still don't think it is a positive thing."
Nevada-based economic analytics firm Applied Analysis estimated last fall that the stadium will bring 451,417 supplemental visitors to the city each year. And according to their projections, that will translate into $620 million in additional spending, and $22.5 million in new local tax dollars.
Davis Thanks Sheldon
Las Vegas Sands billionaire Sheldon Adelson is receiving much of the credit for bringing the Raiders to the Mojave Desert. Though he backed out of his $650 million pledge to help construct the $1.9 billion stadium after he felt team owner Mark Davis went behind his back in presenting a lease agreement to the city, the man worth an estimated $30 billion is still being given praise.
In addition to thanking Goodell, Nevada Governor Brian Sandoval (R), and the NFL's ownership, Davis credited Adelson with making the move possible. "I would like to thank Sheldon Adelson for his vision and leadership, without which this project never would have become a reality," Davis stated.
Casino owners are barred from holding stake in NFL franchises, but Adelson was reportedly interested in providing funding for the Las Vegas Raiders stadium in what many called a legacy project for the 83-year-old. His interest is thought to have convinced the Nevada Legislature to approve a stadium bill that earmarks $750 million in hotel occupancy taxes generated in Clark County to the 65,000-seat domed stadium.
Billionaire Friends
It's nice to have friends in high places, and Davis has plenty of them. After Adelson backed out after he got wind that Davis presented a lease agreement to Las Vegas that wasn't contingent on his involvement, the Venetian and Palazzo owner said, "It's clear the Raiders have decided their path for moving to Las Vegas does not include the Adelson family."
With financing in question, Davis sought out the help of Jerry Jones, the billionaire owner of the Dallas Cowboys. According to reports, Jones helped persuade Bank of America into backing the outstanding $1.15 billion Davis needed to move forward with his proposal.