Las Vegas Crime Roundup: Man Allegedly Tries Bribe After Cosmopolitan Arrest
Posted on: April 11, 2023, 05:37h.
Last updated on: April 11, 2023, 02:51h.
A man who reportedly had been drinking alcohol and smoking marijuana is now facing several charges after he allegedly attempted to bribe officers last week following his apprehension outside The Cosmopolitan of Las Vegas.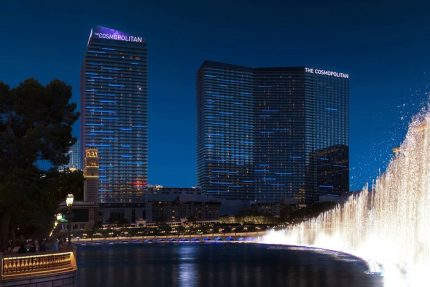 David Benamati of Pennsylvania struggled with police when officers tried to place handcuffs on him at the Las Vegas Strip casino on April 3, Las Vegas TV station KSNV reported.
Later, while in the Cosmopolitan security office, Benamati told an officer he "had $1,000" in his pocket, and he "could take it, so he could walk away," according to KSNV.
Following his arrest, Benamati was placed in a patrol car and driven to Clark County Detention Center. He allegedly offered officers in the vehicle $200 each to "forget everything that … happened," KSNV reported. The officers declined the money, the report added.
Benamati denied offering a bribe when he was booked at the jail. He was charged with bribery, resisting an officer, and smoking/consuming marijuana in public.
Airport Bomb Threat Suspect Due in Court
A man who allegedly claimed he placed a bomb at Harry Reid International Airport is scheduled to appear in Las Vegas federal court on Thursday.
Joshua Corfee of Lake Havasu, Ariz. was indicted on Wednesday for making a threat and false statement to use an explosive device, threatening to use a weapon of mass destruction, and false information and hoax, Las Vegas TV station KLAS reported.
Corfee allegedly telephoned the airport's control center on February 26 claiming he placed a bomb in the airport. No bomb was found.
He also told a control room worker that he was a "known incel." An incel is someone "who blames women and society for their lack of romantic success," according to an online statement from the Anti-Defamation League. "Incels … have perpetrated a range of deadly attacks against women."
Corfee was later contacted by an FBI agent. At first, he denied making the call to the airport. He eventually confessed to the bomb threat and explained he wanted attention, Las Vegas TV station KSNV reported.
Beasley Ordered to Remain in Jail
Matthew Beasley, 50, the Las Vegas attorney who was arrested in connection with a $460M Ponzi scheme, will remain in jail for at least a week, a federal magistrate ruled on Monday.
On Friday, the magistrate, Cam Ferenbach, initially said Beasley could be released.
Over the weekend, prosecutors challenged the release and warned that Beasley was "a flight risk" and a "danger to the community," Las Vegas TV station KLAS reported. The magistrate changed his mind on the release and will hold another hearing on Beasley's possible release next Monday.
Beasley has pleaded not guilty to multiple counts of wire fraud and money laundering in connection with a series of crimes that lasted over five years. According to an indictment, Beasley is accused of allegedly taking funds from "plaintiffs in personal injury lawsuits who wanted to borrow money against their pending settlements with insurance companies, and [who] were willing to pay high interest rates to borrow the money for 90 days."
Several hundred investors participated in the Ponzi scheme. Many were members of The Church of Jesus Christ of Latter-day Saints, also known as the Mormons.
Some of the cash was used to pay off Beasley's gambling debts and for the purchase of houses and fancy vehicles, prosecutors said.
In March 2022, an FBI agent shot Beasley during a standoff after he allegedly refused to put down a firearm while at his home. He was charged with assault on a federal officer, but that count was recently dropped.
Beasley has been held in the Nevada Southern Detention Center for 13 months, according to his attorney, Jacqueline Tirinnanzi, a criminal defense lawyer.