Las Vegas Convention and Visitors Authority Defends Opulent Spending, But Not Everyone Is on Board
Posted on: April 4, 2017, 06:00h.
Last updated on: April 4, 2017, 04:06h.
The Las Vegas Convention and Visitors Authority (LVCVA) is defending its spending habits this week after the city's Review-Journal (LVRJ) news site, the most circulated news source in Nevada, published a report highlighting the government agency's extravagant budget and expenses.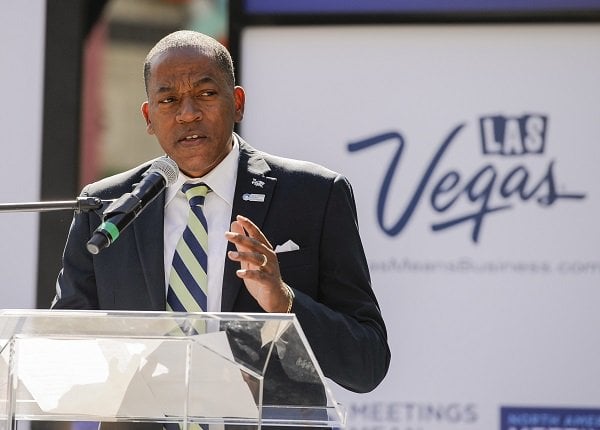 The LVCVA is tasked with attracting visitors to the Mojave Desert by highlighting Sin City's world-class entertainment, dining, shopping, and more. A subdivision of the State of Nevada, the authority consists of 14 principal officers, with six members coming from the private sector.
According to financial disclosures curated by the LVRJ, the Las Vegas Convention and Visitors Authority spent nearly $700,000 on alcohol over the past three years, $85,000 on adult entertainment and showgirls, and hundreds of thousands of dollars on concerts and shows. The news source claims to have reviewed over 32,000 pages of receipts.
Board members of the LVCVA defended such lavish spending as the cost it takes to attract marquee conventions and events.
Lawrence Weekly, who is a Clark County commissioner and chairs the LVCVA, explained of trying to entice decision makers, "You've got to give something to get something."

He later tweeted, "Vegas means business. LVCVA are doing just that . . . Working to keep us in that #1 spot."
LVCVA on the Defensive
Finding someone totally unfamiliar with what Las Vegas is all about is a nearly impossible task. That's at least what critics of the LVCVA argue.
Casino resorts also spend millions on advertising campaigns each year, and with Vegas' well-known reputation, regardless of whether it's positive or negative, the fact is that the city doesn't need much explanation.
The Review-Journal found that Las Vegas spends $3.39 per visitor on marketing, second to only St. Petersburg, Florida, which spends $3.89. St. Petersburg is no Vegas, however, as many are likely clueless as to which coast of the Sunshine State the city even resides on (it's the Gulf, FYI).
The authority says its ability to remain the country's top convention and trade show destination warrants such wining and dining. According to Applied Analysis, a Nevada-based economic and gaming research firm, tourism generated almost $60 billion for the Vegas economy in 2016.
The LVCVA also points to its recent award from the Government Finance Officers Association (GFOA). The Chicago-headquartered organization reviews state and local government financial management agencies, and for the 33rd consecutive year, awarded the LVCVA with a Certificate of Achievement for Excellence in Financial Reporting.
"To continuously win these . . . is a tremendous accomplishment," LVCVA member Bill Noonan said last month.
Tax Dollars at Play
The authority is largely funded through the Clark County hotel occupancy tax. Of the estimated $705 million the tax is expected to generate in 2017, 33.2 percent of every dollar will go into the coffers of the LVCVA. That trumps even the Clark County School district (13.1 percent) and Nevada public school fund (24.3 percent.)
Last November, the Nevada State Legislature approved a bill that increases the tax by 0.88 percent to 12.88 percent. The increase will be used to deliver $750 million to help build the future home of the Las Vegas Raiders NFL franchise.
While the majority of funds are used to market Vegas and cater to potential visitors, LVCVA Chairman Weekly accepted $33,000 worth of meals and travel since 2014. Authority CEO Rossi Ralenkotter made $768,000 in salary, bonuses, and benefits in 2016, and former Mayor Oscar Goodman was paid $72,000 to appear at promotional events.