Las Vegas Casinos Use Holiday Attractions to Boost December Numbers
Posted on: December 24, 2013, 05:11h.
Last updated on: December 24, 2013, 05:11h.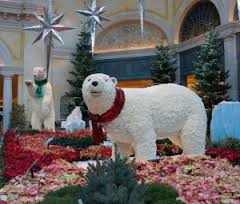 Las Vegas isn't exactly the traditional winter wonderland that most people dream of when Christmas rolls around. And despite trying to rebrand itself as a family-friendly destination, the current marketing trends in Vegas are once again back to portraying the city as a hip, exciting destination for young gamblers. But that isn't stopping casinos from using the Christmas season as a chance to lure in families with a host of seasonal activities and exhibits.
Creative Attractions
The holiday season is typically a slow one for the casino business, so the shift in focus makes sense. It's a way for casinos to fill at least some of their hotel vacancies and get a few more people through their doors and sitting down at their slot machines.
For instance, the Bellagio – which has always used its water fountains as a tourist attraction – has converted its conservatory into a winter spectacle. There's a 42-foot tall Christmas tree, a giant snow globe that visitors can walk through, hedges trimmed to look like polar bears and a giant candy house. Those fountains out front are even taking part in the fun, dancing to Christmas songs to suit the season.
Or take in the "Winter in Venice" exhibit at the Venetian, which the casino is calling a public gift. The entire casino seems to be taking part in this one, from the giant Christmas tree outside to the birds, poinsettias and other decorations strewn throughout the casino floor.
"Every photo that is shared during the holidays, for instance, helps to change the perception of the destination for the Christmas traveler," says Keith Salwoski, spokesman for the Venetian and Palazzo. "Suddenly, spending Christmas in Vegas is on the radar of travelers."
Visitor Dips in December
The move is necessary for a city that struggles during the winter months. While 3.53 million visitors came to Las Vegas in March – the largest number in 2012 – there were only 3 million in December, a drop of over 15 percent. The Christmas-themed exhibits seem to help casinos avoid seeing those numbers fall any further.
"I used to work in a flower shop, and I just love this," said Helen Harrison, who was visiting the Venetian with her husband this year. "The design that goes into it – we don't have anything like that in our city. It's nice to not have to go to Europe to see all this stuff."
Most likely they don't have a horticultural budget quite like the typical casino's in your city either, Helen. While we don't have an exact figure, we do know that  flowers are kept fresh with individual water feeders and replaced frequently, and these budgets can soar into the six figures easily for the lavish Christmas season displays.
While some casinos are focused on traditional – if opulent – holiday displays, others are getting a little more creative with their offerings. Over at Caesars Palace, the casino is using divers in elf-themed wet suits to feed tropical fish in their aquarium each day.
Many casinos are using skating rinks to entice visitors to stop by as well. For instance, The Cosmopolitan Las Vegas is featuring a rooftop skating rink, one that has doubled in size since last year. Caesars Palace, the Gold Spike and the Venetian also offer skating.
Of course, as beautiful and nostalgic as these exhibits may be, they're still part of making a profit. In case you've forgotten that you're on the Las Vegas Strip, the Cosmopolitan's skating rink offers to sell skaters kits for making s'mores around its fire pits – all for the low, low cost of just $14.