Las Vegas Cabbie Returns Huge Cash Stash to Anonymous Poker Pro
Posted on: December 25, 2013, 05:30h.
Last updated on: January 2, 2014, 07:16h.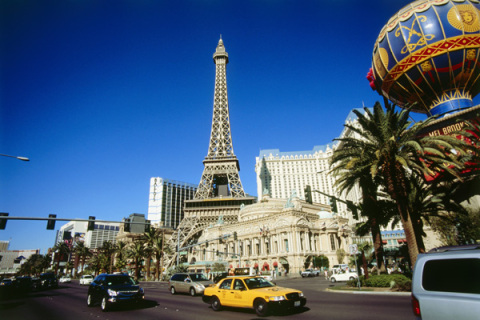 UPDATE: December 27, 2013: Although they usually say that no good deed goes unpunished, for once, someone who did the right thing has actually gotten rewarded for it: cab driver Gerardo Gamboa had a little merrier Christmas after receiving a $10,000 reward from the mystery poker player to whom the $300,000 in cash belonged, as well as another $1,000 from his employer Yellow Star cab and a $250 dining certificate.
Apparently – like ransom money – the cash, still bundled in those $5,000 wads, was dropped off at undisclosed location by Mystery Poker Person for Gamboa's good deed.
When you're a Las Vegas cab driver, you never know who – or what – will end up in your taxi on any given day. So veteran driver Gerardo Gamboa was unfazed when a Bellagio hotel doorman, opening the cab's rear door to help a new customer  in, noticed a brown paper bag left on the seat by the cab's previous occupant, apparently. He didn't even bother to look inside when the doorman put it on his passenger seat until he got to a light and curiosity got the best of him. Guessing that chocolates lay in wait, he took a peek inside, with illicit thoughts in mind should his conjecture be correct.
"What kind of chocolates are they?" Gamboa pondered. "Are they good ones that I could buy some for my wife as a present?"
Sweet, But Not Candy
But there were no chocolates inside when Gamboa opened that little brown bag; instead, there was cash. And by cash, we mean…cash. To be exact: $300,000 worth in $100 bills, all nicely bundled. Which probably weighs a bit more than chocolates, Mr. Gamboa; and maybe after 13 years in town, a brown paper bag should set off some alarms, but hey, maybe that's just us.
After notifying his dispatcher of the cache, Gamboa took it to his employer's Yellow Checker Star Transportation headquarters – but not before he dropped off his current passenger, who we assume was unaware of the celebrity package riding shotgun in the passenger seat up front.
Now again, call us cynical, but we might have assumed such a large sum of money in an innocuous brown paper bag was destined for payoff of some dubious merchandise. But Mr. Gamboa is apparently more trusting than we are, and after turning the cash over to Yellow Checker Star, cops were called in and somehow, the owner was discovered, via some good ol' fashioned gumshoe techniques.
Retracking His Route
It seems Gamboa recalled dropping off a passenger he had picked up at Cosmopolitan, with the final destination being a Palms Place tower; he also remembered that this passenger had left him a $5 tip for the ride. Immediately after, he headed to the Bellagio cab line, where the hotel's doorman had noticed the backseat cash stash bag just a few minutes before noon.
Adding drama to the situation, someone mysteriously showed up at the Yellow Star offices to claim the bag, but had no ID, nor was he the person to whom Cosmopolitan had apparently tracked an outgoing payment of the exact $300,000. Naturally, this was when Metro was called in to assist and sort it all out.
In the end, it was determined that what could have looked like drug money was actually the property of a famous poker player who Metro refused to publicly identify. Yes, we're dying of curiosity too.
"This is the largest amount we have found in my 32 years in this business," said Yellow Checker Star chief operating officer Bill Shranko. "Recently, we found $9,000, but that's no longer a big deal."
Although Gamboa had apparently considered diving into some chocolate, he says he never considered stealing any of the bagged cash.
"Even though I am a poor guy I don't need money that doesn't belong to me," said Gamboa, who's been a Sin City resident for 27 years. "Tomorrow, I go back to work."
We hope the unnamed poker celeb will let go of a little bankroll and show some appreciation to one of Las Vegas' honest citizens.
Although this find was the largest, last year, a driver for another cab company also returned $222,000 that was left in his cab by a passenger.