LA's Porn Industry Sees Las Vegas as a Good Bet, More Productions Moving to Sin City
Posted on: January 28, 2017, 10:00h.
Last updated on: January 27, 2017, 02:49h.
The West Coast porn industry is going for 21, but not necessarily in the age of its XXX female stars. Nope, it's hoping to hit blackjack by edging into Sin City, riding on Las Vegas' already salacious reputation and more lax, less stringent film environment.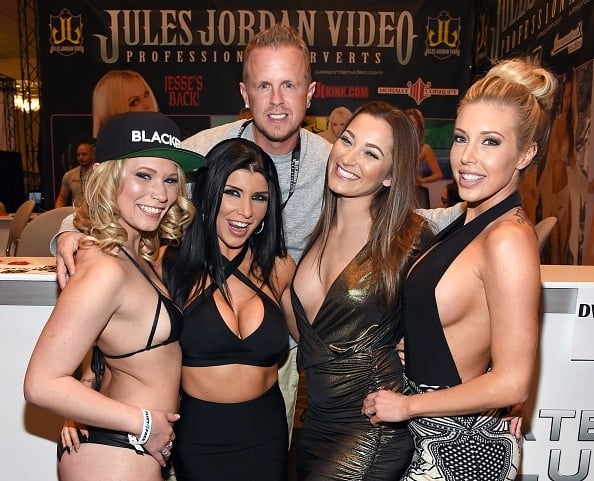 Home to more gambling square footage than any other city in the country, with legal brothels just 60 miles outside of town, Las Vegas certainly isn't known as the most righteous tourism destination. And according to the Las Vegas Review-Journal's Todd Prince, hardcore film operations are slowly moving in to the Mojave Desert.
The Hard Rock Hotel just wrapped up hosting the 19th running of the AVN Adult Entertainment Expo last week, as some 30,000 industry filmmakers, producers, talent, and admiring fans congregated to look at all the newest triple X goods and innovations.
One of the main takeaways from the convention was the realization that the porn industry has started shifting its operations from its decades-old base in Los Angeles to Las Vegas. One producer said that Sin City now ranks with the City of Angels and southern Florida as one of the country's top three predominant "erotica" film production locales.
This, despite pornographic video filming being explicitly legal only in California and New Hampshire. As the profit margin in porn has gotten slimmer and slimmer (thanks to the ease of illegal replication and free segments online everywhere), producers have also gotten more careful with their production dollars. And apparently those dollars stretch further in Las Vegas than in super-regulated and taxed Los Angeles
What's Permitted, What's Not
Like nearly every other major city in the US, Las Vegas requires filmmakers to acquire the appropriate permits before commencing production, both from Clark County and the State of Nevada. However, filming on private property does not require a permit, and some areas outside of the Silver State's largest city often do not require any county approval, either.
Los Angeles' San Fernando Valley, while it has long been the Hollywood of porn, saw a 2012 county ordinance requiring triple X actors to wear condoms push the industry out of the city. Ironically, voters eventually rebutted the "safe-sex" ordinance, and today, condoms aren't required paraphernalia in erotic movies produced in Los Angeles.
But that notwithstanding, much of the industry had already moved to Nevada's more relaxed legal environment.
"Some of our directors have moved to Vegas and are setting up studios," Michael Stabile, a spokesman for a fetish film company, told the Review-Journal.
While prostitution is technically illegal in Las Vegas, "escorts" generate an estimated $5 billion in revenue each year. Legal brothels outside of Clark County, on the other hand, generate just a small fraction of that number, at roughly $75 million annually.
It often doesn't take a trained law enforcement agent to spot a casino visitor who has been approached by someone involved in the illegal sex trade. Regardless, resorts aren't in the business of interrogating guests, and as long as all the action happens consensually and out of sight of management, nobody is prying into what happens.
Could Trump's New AG Bring the Industry to Its Knees?
While President Obama closed the Department of Justice's task force unit investigating obscenity, the new commander-in-chief's pick for US Attorney General has said he would restore the division.
Alabama Senator Jeff Sessions (R) said during his Senate confirmation hearing recently that prosecuting adult obscenity laws and pornography would be of interest to his Justice Department.
"Those laws are clear . . . and should be effectively and vigorously prosecuted in the cases that are appropriate," Sessions explained. The federal government has recently only pursued charges against pornography that dictates rape or violent sex.
Ironically, President Trump himself appeared (albeit thankfully clothed) in the opening title montage of a soft-core Playboy porn video made back in 2000.