Lack of Las Vegas Monorail Funding Leaves Mandalay Bay Stop for Raiders Stadium Opening in Question
Posted on: July 15, 2018, 12:00h.
Last updated on: July 14, 2018, 01:19h.
The Las Vegas Monorail could be a hero if it can reach the Mandalay Bay – the stop fans would use to reach the Raiders' Las Vegas Stadium when it opens in 2020 – but as of right now, that status is in question.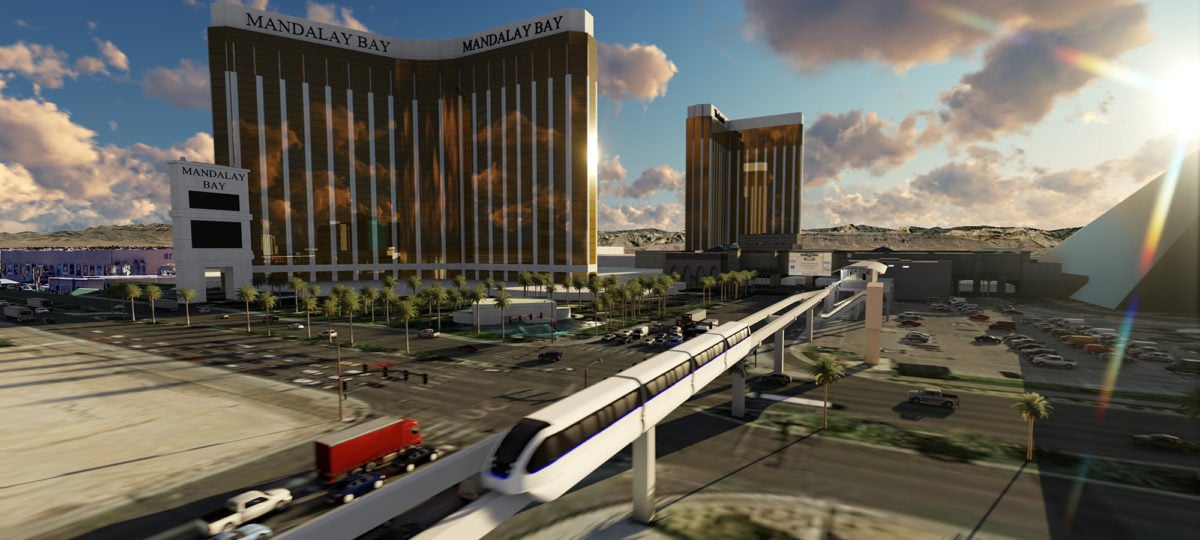 A recent funding fallout is threatening to stall expansion from its current end at the MGM Grand to further south at the Mandalay Bay, meaning tourists and locals will have to rideshare, cab it, or drive and find a parking spot to see games when they first kick off at Las Vegas Stadium in two years.
According to the Las Vegas Review-Journal, plans to create a new monorail station at the Shoppes at Mandalay Place by the time the Raiders play their first NFL game in Las Vegas have stalled because the company has not acquired $110 million in bonds that would pay for the extension.
The monorail starts at the SLS Las Vegas on the north end of the Strip.
Delayed Construction Impact
The Clark County Commission approved the Mandalay Bay extension during a March zoning meeting, and construction on the project was set to begin this past June.
Steve Sisolak — now the Democratic gubernatorial candidate for Nevada and currently chairman of the Clark County Commission — said the monorail would be a vital aspect of transportation to and from the Raiders' future stadium.
"We can't do it all by cab and Uber and private transportation. The monorail has to absorb a bigger percentage of this," Sisolak told the R-J.
Also opening in 2020 is the Madison Square Garden Sphere in Las Vegas: an 18,000 seat, 360-foot tall orb-like concert venue. Developers for the Sphere have expressed interest in monorail stop nearby. Current plans call for the Sphere to connect with the Sands Expo Center through a climate-controlled pedestrian bridge.
Without the bond money secured, the Clark County Commission is in the process of reviewing the company's construction permits.
The delay of the project isn't a total surprise.
In January, the Vital Vegas blog reported on Twitter that companies were "reluctant to underwrite" the bonds with  no backing.

"Mandalay needs this badly, but only way forward is if county or MGM Resorts guarantee bond payments," VV said.
The company is eligible to apply for up to a $4.5 million loan from Clark County each year, but approval is not guaranteed.
Parking Woes
Beyond major attractions, the monorail simply makes it easier for visitors to get around the 4-mile stretch of the Las Vegas Strip. More and more Strip casinos have abandoned free parking, a tactic that some say is hurting tourism.
"The customers hate it," said Anthony Curtis, publisher of Las Vegas Advisor, when talking about parking and resort fees. "Everyone hates resort fees, but the parking fee is worse."