L.A. Rams Wide Receiver Cooper Kupp Seeks Second Opinion on Injury
Posted on: September 6, 2023, 09:47h.
Last updated on: September 6, 2023, 11:46h.
Los Angeles Rams star wide receiver Cooper Kupp has reaggravated a hamstring injury, and he visited a specialist on Monday in search of a second opinion.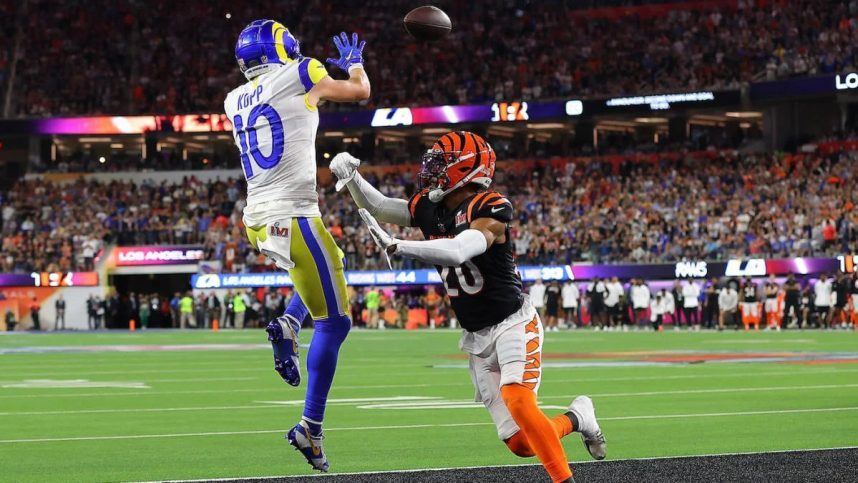 Kupp is currently in Minnesota, where he's been since Monday, to undergo testing and additional imaging with a hamstring injury specialist.
You want to be able to just take it a day at a time," said Rams head coach Sean McVay.
Kupp, 30, appeared in only nine games in 2022 because of a season-ending ankle injury. In nine games last season, he caught 75 passes for 812 yards and six touchdowns.
Kupp underwent surgery in the off-season to repair his ankle. He sustained a hamstring injury at the start of training camp in early August. The Rams thought Kupp recovered until he tweaked the same hamstring in practice and suffered a setback last week.
During the 2021 season, Kupp smashed records during a 17-game season. He tallied a career-best 145 receptions for 1,947 yards and 16 touchdowns. He also earned MVP honors in Super Bowl LVI and led the Rams to a championship.
Rams List Kupp as "Day-to-Day"
The Rams suggested that Kupp is day-to-day with a hamstring injury. But in fantasy football and gambling terms, he's really week-to-week. Kupp is currently listed as questionable to play in Week 1, when the Rams open the season in Seattle against the Seahawks.
We're hopeful that this will give some clarity once he goes and talks to these doctors," McVay told reporters. "Because it doesn't fall in alignment with some of the things that have ended up occurring relative to the standard strains of the hamstring, just based on what's occurred over the last month and a half."
A coy McVay has always been evasive with his comments to the media, but you can read in-between the lines with his latest statement. The Rams seem baffled that Kupp has not healed within a typical hamstring injury time line, so they're consulting with a specialist to determine why there's been a setback.
The results could be troubling if the specialist from Minnesota discovers a more serious issue. There's been no shortage of internet sleuths and real doctors sharing their unsolicited diagnosis about Kupp on social media, which suggested that Kupp also has a sciatica nerve issue.
The Rams have not offered an update since Kupp arrived in Minnesota on Monday.
Next Man Up
Van Jefferson enters his season as a wide receiver with the Rams. He fourth has caught 93 receptions and 10 touchdowns in 44 games since 2020. If Kupp misses any significant time, Jefferson slides into the WR #1 role.
The Rams selected Tutu Atwell with a second-round pick in the 2022 NFL Draft out of Louisville. Atwell caught 18 passes for 298 yards and one touchdown in his rookie season in 2022. Atwell was expected to begin this season in the WR #3 role. If Kupp is out, then Atwell moved up the depth chart into the WR #2 spot.
Ben Skowronek, a seventh-round pick from Notre Dame, saw limited action as a rookie. He caught 39 passes for 376 yards last season, but he's yet to score a touchdown in the regular season. Skowronek saw an uptick in playing time last season when Kupp sustained an ankle injury.
The Rams selected Puka Nacua with a fifth-round pick in this year's draft. The rookie from BYU made the 53-man roster, and he could crack the lineup sooner than expected.
Demarcus Robinson joined the Rams in 2023 after playing five seasons with the Kansas City Chiefs and spending last season with the Baltimore Ravens. In 98 career games, Robinson caught 193 passes for 2,137 yards and 16 touchdowns. Although Robinson is still getting acquainted with the playbook, he's the only true veteran on the bench.
Betting the Rams (Without Kupp)
The Rams had a bleak outlook this season even before Kupp reaggravated his hamstring injury.
The Rams were 5-12 last season. They struggled with a Super Bowl "hangover," which is an affliction that many championship teams suffer in the season immediately after they win a championship. In the case of the Rams, they woke up drunk at the start of the season, and their slow start spilled into October. They continued to struggle throughout the 2022 season with injuries to key starters like defensive stud Aaron Donald, quarterback Matthew Stafford, and Kupp.
The Rams have a win total of 6.5 over/under this season, which is barely better than last year's futile five-win season.
The Rams are +310 odds to make the playoffs, according to DraftKings. You can back them at -380 odds to miss the playoffs in consecutive seasons.
The Rams are a longshot to win the NFC West at +1000 odds. They're near the bottom of the futures board at +8000 odds to win the Super Bowl, and +4500 odds to win the NFC Championship.
The Rams are an underdog in the first three games of the season. The Seahawks host the Rams in Week 1 during an NFC West divisional battle. The Rams are a +5.5 road dog to start the season.
In Week 2, the Rams play another division game when they host the San Francisco 49ers. The Rams are +4.5 home dogs against the 49ers in their first game of the season at SoFi Stadium.
In Week 3, the Rams and Cincinnati Bengals meet on Monday Night Football in a rematch of Super Bowl LVI. The Bengals are -7.5 favorites at home against the visiting Rams.