Kevin Durant Joins Golden State Warriors and Realigns 2016-17 NBA Odds
Posted on: July 5, 2016, 11:37h.
Last updated on: July 5, 2016, 11:37h.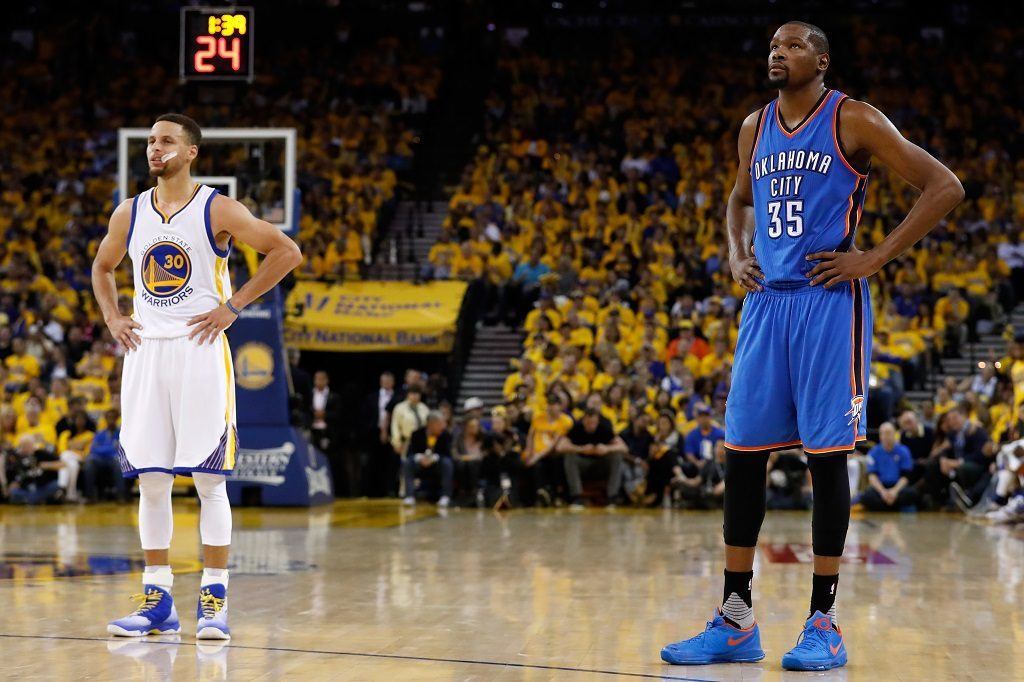 Kevin Durant is headed west to Golden State. The 2014 NBA Most Valuable Player and the most prized free agent in 2016 is joining the team that eliminated his Oklahoma City Thunder in the Western Conference Finals in May.
Though technically LeBron James is also a free agent, it's largely presumed he'll resign with his Cleveland Cavaliers to defend the NBA title he won last month. That means the 27-year-old Durant, a seven-time All-Star averaging 27.4 points per game over his nine seasons, was the top dog up for grabs.
"The primary mandate I had for myself in making this decision was to have it based on the potential for my growth as a player, as that has always steered me in the right direction," Durant wrote on The Players' Tribune. "With this in mind, I have decided that I am going to join the Golden State Warriors."
And with that, the lines in Las Vegas went wild for the 2016-2017 NBA season.
Are Warriors a Sure Thing?
LeBron James and the Cleveland Cavs found a way to out-duel the Warriors in the NBA Finals, but bookmakers now believe there's basically no conceivable way Durant and the Warriors will lose next June in a prospective NBA Finals matchup. Led by two-time reigning MVP Steph Curry, the Warriors now have four 2016 NBA All-Stars in their starting lineup.
Westgate SuperBook Manager Jeff Sherman tweeted after Durant's announcement that the Warriors are now favored to win the title at odds of 2/3. The Cavs are second at 5/2.
Sportsbook.ag puts Golden State at 4/5. Cleveland is at 4/1.
Bodog lists Durant's new team at -140 to win the NBA Championship.
As for Oklahoma City, well, their odds were struck by thunder. The team is listed at 50/1 at Sportsbook.ag and +3500 at Bodog.
Durant's deal is for two years and $54.3 Million. That could be a worthy investment for Golden State ownership should the team claim its second NBA title in three years next summer.
Wading in Cleveland
With the speculation surrounding Durant now over, all eyes are moving south to Miami. Dwyane Wade has spent his entire 13-year career with the Heat, but some now believe LeBron's former teammate and close friend could be going to "Believeland."
Various media outlets are hyping the story and claiming Wade is in talks with the Cavs. However, there's little concrete evidence to those rumors.
Miami has reportedly offered its superstar $40 million for two years, but the veteran is looking for a longer deal.
The Cavs spent the most money among the league's 30 teams in winning the 2016 NBA title. Cleveland's first major professional sports championship in 52 years ended up costing Cavs owner Dan Gilbert an extra $54 Million in luxury taxes alone.
Landing Wade might take some concessions by James or Wade. When James moved from Cleveland to South Beach in 2010, LeBron took a lesser contract in order for Miami to land Chris Bosh.
With the Warriors stacked out west, Cleveland will need to revamp its championship roster. Wade is the most obvious choice, and perhaps the only thing possibly standing in the Warriors' way.