Kentucky Sports Betting Bill Set for Photo Finish as Lawmakers Return to End Session
Posted on: March 28, 2023, 06:33h.
Last updated on: May 25, 2023, 06:09h.
The Kentucky General Assembly returns to Frankfort for the final two days of its 2023 session on Wednesday. Many will be watching to see if lawmakers can pass a sports betting bill before the clock runs out.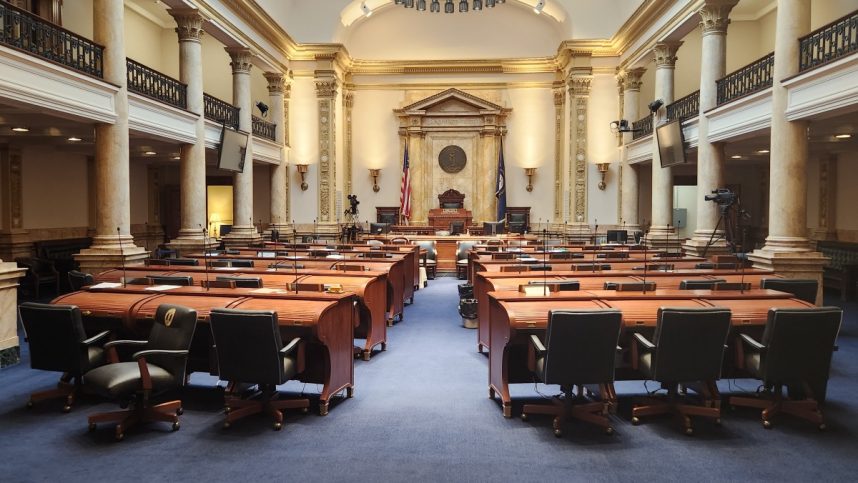 Sources have told Casino.org they are close to the 23 votes needed to pass the House Bill 551 in the Senate. It could be down to getting a single lawmaker on board to pass the bill, sponsored by state Rep. Michael Meredith (R-Oakland).
Earlier this month, the bill passed the Senate Licensing and Occupations Committee by a 9-1 vote. It was a key step for the measure, considering that it did not get a committee hearing in the chamber before the session ended.
If the votes are there – and provided that chamber does not amend the bill – it would head to Gov. Andy Beshear's desk, and the Democratic leader has already indicated he would sign the bill into law.
The General Assembly session is scheduled to end Thursday night.
Full Court Press Initiated
With reports circulating about the close nature of the vote, both FanDuel and DraftKings went to social media to encourage Kentuckians to contact senators and urge them to pass the bill. The two major sports betting operators , along with BetMGM and Fanatics, are part of the Sports Betting Alliance that seeks to legalize sports betting across the country.
American Gaming Association President and CEO Bill Miller sent a letter to lawmakers in the chamber, saying Kentucky "has an important opportunity" to join 36 states and the District of Columbia in regulating sports betting.
Miller also noted that six of the seven neighboring states already have legalized it. He also pointed to a report from GeoComply last week that identified nearly 300,000 geolocation checks by more than 23,000 Kentucky-based accounts during the first week of the NCAA Men's Basketball Tournament.
Nearly 80% of those checks were for online sportsbooks in Indiana and Ohio.
This consumer demand makes clear that the alternative to creating a legal marketplace is that Kentuckians will continue betting in the illegal market, with no consumer protections and no benefits generated for the state," Miller wrote.
And as many lawmakers make their way to the Capitol, they'll pass a billboard the Kentucky Chamber of Commerce posted last week calling for HB 551 to pass.
Our last billboard for the 2023 General Assembly! You only have a few days to let your legislator know you support sports wagering. Here's a link to contact them: https://t.co/PoH4d0wsKU pic.twitter.com/LQwsHOtQVY

— Ashli Watts (@AshliWatts) March 24, 2023
About Kentucky's Sports Betting Bill
HB 551 would allow the state's nine racetracks to offer sports betting at their establishments across the state. In addition, they can partner with up to three online operators each, which would give Kentuckians as many as 27 options.
The Kentucky Horse Racing Commission (KHRC) would be the state agency in charge of regulating and licensing. Tracks would pay a $500,000 initial license fee and $50,000 for annual renewals. Operators would pay $50,000 initially and $10,000 annually thereafter. Retail sportsbooks would pay a 9.75% tax on revenues, while online operators would face a 14.25% levy. Operators would only be able to deduct the .25% federal excise tax from their gross revenues for tax purposes.
Because the bill raises revenue, allocates funds, and is being considered in a non-budget year, the state's constitution states HB 551 needs a three-fifths majority in order to pass. That would be 23 of the 37 sitting members.
Most of the revenue would be allocated to the state's public worker pension plans. But 2.5% of the money raised would go into a problem gambling education and assistance fund. That would mark the first time Kentucky established such a program.
Unlike its neighbors, Kentucky will allow adults 18 and over to wager. That's the same age requirement for horse racing and other legal gambling options in the state. While Illinois, Indiana, Ohio, West Virginia, Virginia, and Tennessee all have set their age limits at 21, there are several other states that permit access to 18-year-olds.
If the bill passes, the KHRC would have six months from the day the law takes effect to create and enact regulations for sports betting. Bills signed into law in Kentucky officially take effect 90 days after the session ends.
Most Read