Joanna Jedrzejczyk Favored vs. Michelle Waterson at UFC Fight Night 161
Posted on: October 12, 2019, 01:00h.
Last updated on: October 11, 2019, 10:50h.
Former women's strawweight champion Joanna Jedrzejczyk is favored to get by Michelle Waterson in the main event at UFC Fight Night 161. But there are still questions over whether or not that fight will even happen.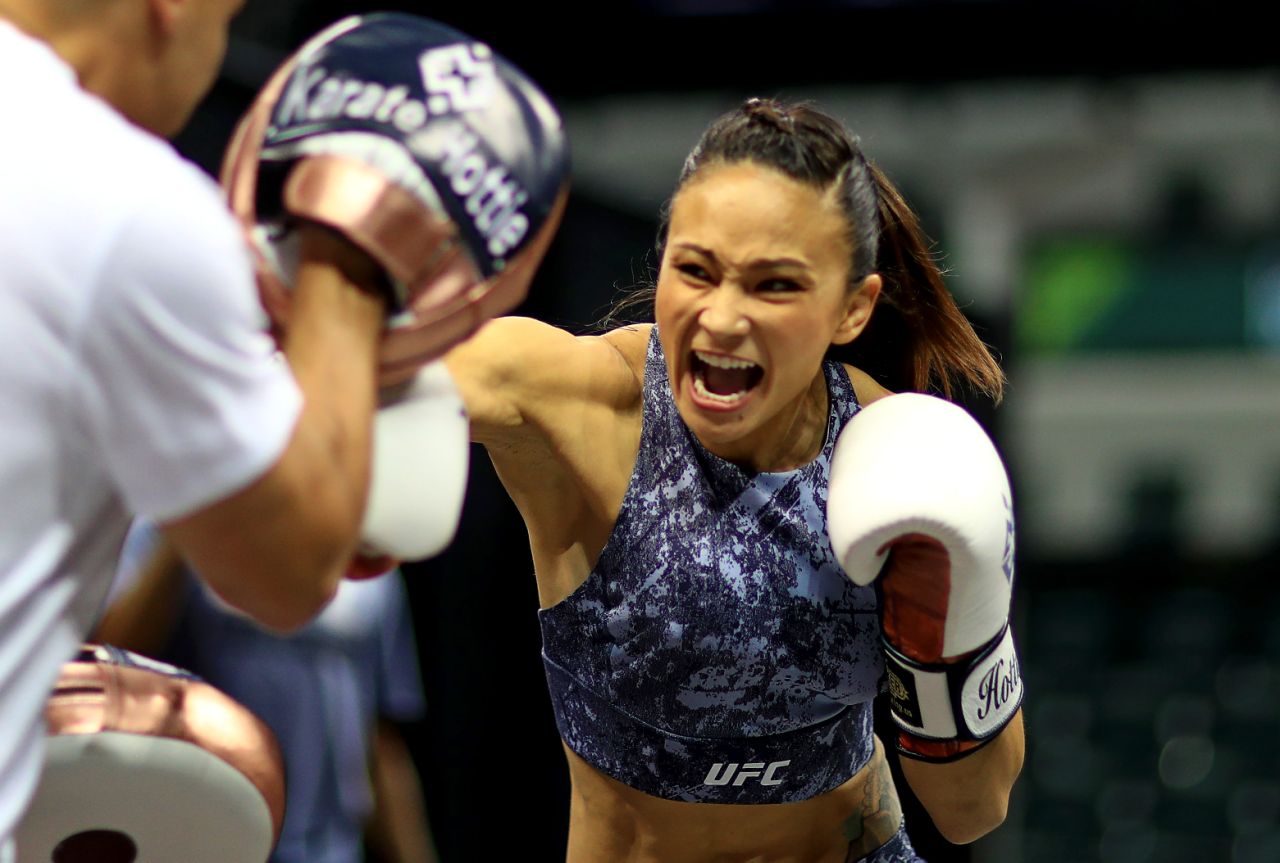 DraftKings Sportsbook has Jedrzejczyk installed as a -345 favorite over Waterson, who can be backed as a +265 underdog in the five-round fight on Saturday night.
Report: Jedrzejczyk Wanted Catchweight Bout
Fight fans could be in store for a great main event, as both Jedrzejczyk (15-3) and Waterson (17-6) are legitimate contenders who have the ability to get stoppages with skilled striking. But there were questions throughout the week as to whether or not the bout would even come together.
On Wednesday, ESPN reported that the Jedrzejczyk camp had informed the UFC that she would not be able to make the weight limit of 116 pounds – the absolute limit on weigh-in day for the 115-pound strawweight division. Furthermore, the report said that Waterson had declined an offer from the UFC to allow the fight to go forward at a catchweight.
Jedrzejczyk started her career as a flyweight, and has increasingly had to make difficult weight cuts to get down to strawweight as she has aged. But never before had she been unable to make weight for a fight. On Wednesday, she made sure to tell anyone who would listen that she had no intention of ending that streak.
Did I miss something, were the weigh-ins today?" Jedrzejczyk said to reporters on Wednesday. "The weigh-ins are Friday, right? I had a good night's sleep last night. Let's stay calm. I'm focused on my final weight cut."
Waterson says she saw the request for a catchweight bout as a play on Jedrzejczyk's part, one designed to allow the larger fighter to come in at a heavier weight.
"You know, any advantage you can get as a fighter you're gonna try to get," Waterson told reporters during Wednesday's open workouts. "Who knows, maybe she thought she wanted to have her cake and eat it, too, because of my kind-hearted nature."
Gracie Continuing Family Legacy
In the co-main event, the undefeated Kron Gracie (5-0) will take on Cub Swanson (25-11) in a featherweight matchup. The Gracie family was a key part of the birth of MMA and the UFC, but Kron is the first member of the clan to find success in the Octagon in over two decades.
Gracie will now get a real test in the veteran Swanson, who has put together a solid career, though one in which he has consistently been beat by the truly elite fighters in the division. Now, the 35-year-old Swanson is nearing the end of his career, but should still provide a perfect test for Gracie as he looks to start working towards contender status.
Much of the pre-fight chatter between the two has been about Brazilian Jiu-Jitsu. Gracie – whose family is synonymous with the martial art – has criticized Swanson for trying to switch training teams, while Swanson says he's actually had trouble finding BJJ trainers because of the Gracie family name.
"I've been kicked out of a couple of jiu-jitsu schools because of the respect," Swanson said on UFC Unfiltered. "They don't want to train somebody that isn't a Gracie, which really pisses me off."
Gracie (-155) has been made a modest favorite over Swanson (+125) in what should be a battle of styles. As with his family members before him, Gracie will look to take the fight to the floor and find a submission, while Swanson will try to keep the fight standing and look for a knockout. The fight could easily go either way, though the 31-year-old Gracie has the advantage simply by being in the prime of his career.
Also on the UFC Fight Night 161 card is a women's strawweight bout between the undefeated Mackenzie Dern (-143) and Amanda Ribas (+115), as well as a lightweight clash between Luis Pena (-177) and Matt Frevola (+140).