Jack Entertainment Fined $200,000 in Ohio over Lax Security
Posted on: August 18, 2017, 05:00h.
Last updated on: August 18, 2017, 04:07h.
The Ohio Casino Control Commission (OCCC) announced this week it had issued a rare fine for non-compliance, to Jack Entertainment, owner of the Jack Cleveland and Jack Cincinnati casinos and the Jack Thistledown racino in the state.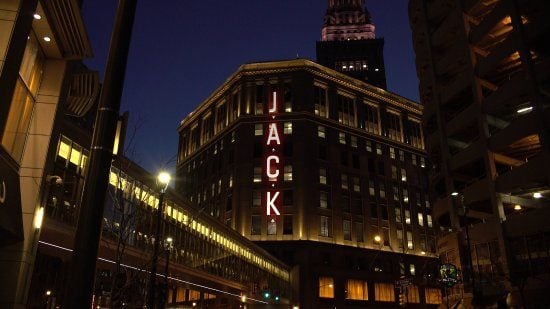 The operator has accepted a $200,000 fine for 13 instances of allowing minors into its Cleveland casino and for giving too many of its employees access to a computer management program that permits the tracking of finances and player activity.
The OCCC said that an audit had found that "the wrong people" had access to the program.
"Only certain people should be able to enter and edit data," said OCCC spokeswoman Jessica Franks. "They kept telling us it was fixed and our auditors found it wasn't. As part of the settlement agreement, Jack is going to hire an independent third party to do a special audit of the computer management program to make sure it is in compliance."
Security Personnel Not Up to Scratch
Regarding the instances of underage patrons on the property, the OCCC sympathized that the casino's location (in a public square known, imaginatively, as Public Square) made it difficult to police its multiple entrances. But it found, ultimately, that "the security personnel were not following procedures that are supposed to be followed to screen out individuals."
According to regulations, anyone who looks under the age of 30 must have their ID checked on the door.
Fines are rare in Ohio because the OCCC generally tries to work with operators to solve the issues," Franks said.
"We acknowledge the significance of the matters identified by the Ohio Casino Control Commission and take our compliance with their important operational policies and procedures seriously," said Matt Cullen, Jack Entertainment CEO, in an official statement. "We have swiftly taken steps to respond to these issues and will continue to work with the Commission to ensure ongoing compliance."
Child Endangerment
From minors entering the Jack Cleveland, to the even more alarming proposition of a minor being left outside the Jack Cleveland, in a hot car, while Dad gambles.
John Pierre McCallister, 28, from Akron, Ohio, was charged on Thursday with child endangerment after he allegedly left his girlfriend's three-year-old son in his car on the third story of the casino's parking lot last Saturday.
Police officers were alerted to the situation by a concerned member of the public. McCallister smelled strongly of alcohol when he was arrested as he returned to the vehicle.