Six Months In, In-Person Registration for Iowa Online Sports Betting Shows Mixed Results as Proponents Tout Success
Posted on: February 17, 2020, 04:39h.
Last updated on: July 28, 2022, 08:29h.
Last week, the latest sportsbook announced it was coming to Iowa, although not anytime soon.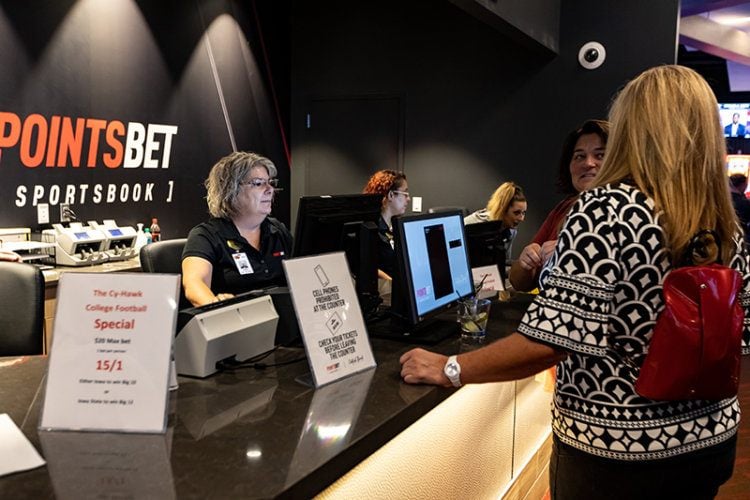 A spokesman for Kindred Group said the company isn't planning to launch its Unibet app in Iowa until next January, when the period of in-person registration for mobile betting ends. The 18-month provision was included in the state law that passed last year legalizing sports betting in the state.
The law requires anyone who wants to bet online to first go to a participating casino and register in person. The provision is not unique to Iowa, as Nevada and Rhode Island also both require it. Of the states still considering sports betting, Kentucky's bill includes a similar 18-month window for its race tracks.
Critics of the measure claim requiring people to travel to casinos in order to bet using their phones stymies the revenue generated from online betting. In most states where people are able to register directly online, mobile betting handles far exceed the traffic to retail sportsbooks.
However, those who support the policy say it's a way to provide customer service to their new clientele and to prevent underaged teens from gambling. An Iowa gaming leader told Casino.org the 18-month compromise was a way to get the necessary legislative support to pass the bill.
"This just gave that comfort level for legislators, as well that there's going to be this time frame to get things established," said Wes Ehrecke, president and CEO of the Iowa Gaming Association.
Early Numbers Show Admissions Up, Revenue Mixed
Unlike most states that have legalized sports betting, Iowa launched brick-and-mortar sportsbooks and online sports betting applications simultaneously. In fact, this past weekend marked the six-month anniversary of the first sportsbooks opening in the state.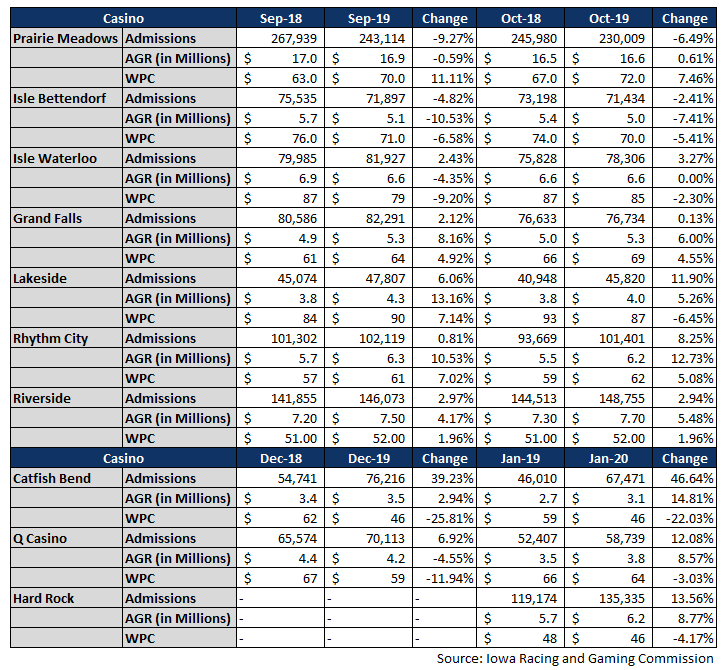 The Iowa Racing and Gaming Commission (IRGC) has approved sports betting licenses for all 19 of the state-licensed casinos. Of those, 10 have launched mobile betting applications at different times throughout the last six months.
Casino.org reviewed the monthly IRGC data to determine how the in-person registration requirement has affected casino traffic. For an apples-to-apples comparison, we reviewed the first two full months of casino data, as most applications were launched in the middle of a month, and compared to the same two months from the last fiscal year.
Nine of the 10 applicable casinos have had mobile sports betting for two full months, while Hard Rock Hotel and Casino Sioux City launched its application in mid-December.
While a majority of the casinos have seen increases in traffic, the initial results are mixed. Of the eight that have seen increased casino traffic, four reported growth of less than five percent. Three of the 10 casinos saw adjusted gross revenues either decline or remain the same, and three casinos saw admissions increases exceed revenue growth, with two far exceeding.
Of the nine Iowa casinos where online sports betting has not started yet, three are associated with DraftKings and two are tied with FanDuel – those two companies currently enjoy the largest market share in online sports betting. Two more are owned by Caesars Entertainment, which only has online sportsbooks operational in Nevada and New Jersey for now.
'Looking Forward' to Remote Registration
Catfish Bend Casino in Burlington, located in the far southeastern corner of the state, saw foot traffic grow 42.6 percent, as nearly 43,000 more people visited the casino in December and January after PointsBet launched its online sportsbook. However, the adjusted gross revenue increased by 8.2 percent. While that's still a nice gain, it did cause the casino's win per capita measure to drop substantially.
Details on the rest of casinos' numbers are at the bottom of the article.
Even with the increased foot traffic that comes with the oddsmaker registering people for its mobile application, PointsBet officials are looking at counting down to Jan. 1, 2021.
We're looking forward to the remote registration environment to where the entire state and all the players in it that are live and operational are on a level playing field," PointsBet Vice President of Strategy and Retail Paul Hannon told Casino.org.
Until that time, though, PointsBet claims it is committed to making the registration process quick, easy, and modern for the customer.
"We stray as far away [as possible] from the Nevada model of having people fill out paperwork," Hannon said. "I know some operators still do that out there. Our process is in-person, it is digital," he said. "You do show your ID, you share your different points of personal identifying information, and then we run through the KYC (Know Your Customer) process right there in person under surveillance. We check all the boxes and that's it.
"It's as simple as signing up, you download the app, and then you go from there," he added.
'Model Bill'
According to IRGC data, Iowa's sportsbooks have taken $270.3 million in wagers through January. Of that, $152.4 million of those bets have been made through online apps, representing about 56.4 percent of all wagers.
Not all sports betting states produce monthly revenue reports. However, in New Jersey, Pennsylvania, and Indiana, states with open registration for online, mobile currently accounts for more than 70 percent of their betting totals.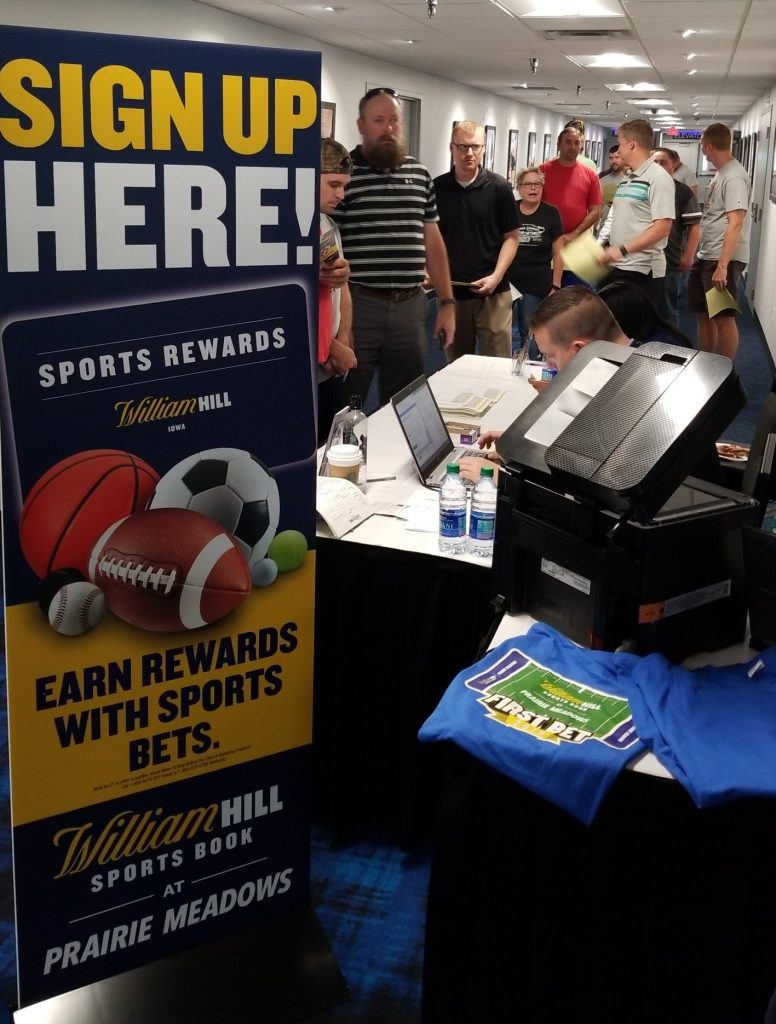 A recent study by Eilers and Krejcik, a global gaming consulting firm, for the iDevelopment and Economic Association (iDEA) indicates that Iowa is losing out on potential bettors, which they claim means the state is missing out on a large and important customer base.
Only nine percent of potential bettors in the state are willing to drive an hour or more to register for an account, and 13 percent are unwilling to drive to a casino at all. More than a quarter would only drive 15 minutes to a nearby casino.
Ehrecke said that while some may now wish the in-person registration window was shorter, he noted that all the stakeholders involved in the sports betting legislation —  which brought together 19 casinos and a dozen gaming companies — committed to support the 18-month registration window when the bill was being drafted and vetted.
"We like to think we have one of the best model bills in the country for how it's structured with the licensing fees and tax rate, and none of the royalty fees for the major leagues," Ehrecke told Casino.org. "But this was a provision that was important. I would say that some are now thinking that maybe they wished it was maybe a year instead of 18 months, but … it's worked. Like it's supposed to."
Kentucky Looks to Iowa
Kentucky does not have any casinos, but its sports betting bill would allow the state's race tracks and the Kentucky Speedway to operate sportsbooks.
While live racing doesn't take place year-round at any of the horse or harness tracks, they do have simulcasting centers for off-track betting. They also either offer or are in the process of offering historical horse racing machines. The machines look like traditional slot machines or video poker games, but use the outcomes of past races to determine winners.
And if Kentucky lawmakers pass the sports betting bill this session, anyone who wants to bet online using the track's application through the end of next year would first need to register in-person at the track. The language in Kentucky's sports betting bill is similar to that of what Iowa lawmakers passed last year regarding online registration.
Operators say they believe the requirement will help attract new customers to the tracks.
I really like having our guest service folks do a face-to-face, have that one-on-one time with the guests signing them up, than everything being done on mobile," said Ted Nicholson, vice president and general manager of Kentucky Downs.
At a press conference where he called on lawmakers to pass House Bill 137, Gov. Andy Beshear said events such as the Kentucky Derby, the annual NASCAR race at the Speedway, and the 2020 Breeders' Cup at Keeneland would attract residents from across the state, allowing them the opportunity to register for those sites' applications.
However, the Derby and the NASCAR race will likely run before the state can establish the regulations needed to license sportsbooks.
"I would be agreeable to removing that 18 months, but I understand that it's in the bill, and I support the bill," Beshear said.
The sports betting measure has passed in a committee last month but has yet to receive a floor vote.
Iowa by the Numbers
Catfish Bend by far had the biggest increase, percentage-wise, in admissions after its online sports betting application started. In its first full month of online sports betting, Hard Rock saw its traffic jump 13.6 percent, with revenues climbing by 8.8 percent. The Q Casino and Hotel in Dubuque saw admissions rise by 9.2 percent, but revenues over the same period increased by only 1.3 percent.
The best performer from a revenue perspective in Iowa has been the Rhythm City Casino in Davenport. Admissions grew by more than 8,000, or 4.4 percent, in the first two months, while revenues enjoyed an 11.6 percent increase to about $12.5 million. The Lakeside Hotel Casino saw an 8.8 percent increase in admissions and a 9.2 percent jump in revenue.
The Grand Falls Casino and Golf Resort in Larchwood, in the northwest corner of Iowa, saw admissions increase by just 1.2 percent after its online sports betting application launched, but revenue grew by 7.1 percent. And the Riverside Casino and Golf Resort saw 3 percent and 4.8 percent increases in admissions and revenue, respectively.
Prairie Meadows Racetrack and Casino, the largest casino by far in the state, saw its attendance figures decline by nearly 8 percent from its 2018 numbers in the first two full months after William Hill launched its mobile sportsbook. However, despite the decline, revenues remained the same at about $33.5 million.
The Isle of Capri Casino in Bettendorf saw traffic drop by 3.6 percent and revenues drop by 9 percent. However, those figures may have been skewed by highway construction that prompted detours in the area. Meanwhile, the Isle of Capri Waterloo saw admissions rise by 2.8 percent, but revenues fell by 2.2 percent.