Holland Casino Groningen Levelled by Fire, Asbestos Found in Rubble
Posted on: August 29, 2017, 05:00h.
Last updated on: August 29, 2017, 06:33h.
Groningen's Holland Casino has been utterly destroyed by a fire that engulfed the building around 7am on Sunday morning and raged for much of the day in the Netherland's largest northern city.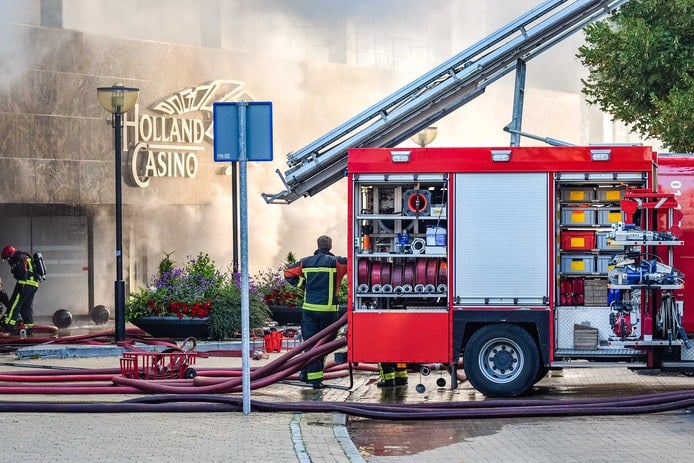 No one died in the incident but local residents living in the surrounding streets were evacuated, as nearly 150 firefighters battled to control the blaze, eventually getting it under control about 3.30pm.
On Tuesday, officials examining the scene, not far from the city center, found asbestos among the rubble, prompting many residents who had been moved to a hotel in the city to opt not to venture home.
Mayor Peter de Oudsten said around 30 people were informed of the asbestos risk, although he did not believe it represented a serious health hazard. "The residents were allowed home, but it was up to them to judge if they wanted to," said a spokesperson for the mayor's office. "There were people who preferred to stay in the hotel. Some [homes] may also have smoke damage."
Health Hazard Cannot Be Ruled Out
But the company tasked with removing the asbestos said that the possibility that particles of the carcinogenic substance had been spread by smoke during the fire "could not be ruled out."
The cause of the fire is currently unknown, although de Oudsten said there was no reason to suspect arson.
The building is said to be "lost," according to the mayor, and meanwhile Erwin van Lambaart, chairman of the Holland Casino board, was unable to tell local press just much hard currency in the casino's safes also perished in the flames.
He acknowledged, however, that since Saturday nights are the casino's peak period, it is likely to be a considerable sum.
'We Have Lost Our Building'
"Unfortunately, we have lost our building," read the casino's website today. "Our initial concerns are for the well-being and safety of our staff, guests and the local residents.
"We feel at home in this city," it quoted van Lambaart as saying. "Our short-term plan is to find alternative (temporary) premises in Groningen for our casino, our people and our guests. We will of course keep you informed about the developments."
A poker tournament that was to be played today (Tuesday, 29 August) at the venue has been moved to Holland Casino Leeuwarden, around 40 miles away.
Holland Casino operates all of the country's 13 casinos as a state monopoly but long-awaited gambling reforms, approved in the Dutch lower chamber in February, would privatize the chain, selling at least ten off to private investors.
It is not known whether Groningen had been earmarked for privatization.
Similar Guides On This Topic