Hipster Chic: Next Wave of Vegas Hotels As City Starts to Bounce Back
Posted on: August 11, 2013, 05:30h.
Last updated on: October 26, 2021, 05:25h.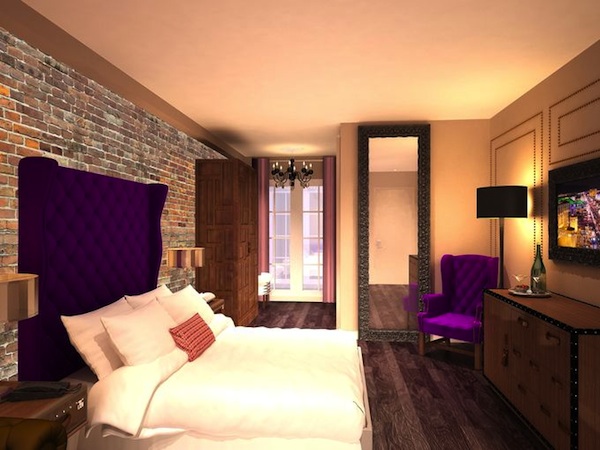 It's been a long, slow road to recovery for a gambling town that once threw money around and opened or renovated casinos at the drop of a hat; but finally, about five years after the worst recession to possibly hit Las Vegas ever, things are looking up.  Several new properties are poised to open amid much fanfare before another year has passed, and even if they're running a bit behind on their construction schedules, they could be worth waiting for in terms of giving tourists their first new hotel whiffs in quite awhile.
Gansevoort Opening March 2014
First there's the Gansevoort Las Vegas – co-owned by the Gansevoort Hotel Group, Caesars Entertainment and nightclub empresario Victor Drai- which is going up in a prime location at the corner of the Las Vegas Strip and Flamingo, where previously stood the run-down and out-of-date Bill's Gamblin' Saloon (which itself had supplanted the equally run-down Barbary Coast Hotel and Casino).
In a property that's changed hands more often than a card cheat, the new phoenix will be the result of a $185 million renovation, and will transform what was once a pretty low-rent joint into a rather chic boutique hotel-casino, more in keeping with its highly desirable center-Strip location opposite Caesars and the Bellagio. Gone will be every remnant of the Old (fantasy) West, replaced with a cool and hip decor that should attract a younger and better-heeled crowd.
When it opens in March 2014, the Gansevoort should boast 188 guest rooms,19 suites, (some featuring a Parisian apartment-style theme), a redone 40,000-square-foot casino, a redesigned lobby bar, an ultra-lounge and retail outlets. Drai's Beach Club and Nightclub will open in a 65,000-square foot space alongside the property's rooftop pool.
THEhotel Becomes Delano Las Vegas
Down at the south end of the Strip, adjacent to Mandalay Bay and taking over what was once THEhotel (itself considered hipster chic when it went up just ten years ago), Delano Las Vegas is joining the new trend of properties being co-run by a casino conglomerate and a hotel management group.  MGM Resorts International has teamed up with swank hotelier Morgan Group to recreate South Beach in this 1,100-room, all-suite property (exactly like South Beach, without the humidity, of course).
Other  than that, neither Morgan nor Mandalay seems to be divulging much about how Delano will look, and Mandalay seems to still be booking rooms for THEhotel, so maybe this is going to be like one of those 48-hour renovation shows they have on TV, with 100,000 construction workers going round the clock. This being Vegas, crazier things could happen.
As with THEhotel, patrons will be guided over to Mandalay Bay's casino, as there won't be a separate one in Delano.
Once considered impervious to financial blows – Las Vegas' only previous hit financially since 1970 was after the September 11 terror attacks, with a 1% revenue dip in 2002 from the previous year- the U.S. The recession that largely took hold in Las Vegas in 2008 hit the city right in its guts. What had changed in the interim was a much heavier reliance on non-gaming amenities; a reliance that continues, as reflected in these new properties and others like it that are going up on the Strip now. The new Las Vegas tourist comes just as much for fine dining, entertainment, as well as jazzy rooms and hotel amenities, as they do for gambling per se.
Now casinos are banking on hipster chic to be a winning bet to lure more players into their towers.
Similar Guides On This Topic