Hard Rock Unveils New Jersey Meadowlands Proposal
Posted on: June 4, 2015, 12:46h.
Last updated on: June 4, 2015, 12:50h.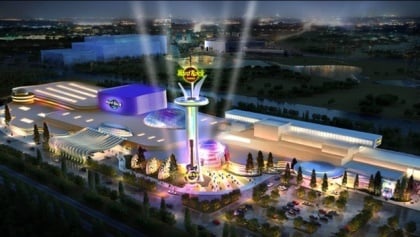 Hard Rock International and the Meadowlands Racetrack have revealed their plan for a casino in north New Jersey.
The companies are proposing a $1 billion casino project for the East Rutherford sports complex, right next to the New York Jets and New York Giants' stadium, should New Jersey opt to break the Atlantic City monopoly and authorize gambling expansion in the north.
Situated across the Hudson from lower Manhattan and just 21 miles away from Newark International Airport, Hard Rock CEO Jim Allen believes the casino would be uniquely positioned to reinvigorate New Jersey's troubled casino industry, which has lost ground in recent years to neighboring states.
Allen said this week that the casino could be up and running within a year, should approval be received by the fall.
"Now is the Time"
"The new casino would be designed to attract visitors from not only the 14 million adults in northern New Jersey and New York City, but also international travelers, making it a premiere entertainment destination," Allen said.
Lawmakers introduced a bill on Monday that would establish a public referendum on whether New Jersey should to amend its constitution to allow casino gaming into the north.
Voters could decide whether to permit up to three new casinos in Essex, Hudson or, in the case of the Hard Rock proposal, Bergen counties.
"We want to bring people back from Bethlehem, bringing back the people in northern New Jersey who now go to Aqueduct or Yonkers," said Jeff Gural, chairman of the Meadowlands Racetrack, who added that this year was the right time to change the constitution.
"If we have to go in 2016, with a presidential election, our message gets lost amid everything else. A commercial in 2016 is going to cost three times what it costs this year. Frankly, I'd rather wait until 2017."
Tax Revenue Shared with Atlantic City
Hard Rock Casino Meadowlands would have 200 table games and 5,000 slot machines, as well as a 2,000-seat concert venue, but Allen and Gural said they are also exploring the possibility of using the shuttered Izod Center arena on the sports complex grounds for larger events.
As with most Hard Rock properties, a giant neon guitar would dominate the front of the casino which would be like "a beacon in the nighttime," according to Allen.
It would not include a hotel, but would be well-served served by the 10,000-odd hotel rooms in the Meadowlands region.
Gural and Allen explained that the Hard Rock Casino Meadowlands would pay a 55 percent tax rate on its slots winnings and would generate $400 million to $500 million a year in tax revenue for the state, some of which would be shared with Atlantic City.