$300 Million Gary Casino Project Brings Hard Rock and Experienced Indiana Gaming Firm Together
Posted on: January 12, 2020, 11:26h.
Last updated on: January 13, 2020, 09:33h.
GARY, Ind. – Less than six months after announcing their plans, officials from Spectacle Entertainment, Hard Rock International, and this northwestern Indiana city celebrated the groundbreaking last week for a $300 million land-based casino many believe will help transform and revive the community.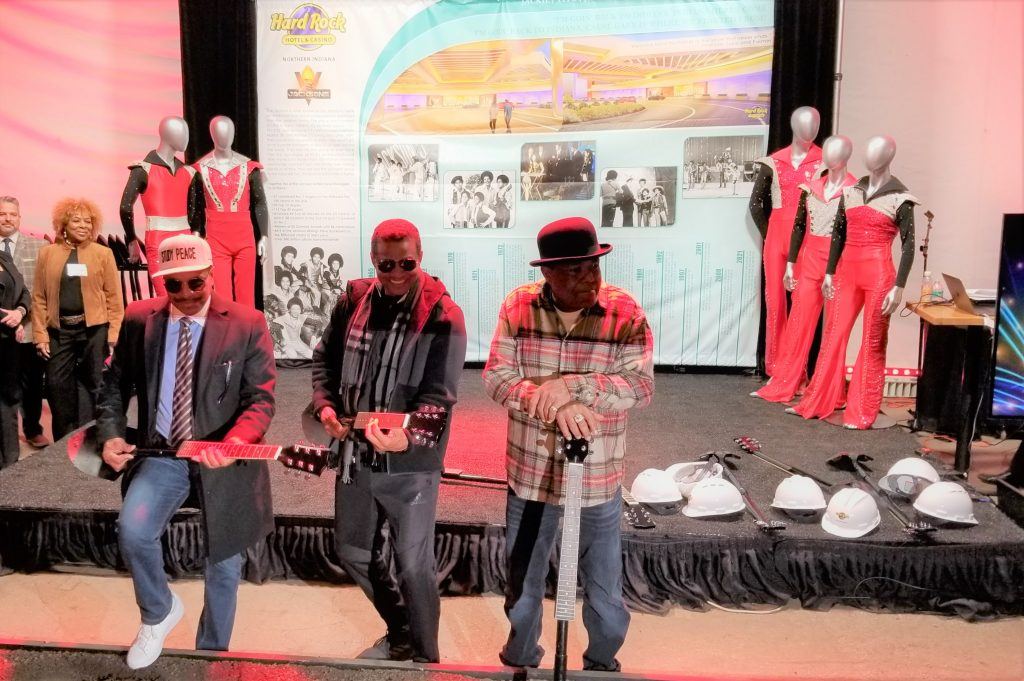 Hard Rock Northern Indiana will replace two Majestic Star riverboat casinos currently stationed on Lake Michigan. Over the next year, construction crews will build a 200,000-square-foot venue with 1,650 slots, 80 table games, six dining options, retail space, and a 2,000-seat entertainment area. Eventually, a hotel with up to 300 rooms will also be added.
Under the agreement, Spectacle will own the license and property and Hard Rock will operate the casino.
Jon Lucas, Hard Rock's COO, told Casino.org that the company has been interested in expanding. In addition to the Gary project, Hard Rock and Spectacle have applied to operate a casino in Vigo County, Ind. (See below for more information on that project)
"These are, what we think, two good markets," Lucas said. "Gary, in particular, is established… They have a database, so you're not starting from zero, and Spectacle knows the Indiana market."
Hard Rock Brings 'Value'
The venture brings together a gaming company whose executives have been involved in Indiana gaming efforts for three decades with an entertainment company that operates 28 hotels and 180 restaurants in 73 countries.
Gary will be Hard Rock's 14th casino.
You can't discount the value of this brand," Speros Batistatos, president and CEO of the South Shore Convention and Visitors Authority, told Casino.org. The authority promotes the hospitality industry in Gary, as well as other Lake County, Ind. communities that sit across the state line from Chicago.
The groundbreaking came less than 10 days into Gary Mayor Jerome Prince's first term in office. He likened the event to celebrating Christmas for the community.
And for good reason. Hard Rock and Spectacle officials expect to pump $20 million or more annually into the Gary economy, through tax revenue generated and other payments. The construction work will create about 1,000 jobs, and officials expect the casino's employment to grow from about 900 to 1,600.
Gary Bets Casino Can Spur Revitalization
Gary once was the second-biggest city in the Hoosier State. Back in 1970, more than 175,000 people called the town once associated with the steel industry their home. The town itself takes its name from Elbert Gary, the founding chairman of US Steel.
But as the steel industry declined, so, too, did the population. The US Census Bureau estimated 75,282 people lived there last year.
Prince is calling on the city to reimagine what Gary can become. Part of that includes the vacant square block just off the Frank Borman Expressway that will be the home for Hard Rock.
And in celebrating its future at the groundbreaking, the town looked to its past. Three surviving members of iconic pop music group the Jackson 5 took part. The stage featured some of the old costumes the brothers wore in concerts.
Marlon Jackson told the crowd at the groundbreaking that the family met with officials from Hard Rock, which the Seminole Tribe of Florida owns, as the project was coming together. In meeting with tribal chairman Marcellus Osceola, Jackson said he felt something special was happening.
That's what they're doing here, something special, and we look forward to working in conjunction with all you guys," Jackson said.
Prince said the Jacksons, like Hard Rock, are an international brand. He believes their involvement in the project could help bring in visitors to the community. But the Jacksons' involvement means more than that.
"Equally important is it's going to engage and encourage the citizens in the city to participate a little bit more, and that is what we're largely excited about," the mayor told Casino.org.
Leveling the Playing Field
The groundbreaking for Hard Rock Northern Indiana comes as an already crowded Chicagoland market looks to grow.
Lawmakers in Illinois, just like Indiana, passed an expanded gaming law last year that will add at least one casino to Chicago's suburbs and potentially more in and around Chicago down the road.
Northwest Indiana has four state licensed casinos. Like the Majestic Star, those venues are on Lake Michigan, and they bookend the Gary boats. By going inland, Hard Rock will be the only casino on the Borman Expressway, which connects directly to Chicago's southern suburbs in Illinois.
"This kind of evens the playing field a little bit, from a location standpoint," Rod Ratcliff, chairman and CEO of Spectacle Entertainment, told Casino.org.
The Spectacle leader is no stranger to Indiana gaming. He ran Centaur Gaming, which owned the two racinos in central Indiana, until he sold them to Caesars Entertainment for $1.7 billion. When he and his management team ran Indiana Grand and Hoosier Park, they didn't have any casino competition in the region.
However, when he formed Spectacle along with Greg Gibson to buy the Majestic Star and seek the move inland, Ratcliff said he and his team knew it was a different game up north, with more people and more competition.
That meant Spectacle needed a partner.
"We think Hard Rock was, by far, the best brand for us to bring to this type of market, with the experience that they've got," Ratcliff said.
Indiana Board Sets Hearing for Casino License
More good news may be coming Spectacle and Hard Rock's way, too.
On Thursday, Sara Gonso Tait, executive director of the Indiana Gaming Commission (IGC), confirmed to Casino.org that the IGC will hold a meeting on the Vigo County casino license. That meeting is scheduled to be held in the western Indiana county at a yet-undisclosed location.
Spectacle and Hard Rock joined forces and submitted the only application for the license for a land-based casino last month.
The expanded gaming law that allowed Spectacle to move inland to Gary required the company to relinquish one of the two Majestic Star licenses. The law then earmarked the license to Vigo County, located about an hour west of Indianapolis on the Illinois state line.
If Spectacle and Hard Rock succeed in getting the Indiana license, Ratcliff told Casino.org, the companies will invest about $160 million in the project. They expect it to create about 600 jobs.
If approved, Ratcliff expects they would then need about a year to construct and open the casino.