Gulfstream Park Claims Canal Pollution Lawsuit is Dangerous Horsecrap
Posted on: November 1, 2023, 07:13h.
Last updated on: November 2, 2023, 11:10h.
Florida's Gulfstream Park racetrack has denied an accusation by its former general counsel that it polluted a canal leading to the Intracoastal Waterway with horse manure.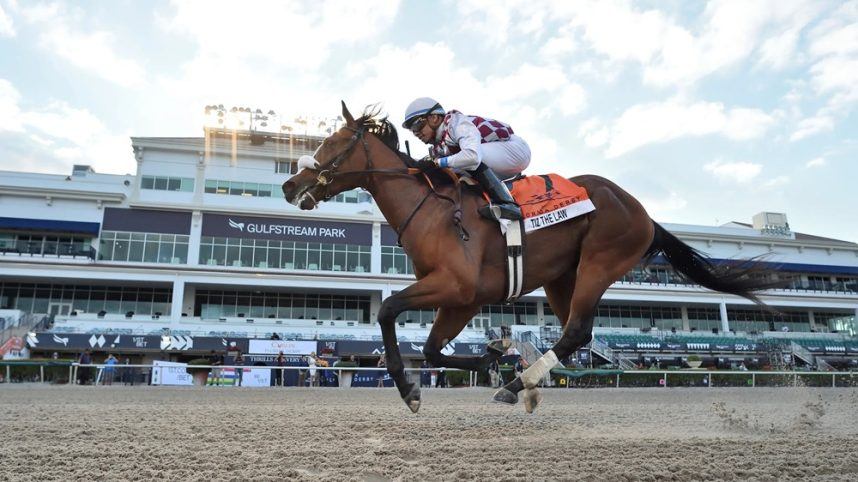 Michael Fucheck was the track's top lawyer for nine years. In a recently unsealed federal lawsuit, he provided images that he says show Gulfstream Park using portable pumps to secretly leak water contaminated with feces into the canal.
The lawsuit describes how the manure builds up in the horses' stalls, pathways, and the track, and is then hosed down by trainers and groundskeepers. This means heavily contaminated water collects in Gulfstream's underground stormwater drainage system.
Horse feces may contain salmonella, which is potentially very dangerous to humans. Infected horses can transmit the parasite directly to humans through fecal contamination of water. Equine feces may also contain dangerous fecal coliform and phosphorus," the lawsuit states. "Because of these risks, county, state, and federal environmental laws establish strict controls over the disposal of wastewater emanating from racetracks," it continues.
The complaint notes that the Intercoastal Waterway is used for recreational and business purposes by "perhaps millions of people."
Fucheck claims the track was pumping out contaminated water for "at least" 14 months, between March 2021 and April 2022, violating agreements with county and federal environmental agencies.
'Frivolous' Suit
The racetrack in Hallandale Beach is owned by the Stronach Group and is a key venue on the racing calendar, hosting the Pegasus World Cup and the Florida Derby. Its casino is one of just a handful of pari-mutuel venues permitted to offer Class III 'Las Vegas-style' slots outside of the Seminole reservations.
"The claim stems from allegations by an ex-employee who was terminated in 2019," the Stronach Group said in a statement to The South Florida Sun-Sentinel. "The Stronach Group has complied with all applicable laws and regulations, and we continue to do so. We intend to vigorously defend this frivolous lawsuit."
Past Infractions
The racetrack has a history when it comes to polluting the canal. In 2017, it settled for $456K with the U.S. Environmental Protection Agency (EPA) and promised to take measures to stop the effluence of contaminated water.
Fucheck's lawsuit invokes the False Claims Act, which allows whistleblowers to sue companies or individuals suspected of defrauding governmental programs. If the government chooses to join the suit, and the claim is successful, the original plaintiff can receive a percentage of recovered damages.
The U.S. government has declined to join the case in this instance. But Steven Grover, Fucheck's lawyer, insisted to the Sun Sentinel that this was not a reflection of the strength of their case. The decision could be connected to budgetary issues, or the government could be planning to refer the case to the EPA, he said.
Most Read