Barrier Reef Mega Casino Receives Environmental Approval
Posted on: December 21, 2014, 10:00h.
Last updated on: December 20, 2014, 04:26h.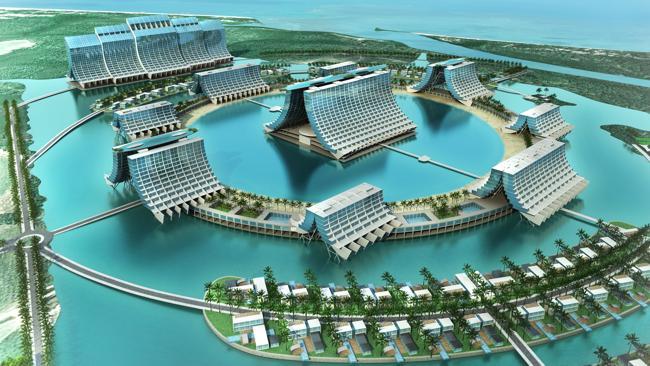 A controversial plan to build an $8 billion mega-resort casino in the far north of Queensland, close to Australia's famous Great Barrier Reef, gained momentum this week when its environmental impact statement was approved by the coordinator general.
The proposed Aquis Great Barrier Reef Resort would include 7,500 hotel rooms in eight hotel towers, a convention center, two casinos, a golf course and an artificial lake and lagoon. While the approval of the environmental plans is a significant boost for developers Aquis, the project still needs approval from the Cairns Regional Council and many are still bitterly opposed.
The local community of Yorkeys Knob, north of Cairns, is divided on the issue of a new casino in their midst, and environmental groups are strongly against it, arguing that the project could disturb a delicate floodplain which could heighten the risk of flooding. This in turn could potentially lead to pollution of the reef, they say, a World Heritage site which is particularly susceptible to environmental pressures. Studies suggest that the reef has lost more than half its coral cover since 1985, due to climate change and coral bleaching. 
Cause for Concern
Andrew Picone, of the Australian Conservation Foundation, also expressed his concerns. "At a minimum, it should be considered a controlled action to protect the Great Barrier Reef," he said. "We have a developer here who thinks he should be given all the approvals, but there is due process and the community should have its say.
"The environment there is already a floodplain, it is prone to flooding even without the creation of artificial lakes. With climate change and rising sea levels, massive developments like this in storm surge zones put the environment at risk and put lives at risk, too."
However, Deputy Premier and Minister for State Development, Infrastructure and Planning Jeff Seeney welcomed the approval and was quick to highlight the economic benefits for the region. "The Queensland Government continues to work with Aquis to make this exciting proposal a reality and today's approval of the project's EIS is another step in that process," he said. "This proposed resort has the potential to create more than 20,000 new jobs for the Cairns region and provide a major boost for North Queensland and the state's tourism and construction industry. 
Economic Benefits
"This is a world-class proposition that could draw hundreds of thousands of domestic and international visitors to Far North Queensland, and spread economic benefits right across the Cairns community," he continue. "The Coordinator General has thoroughly assessed the environmental, economic and social impacts of the Aquis project, and has decided it can proceed with the conditions set out in his evaluation report."
The project is backed by Hong Kong businessman Tony Fung who recently purchased the Reef Foundation Trust. Known as "the Bad Boy of the Stock Market," Fung is eager to push through the necessary legislation as quickly as possible and has said that should he not get his way he will simply go elsewhere. Aquis hopes to begin construction as early as next year and have said that, if approved, the first stage of the resort will open in 2019.