Golden State Warriors Odds Lengthen to 200/1 Following Steph Curry Broken Hand
Posted on: October 31, 2019, 11:37h.
Last updated on: October 31, 2019, 12:06h.
For the Golden State Warriors, things just keep getting worse.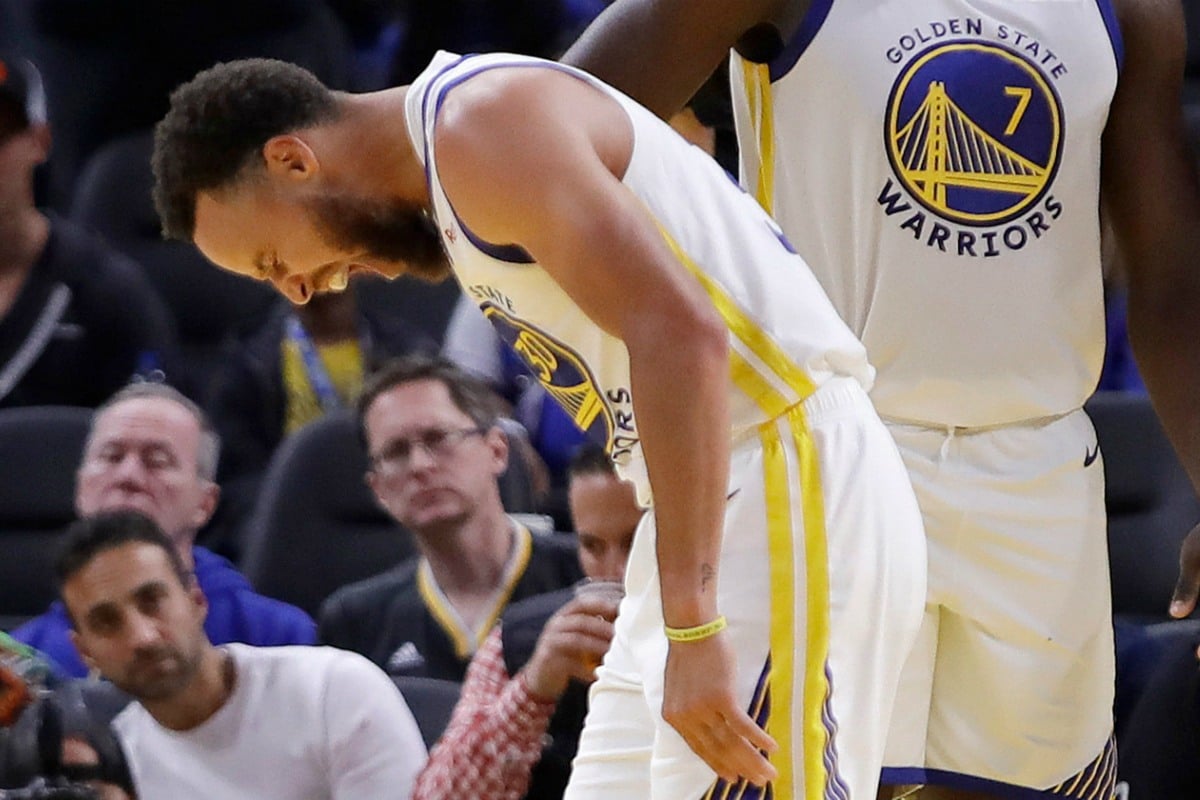 Franchise superstar Steph Curry went down with a broken left hand in the third quarter of Wednesday's game against the Phoenix Suns at their new Chase Center home in San Francisco. Warriors GM Bob Myers confirmed after the team's 121-110 loss that Curry will have an MRI and CT scan to determine whether surgery is needed and his timeframe for return.
"Obviously it's been a tough start for us on many levels," Warriors coach Steve Kerr said after the game and the team's 1-3 start. "We're just trying to find our footing, and obviously this puts us in a tough spot."
The Warriors have gone to the last five NBA Finals – winning three. But now, Las Vegas oddsmakers give them little chance of winning another Larry O'Brien Championship Trophy.
The Westgate SuperBook has Golden State at 200/1 – implied odds of just 0.5 percent. A $100 bet would net $20,000 on that line.
Durant Speaks
The Warriors will now play with just one of its starting five from last year – Draymond Green. Kevin Durant jumped town for Brooklyn, Andre Iguodala was shipped to Memphis, and Curry and Klay Thompson are now on the sidelines with injuries.
Curry, a two-time MVP (2015, 2016), is subsequently a longshot for winning the honor for a third time. With his injury, his odds at Caesars sportsbooks in Las Vegas lengthened from 7/1 to 40/1.
Durant will miss the entire season because of a torn Achilles. This week, the 2014 MVP opened up on why he decided to leave Golden State for Brooklyn. The superstar said the on-court disagreement with Green in a loss to the Los Angeles Clippers last year was part of his reasoning.
Draymond knew that he was out of line," Durant said on ESPN's First Take. "As men, we talked about it, and everybody around tried to get us to mend it fast because of the season, and we wanted to win. But he had his process on how he wanted to handle it and I had my process and eventually we came together."
But Durant admitted, "It was a factor, for sure. I'm not going to lie about it."
NBA Odds
The season is young, but the Clippers certainly haven't gotten off to the start they imagined. They've lost two of their last three, though Wednesday's loss to the Utah Jazz came without Kawhi Leonard, who sat on scheduled rest.
The SuperBook still has the Clippers favored to win the NBA Finals at 5/2. City foe the Los Angeles Lakers trail closely at 7/2. The Milwaukee Bucks (6/1), Philadelphia 76ers (7/1), and Houston Rockets (9/1) round out the top five.
The longest odds are on the New York Knicks, Washington Wizards, Cleveland Cavaliers, and Memphis Grizzlies – each at 2000/1.
The Staples Center in Los Angeles is the place to be this NBA season. The court is home to both Leonard and LeBron James, as well as Anthony Davis and Paul George.
The FanDuel sportsbook MVP odds has the shortest line on the Bucks' "Greek Freak," Giannis Antetokounmpo, at +270. He's followed by Davis (+490), James Harden (+500), Leonard (+800), and James (+1000).