Golden Nugget Lone Atlantic City Casino Without Union Contract, But Deal Expected
Posted on: July 28, 2022, 09:36h.
Last updated on: July 28, 2022, 12:24h.
Golden Nugget Atlantic City is the lone gaming resort in the New Jersey beach town that still has not reached new labor terms with the local casino union.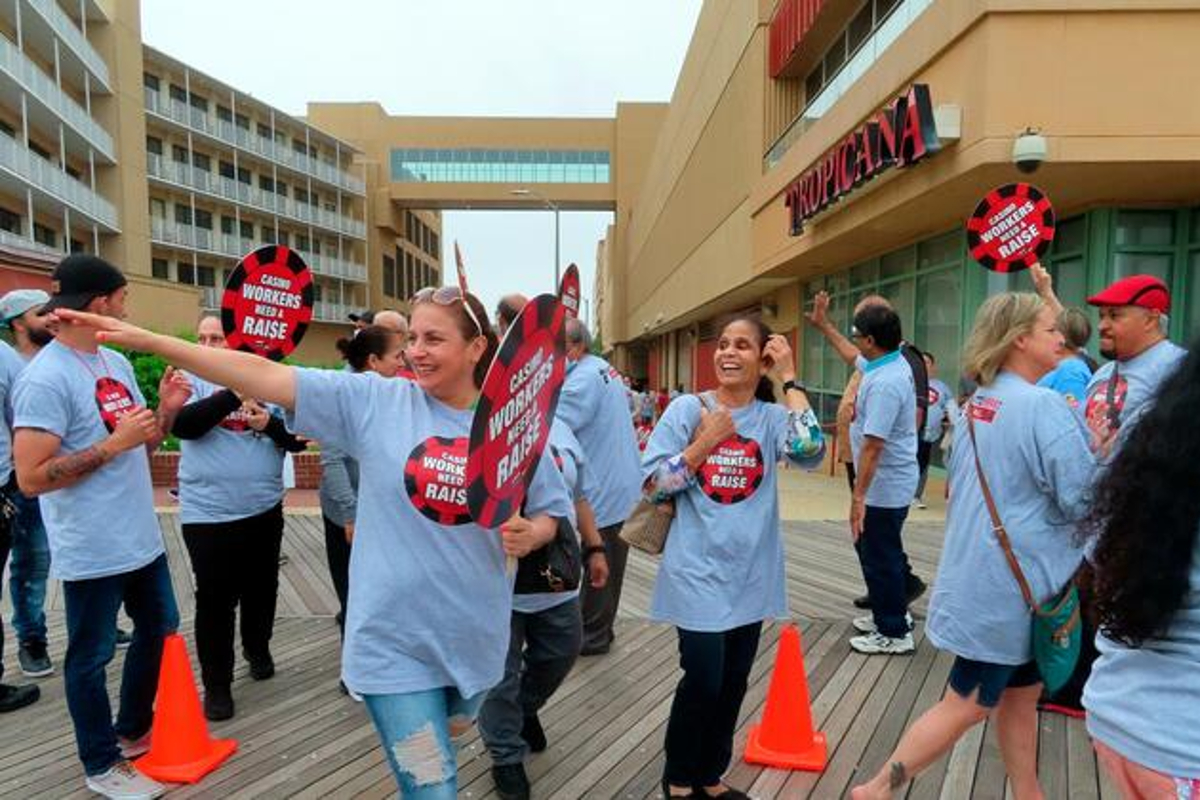 Unite Here Local 54 reached new collective bargaining agreements with MGM Resorts and Caesars Entertainment just ahead of the July 4 holiday weekend. The deal covered four casinos — Borgata, Caesars, Harrah's, and Tropicana.
Hard Rock, Ocean Casino, and Bally's subsequently agreed to the same union terms. Resorts and Golden Nugget opted to negotiate with Culinary officials on their own accords.
The union said it wasn't looking to negotiate further, instead favoring keeping its union contracts universal across the nine resorts. Resorts settled on the terms offered yesterday, said Resorts President Mark Giannantonio and Local 54 President Bob McDevitt.
It's a great deal. We're really thrilled for the employees. They've been working really hard for us, and now we're happy we can put this behind us and move forward with our business," Giannantonio commented.
Under the fresh contracts, hourly base pay for casino workers is now $18 an hour. That rate will increase to $22 an hour by the end of the four-year labor terms in 2026.
Golden Nugget Final Holdout
Golden Nugget remains the lone Atlantic City casino without a new collective bargaining agreement with the Culinary Union. But McDevitt says union leaders are set to sit down with the Marina District property later today, expecting the casino to join the eight others.
Golden Nugget opened in Atlantic City as Trump's Castle in 1985. The casino, conceived and developed by Donald Trump, was later renamed Trump Marina.
Tilman Fertitta, who today owns five Golden Nugget casinos across the country, including the one in Atlantic City, acquired Trump Marina from Trump Entertainment Resorts in February of 2011.
Fertitta's Landry's hospitality and gaming empire has owned and operated the Atlantic City casino ever since. Fertitta, who also owns the NBA Houston Rockets, has recently expressed concern regarding the future of Atlantic City.
Even before the pandemic, the man worth an estimated $5.7 billion by Forbes opined that Atlantic City has too many casinos. Hard Rock and Ocean Casino reopened in June of 2018. The properties were formerly Trump Taj Mahal and Revel.
"It's not a nine-casino market, and I don't understand why nobody realizes that," Fertitta said in 2019. "None of the casinos today have the cash flow that they did [prior to Hard Rock, Ocean]."
Nine-Casino Town
Atlantic City casinos have returned their brick-and-mortar gaming to higher than pre-pandemic levels. Pent-up demand stemming from the coronavirus has been cited for the quick rebound.
Through June, gross gaming revenue (GGR) from land-based slots and table games totaled $1.31 billion. Through the first half of 2019, brick-and-mortar GGR totaled $1.26 billion, meaning 2022 business is about 4% better.
However, the economy and record inflation easily offset the increased gaming income. The US Commerce Department today reported that the nation's economy contracted by 0.9% in the second quarter, the second consecutive quarter of negative growth. That's the textbook definition of a recession.
Yesterday, the Federal Reserve increased interest rates by 0.75% to avoid a deep recession.