Gambling Content Helps Kick Close the Gap in Race With Twitch
Posted on: September 4, 2023, 07:11h.
Last updated on: September 4, 2023, 01:22h.
Although Twitch still dominates in the streaming sector by a huge margin, the competition to take down the Amazon giant is heating up. As the streaming wars continue, rival Kick is gaining ground, in part thanks to its support of gambling content.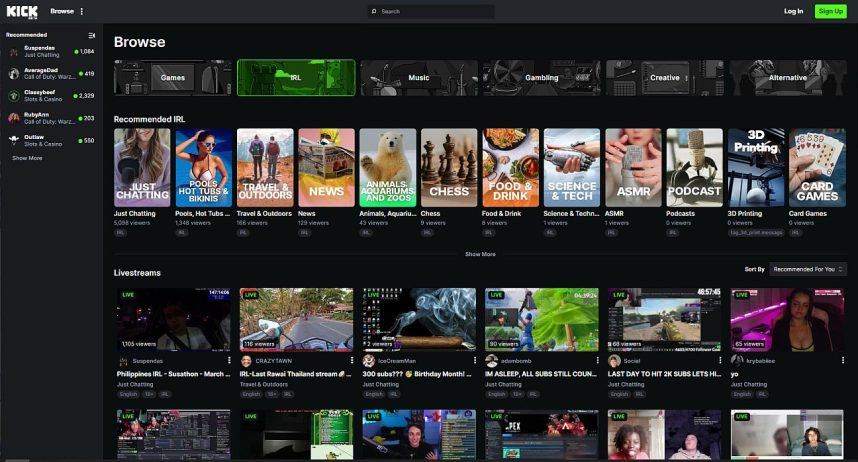 Following its launch earlier this year, the Stake-backed company has been slowly gaining traction in the streaming industry. Its success has been propelled by the signing of top Twitch streamers, such as xQc, Amouranth, and others.
In terms of monthly figures, August was the first month that Kick reached 100 million viewing hours since its inception, according to StreamCharts.com. Slots and gaming content were a significant part of that.
Kick On the Rise
The platform has seen an increase in viewer hours month over month, and the average number of concurrent viewers is up 13%. However, peak viewership, which saw a steady climb between May and July, fell 25% in August.
The progress may not be as noticeable as it was during the spring season, yet there are sufficient indicators suggesting that Kick is advancing. Though July, it witnessed a surge in bot activity, and recent data from StreamCharts.com reveals a substantial increase in the average number of online viewers compared to the previous month.
The number one category on this list is Kick's "Just Chatting" category, which added 33% from July's figure to reach 34 million hours of viewing. At the same time, though, its peak concurrent viewership fell by a comparable amount, an indication that retention of viewers is a constant challenge.
The "Slots & Casino" category was in second, growing by 57% compared to July. It grew in almost every metric throughout the month, a strong indication that Kick's attention to the gaming segment is paying off.
A slot specifically for Grand Theft Auto (GTA) V was popular, recording the largest monthly increase. It added 700%, due primarily to recent updates and news surrounding the video game, and the rising participation of GTA streamers on Kick.
Gaming Streamers Beware
As lucrative and important as gambling content is to streaming platforms, content providers across the entire spectrum must be prepared for changes. Everything from Kick to TikTok faces increasing scrutiny from legislators and regulators, and the days of free, virtually uninhibited reign over online content aren't going to last.
France and other countries have already taken a strong stance against influencer-led gambling content. The European Union is likely to consider a similar position.
Spillemyndigheden, Denmark's gaming regulator, just fined a streamer for promoting an online gaming platform that doesn't hold a license in the country. The unidentified internet personality had to pay €1,340 (US$1,446), and the regulator warned that others would follow.
It's not just Europe that is cracking down – the U.S. may have had a hand in getting Twitch to change its stance on gambling content. It announced last September that it wouldn't allow some gambling content unless it represented an operator licensed in the U.S. or some other major jurisdiction.
The Philippines will also likely take a stronger position as well. A campaign is underway that would force influencers not to promote unlicensed gaming platforms. While it isn't a government-led initiative, the current sentiment toward online gaming in legislative circles could change that quickly.