Foxwoods Casino Coming to Biloxi, Mississippi, Announces Mashantucket Pequot Operator
Posted on: June 10, 2016, 02:23h.
Last updated on: June 10, 2016, 02:33h.
Foxwoods' operator, the Mashantucket Pequot Tribal Nation, has announced plans to build a casino resort in Biloxi, Mississippi.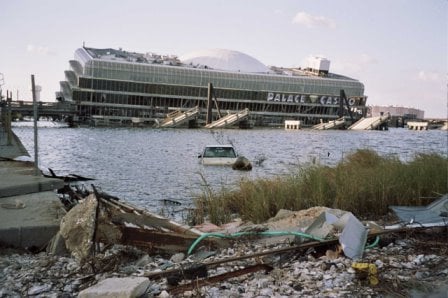 Chairman of the Mashantucket Pequot Tribal Council Rodney Butler said this week that the proposed $265 million casino resort, also to be called Foxwoods, will host a 50,000-square-foot casino, a 500-room hotel, and 71,000 square feet of meeting and exhibition space.
It will be built on the site of a former Heinz pet food factory on Biloxi's Black Bay, in partnership with Biloxi Boardwalk Ventures and The Hartmann Group.
The tribe is desperate to expand its casino operations, as the market in the Northeast is in danger of becoming saturated. Increased competition in nearby states, plus a costly expansion to its Connecticut resort at the beginning of the economic downturn, has saddled the Pequot with $1.7 billion in debt.
And now a new threat to the once-thriving Foxwoods looms just across the state line in Connecticut in the form the MGM Springfield, a $950 million resort, scheduled to open in 2018.
New England Border Wars
In response, Foxwoods and its Connecticut rival Mohegan Sun have partnered on a proposed project to build a "satellite casino" on the other side of the border. The project that has been scornfully dismissed by MGM Chairman Jim Murren as a "box of slots."
But MGM is sufficiently concerned about the plan to launch a legal challenge against the state of Connecticut, decrying the proposed satellite casino as unconstitutional. The Mohegans and the Pequot are the only entities lawfully permitted to operate casinos in the state, and until now, only from within their own tribal lands.
MGM is crying foul, noting that the new satellite casino would be built outside the tribes' sovereign territories.
In the midst of New England's casino border wars, Foxwoods clearly sees expansion as its only route out of crippling debt, and so it's looking south. But for all the talk of saturation in the Northeast, Biloxi is hardly bereft of casinos itself. The city has 11, with a total of 15 on the Gulf Coast.
Biloxi's Slow Recovery
It has taken a decade for the area to begin its economic recovery following the devastation of Hurricane Katrina, during which several of Biloxi's casinos were damaged or destroyed. But there are signs that Biloxi's rebuilt casino industry is beginning to enjoy growth, and its tourism industry is recovering.
According to a recent report by the Mississippi Gaming and Hospitality Association, Mississippi casinos reported $2.12 billion in gaming revenue and $758 million in non-gaming revenue in 2015, with Gulf Coast casinos accounting for $1.15 billion. And now, a decade after Katrina, Foxwoods is gambling on a bounce back to full health.
The tribe has said that it hopes to open Foxwoods Mississippi in spring of 2019.
Similar Guides On This Topic