Former William Hill Betting Shop Busted as IIllegal Marijuana Farm
Posted on: April 26, 2023, 08:19h.
Last updated on: April 27, 2023, 01:08h.
Police busted an illegal marijuana farm this week. The shop in Greater Manchester, England, was previously home to a William Hill sportsbook.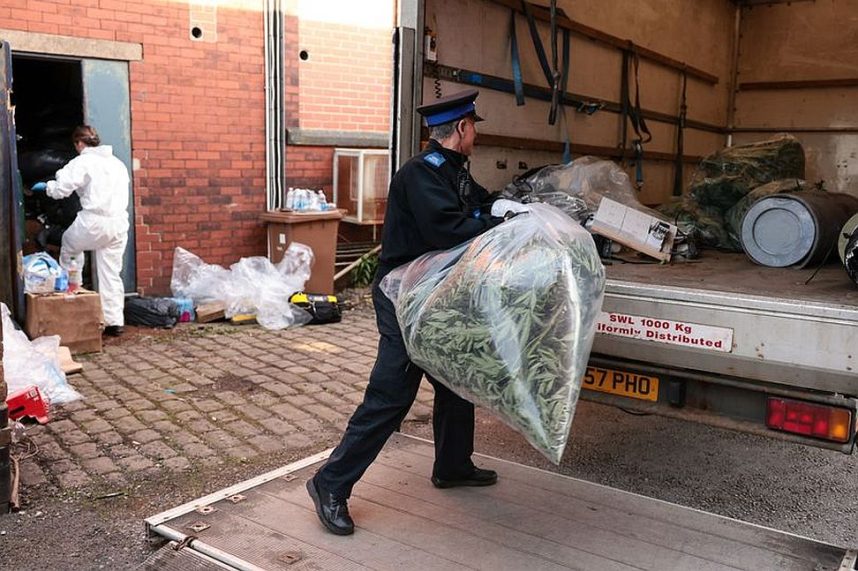 The bust began last Friday and continued until this Wednesday. Police needed multiple trucks to haul away bags of marijuana. Once it's all collected, the marijuana will be burned, which, of course, raises a few logistical questions.
So far, authorities aren't saying whether they've made any arrests.
The Manchester Evening News first reported on the bust. Although, how the farm was initially discovered is still unclear. Although police may have been alerted to the illegal operations thanks to unusual electrical activity. 
A witness told the media outlet that the shop was drawing electricity from a nearby lamp post. Electricity specialists had to assist with the raid to ensure no safety issues.
Although the laws are changing, marijuana remains mostly illegal in the UK. While it's possible to consume it medicinally with a prescription, recreational use is still forbidden.
That doesn't stop it from being wildly popular, though. While the medical marijuana market is approaching a value of £801.86 million (US$1 billion), the illegal market is still worth about £2 billion (US$2.5 billion), according to government studies.
Cannabis Busts
Two years ago, police in Somerset uncovered a cannabis farm at a 17th-century castle that was a regular spot for high-end weddings. It isn't clear if any cannabis was used as gifts for the wedding parties.
Police busted another cannabis farm in London that same year. The operation was located in a commercial property just down the street from the Bank of England, which didn't go over well with the financial institution. That bust included 826 marijuana plants, according to National Public Radio, and led to two arrests.
In 2019, London police also stripped an illegal cannabis farm out of a 120-year-old theater. They arrested four people in that case, which began only after an anonymous tip phoned in a disturbance at the theater. If they had avoided drawing attention to themselves, the cannabis entrepreneurs might have been able to continue their endeavors.