Former Indonesian Governor With Gambling Habit Goes to Prison
Posted on: October 20, 2023, 10:58h.
Last updated on: October 20, 2023, 11:25h.
Lukas Enembe, the former governor of the Indonesian state of Papua, is heading to prison. The Jakarta Globe reports that a judge has sentenced him to eight years behind bars for embezzling government funds, some of which he used to lead a jet-setting gambling lifestyle that included stops in Singapore and Australia.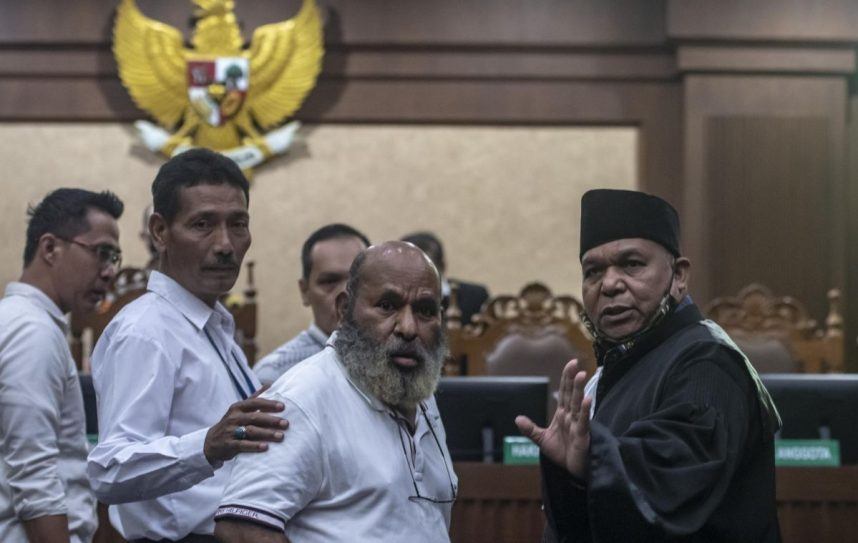 Enembe's misdeeds came to light after it was revealed that he embezzled state funds, which he shamelessly spent on gambling and other personal endeavors. On Thursday, the court ordered him to make restitution of IDR19.7 billion (US$1.2 million) or face an additional two years added to his already substantial sentence.
Enembe was found guilty of accepting bribes from private companies during his tenure, exchanging these illicit payments for approving contracts. He reportedly received at least IDR 47 billion (US$2.96 million), although the figure could be higher. The judge rejected the prosecution's request that Enembe repay the entire amount.
Corruption at Every Turn
Adding to the gravity of the situation, Enembe is also facing money laundering charges. Authorities previously seized IDR82 billion (US$5.16 million) tied to this case, illuminating a complex web of financial improprieties. The charges not only highlight the extent of his corruption, but also the intricate maneuvers employed to conceal ill-gotten gains.
It's believed that some of the money the two-term governor stole from Papua's coffers found its way into the bank accounts of relatives, including his wife and a son. The government has frozen these accounts as well, and denied Enembe's requests to reverse the orders.
In a damning report, Indonesia's Financial Transaction Reports and Analysis Center disclosed that Enembe had made a number of substantial but questionable payments. Among them was at least SGD55 million (US$39 million) in transactions with various foreign casinos, beginning in 2017.
This is in addition to trips he made to Australia. He allegedly made several visits to Crown Resorts' properties there, with the authorities finding several questionable deposits he allegedly made to Crown Perth.
This revelation surfaced after the Corruption Eradication Commission (KPK) requested a meticulous examination of the former governor's financial records. The Jakarta Post indicates that a provincial governor's monthly salary is around IDR3 million (US$188.91).
One particularly egregious instance noted by the financial watchdog was a single casino payment of SGD5 million (US$3.46 million). These findings shed light on the extent of Enembe's involvement in high-stakes gambling activities, further emphasizing the magnitude of his financial misconduct.
Political Career Over
Even if Enembe were to emerge from his prison sentence and want to return to politics, as some politicians do, he won't be able to. The judge has prohibited him from holding any public office for five years, which will begin following his release.
Enembe, who showed up for his trial in a wheelchair, repeatedly tried to sway the court during his trial, professing his innocence time and again. He argued that the prosecution never presented any tangible evidence, getting into several heated exchanges with the judge.
That only made his situation worse. The judge wasn't happy with what he viewed as Enembe's lack of respect for the court, and that may have weighed in on the outcome.
His defense team told the media following the sentencing that they may try to appeal the decision. In the meantime, the court has ordered the confiscation and subsequent sale of his property to cover the money he must repay.