Former Caesars, Wynn, and MGM Casino Executive Charged in DOJ College Bribery Indictment
Posted on: March 12, 2019, 01:35h.
Last updated on: March 12, 2019, 02:43h.
Longtime casino executive Gamal Abdelaziz — more commonly known in gaming industry circles as Gamal Aziz — has been named in the Department of Justice's (DOJ) college bribery complaint and charged with conspiracy to commit mail and wire fraud.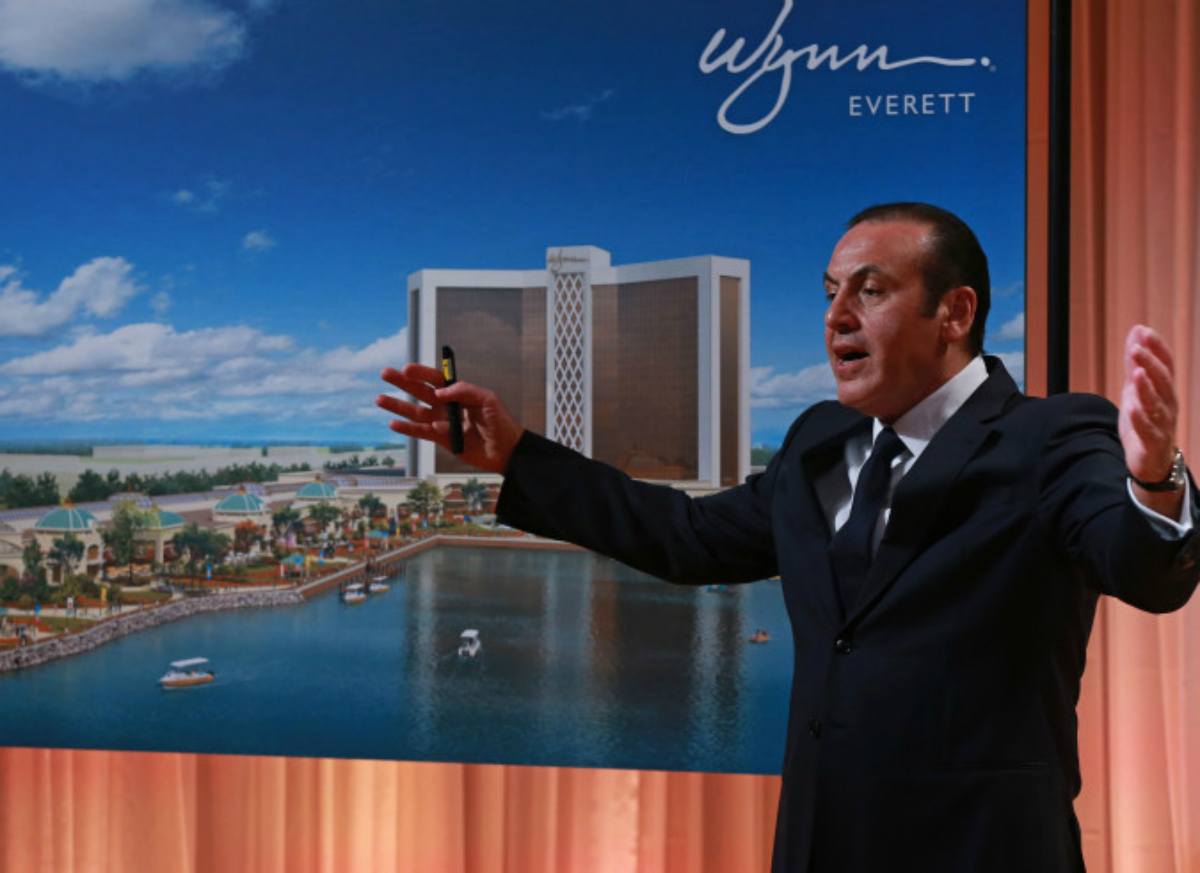 Along with CEOs, actresses including Felicity Huffman and Lori Loughlin, university athletic coaches, and college entrance exam administrators, Aziz is one of the 33 parents named by the US Attorney's Office for the District of Massachusetts who allegedly used their personal wealth to secure admissions to elite colleges for their children.
According to his executive profile on Bloomberg's website, Aziz served in a variety of executive capacities at Caesars Entertainment, MGM Resorts, and Wynn Resorts. His most recent positions were president of Wynn Macau, and president and COO of Wynn Resorts Development, LLC. He left the company in September of 2016.
Aziz helped unveil the initial plan for what became Encore Boston Harbor in Massachusetts. Now, the 62-year-old gaming executive is facing charges from the federal district attorney representing the Bay State.
"These parents are a catalog of wealth and privilege," US Attorney Andrew Lelling said in announcing the $25 million bribery case – code-named Operation Varsity Blues. Lelling alleges that William "Rick" Singer of Newport Beach, California, ran a for-profit college counseling and prep business.
Between approximately 2011 and February 2019, Singer allegedly conspired with dozens of parents, athletic coaches, a university athletics administrator, and others, to use bribery and other forms of fraud to secure the admission of students to colleges and universities," the DOJ release contends.
Universities involved in the allegations include Yale, Georgetown, Stanford, the University of Southern California (USC), and Wake Forest. At least nine athletic coaches were also charged in the indictment, which included more than 50 people all told.
Gaming Linkage
Aziz's previous boss Steve Wynn notoriously became the gaming industry's #MeToo connection last year, though the billionaire continues to deny he ever acted inappropriately with female staffers.
In what the DOJ is calling the biggest college admissions scam ever brought by the Justice Department, Aziz is now taking the unwanted role of linking the scandal to Southern Nevada. He isn't alone, however, as Las Vegas resident Elisabeth Kimmel – described as an owner of a media company – is also named in the DOJ release with the same criminal conspiracy complaint to commit mail and wire fraud.
Parents allegedly gave Singer's company as much as $6.5 million to secure admissions. The DOJ claims administrators and college coaches were then bribed. The Justice Department purports that coaches would elevate a prospective athlete's ranking in order to better their odds of entrance.
Penalties Significant
The DOJ says those found guilty of conspiracy to commit mail and wire fraud face sentences "of no greater than 20 years in prison, three years of supervised release, and a fine of $250,000 or twice the gross gain or loss, whichever is greater."
Lelling said defendants won't be given special treatment. "There will not be a separate admissions system for the wealthy. And there will not be a separate criminal justice system either," the Massachusetts district attorney declared.
DOJ filing documents allege that Aziz — after learning that his daughter's entrance to USC was unlikely — used the bribery program and successfully presented his child as a highly recruited basketball player. He allegedly sent $300,000 to a gift account controlled by the university for its basketball and volleyball programs.
The DOJ affidavit alleges that Loughlin paid $500,000 to have her two daughters recruited by the USC crew team, despite no evidence that either ever participated in the sport. And Huffman – who seemingly got the best deal – reportedly paid $15,000 disguised as a charitable donation that allowed her daughter to participate in a college entrance exam cheating scheme.