Former Casino Chimp Dies Young Due to Alcohol and Cigarettes
Posted on: November 6, 2016, 02:00h.
Last updated on: November 6, 2016, 10:31h.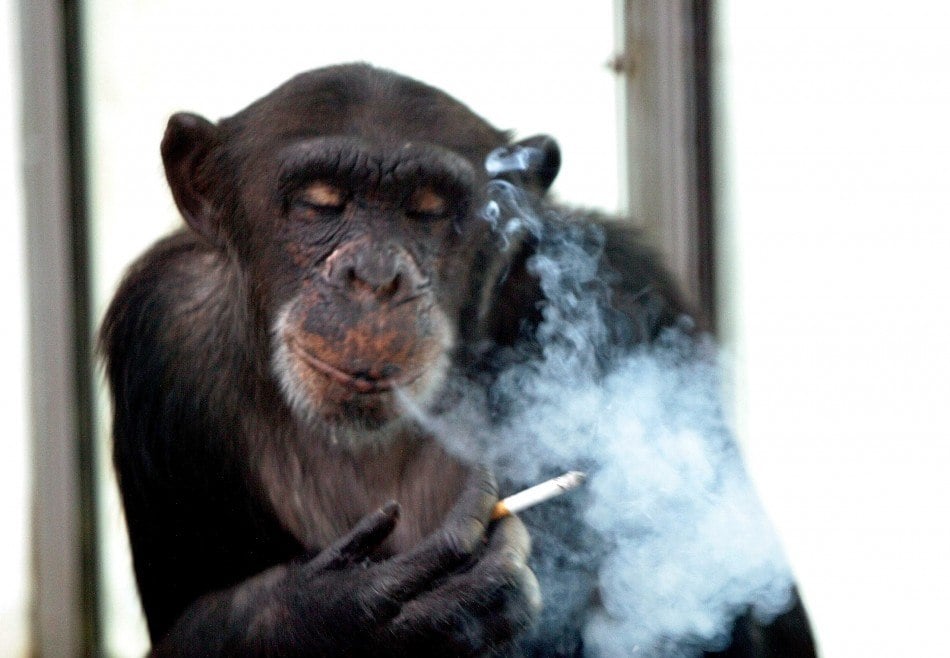 A former casino chimp who worked at a Russian casino and entertained bettors by guzzling alcohol and smoking cigarettes is dead this week at the young age of 24.
Upon first glance, the story might be found as amusing to some, a hard-partying chimp hanging on the casino floor mingling with patrons and getting lit each night. But upon further examination, the story of the chimp named John is one of sadness to animal rights activists and those with a big heart for furry friends.
Moscow's Casino Kosmos is where John worked for years as the resort's mascot. What began as cute and charming social interactions with guests, slowly turned into a serious addiction over time.
Gamblers frequently shared cigarettes with John and handed him drinks, his favorite being whiskey. In 2008, the casino began to notice that John's hard lifestyle was spiraling out of control and taking a toll on his health.
John was moved to the Glendzhik safari park on the Black Sea where he underwent rehab. But this week, the chimp suffered a massive heart attack, likely stemming from alcohol abuse and heavy smoking, and died at the age of 24.
Chimps in captivity can live to be as old as 60.
Rough Retirement
John was slowly weaned off alcohol and cigarettes, much to the chimp's disgust.
"He felt very bad, the consequences of his turbulent life were severe: diabetes, edema, and dermatitis," Glendzhik park director Nikolay Mashinsky told London's Evening Standard newspaper. "His immune system was weak. He was constantly coughing and he had a high temperature for almost a year."
Mashinsky said John went into rages while transitioning to a healthier and cleaner diet. He made progress, and in 2010 was allowed in the general park area for visitors to observe.
John picked up drawing in his final years, and his talents became a popular park attraction.
Casino Animal Abuse
Unfortunately for animal lovers, John's story isn't unique. In fact, multiple casinos have been at the center of animal abuse controversies in various capacities.
In August of 2015, CompassionWorks International staged a public protest of Dirk Arthur's magic show at Westgate Las Vegas that featured leopards and tigers. An online petition also garnered more than 20,000 signatures, but the show ran its entire course.
Also in 2015, Daniel Negreanu, poker's all-time money leader and the game's best-known vegan, joined PETA in requesting Harrah's close its Cherokee Bear Zoo in North Carolina.
"These bears are kept in horrendous condition in barren concrete pits," Negreanu wrote in a letter. "Bears in the wild explore home ranges of up to thousands of miles."
Harrah's declined to intervene, saying the Eastern Band of Cherokee Indians have the right to continue the bear attraction.
Zoos are controversial attractions that depend on one's own opinion.
Wesleyan University Professor Lori Gruen, who wrote a book titled "The Ethics of Captivity," opined in the Washington Post this summer that "keeping wild animals in captivity is fraught with problems." Gruen believes zoo animals are, at best, only symbols of their wild counterparts.