Forbes Billionaires List Has 28 Gaming Tycoons, Dr. Miriam Adelson is No. 1
Posted on: April 5, 2023, 10:01h.
Last updated on: April 5, 2023, 02:01h.
Forbes released its annual "World's Billionaires List" this week, and the global casino and gaming industries accounted for 28 of the 2,640 people in the 10-figure club.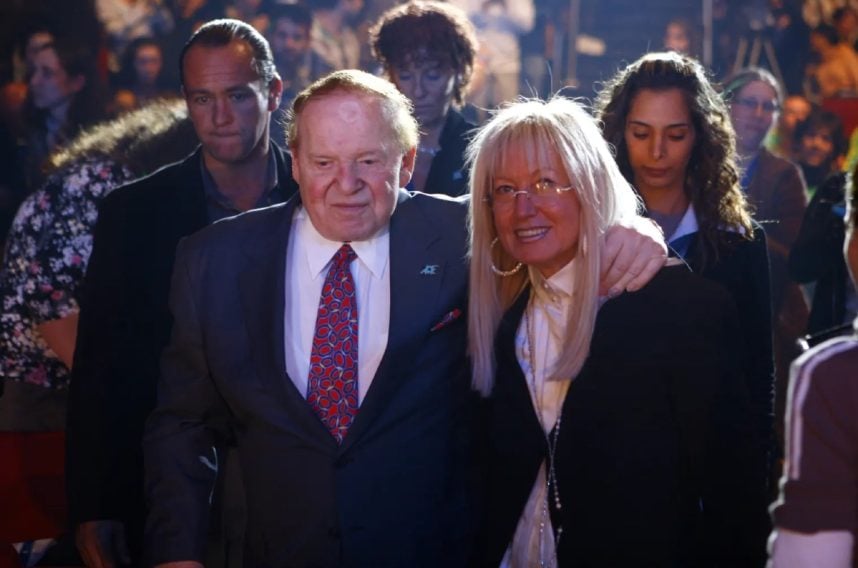 The business media outlet said the world's richest people are collectively worth $12.2 trillion, a drop of about $500 billion from the 2022 report. There are 28 fewer billionaires today than there were last year, too.
Dr. Miriam Adelson, the widow of the late Sheldon Adelson, who founded Las Vegas Sands, remains the richest magnate whose wealth was primarily derived through gambling. Adelson has an estimated net worth of $35 billion, up $7.5 billion from a year ago. Adelson is the 35th-richest person on the planet.
Adelson's wealth increase resulted from Sands shares rebounding in 2022 from their pandemic lows. Traded on the New York Stock Exchange, LVS shares soared from $37.64 in January 2022 to end the year north of $48 a share. Sands shares have only increased since. The stock currently trades around $57.
Lui Che Woo is a distant second at $13.9 billion. The Galaxy Entertainment Group founder holds one of the six casino licenses in Macau, with the aforementioned Sands being another concessionaire. He saw his personal net worth climb about $2.3 billion.
US Gaming Billionaires
Of the 28 billionaires who made most of their fortune through gambling, only nine are US residents. After Adelson, the next richest US gaming billionaire is Tilman Fertitta.
Fertitta has made $8.1 billion through hospitality, gaming, and sports. The Texan owns Landry's, the NBA Houston Rockets, five Golden Nugget casinos, and soon, the Hard Rock Lake Tahoe. He's also pursuing the NFL Washington Commanders.
Gabe Newell, who's amassed approximately $3.9 billion through founding Valve, is next. Valve is a video game developer, publisher, and distributor behind such popular titles as Half-Life, Counter-Strike, Dota, and Team Fortress. Valve is also responsible for The International, the annual e-sports tournament, one of the most widely-bet video gaming competitions.
Steve Wynn, a man who needs little introduction, is next at $3.2 billion. Wynn's fortune has held steady since he left his namesake, Wynn Resorts, in February 2018.
Rounding out the List
Jon Yarbrough is also estimated at $3.2 billion. Yarbrough accumulated thousands of millions by founding Video Gaming Technologies in the early '90s. The gaming manufacturer specialized in developing Class I and II tribal gaming terminals. Yarbrough is currently a partner in a $500 million casino development in Norfolk, Va.
The Fertitta brothers, Lorenzo and Frank III, distant cousins of Tilman, are respectively worth $2.8 billion and $2.7 billion. The Fertitta brothers own Station Casinos and control Red Rock Resorts, and formerly owned the UFC before selling off the mixed martial arts promotion company in 2016 for more than $4 billion. The Fertittas acquired the UFC in 2001 for just $2 million.
The Boyd family, whose patriarch Sam Boyd, along with his son and current CEO William Boyd, founded Boyd Gaming in 1975, is next at $2.1 billion.
Wynn's former wife, Elaine Wynn, is the final US gaming billionaire with a net worth of $2.1 billion.
Sports Icons Make History
In what's a first for the world, Forbes said LeBron James and Tiger Woods have made history as being the first billionaire athletes to still be playing competitively.
James, a four-time NBA champion, has a net worth estimated at $1 billion. Woods, a 15-time major golf champion, is estimated at $1.1 billion.
James is readying yet another playoff run with the Los Angeles Lakers, while Woods this week tees it up at Augusta National for the Masters.