Floyd Mayweather vs. Manny Pacquiao Eyeing December Fight, Odds Favor 'Money'
Posted on: September 17, 2018, 01:00h.
Last updated on: September 17, 2018, 11:22h.
Floyd Mayweather and Manny Pacquiao are finalizing a deal that would put the two boxers back in the same ring for a rematch of their 2015 fight spectacle.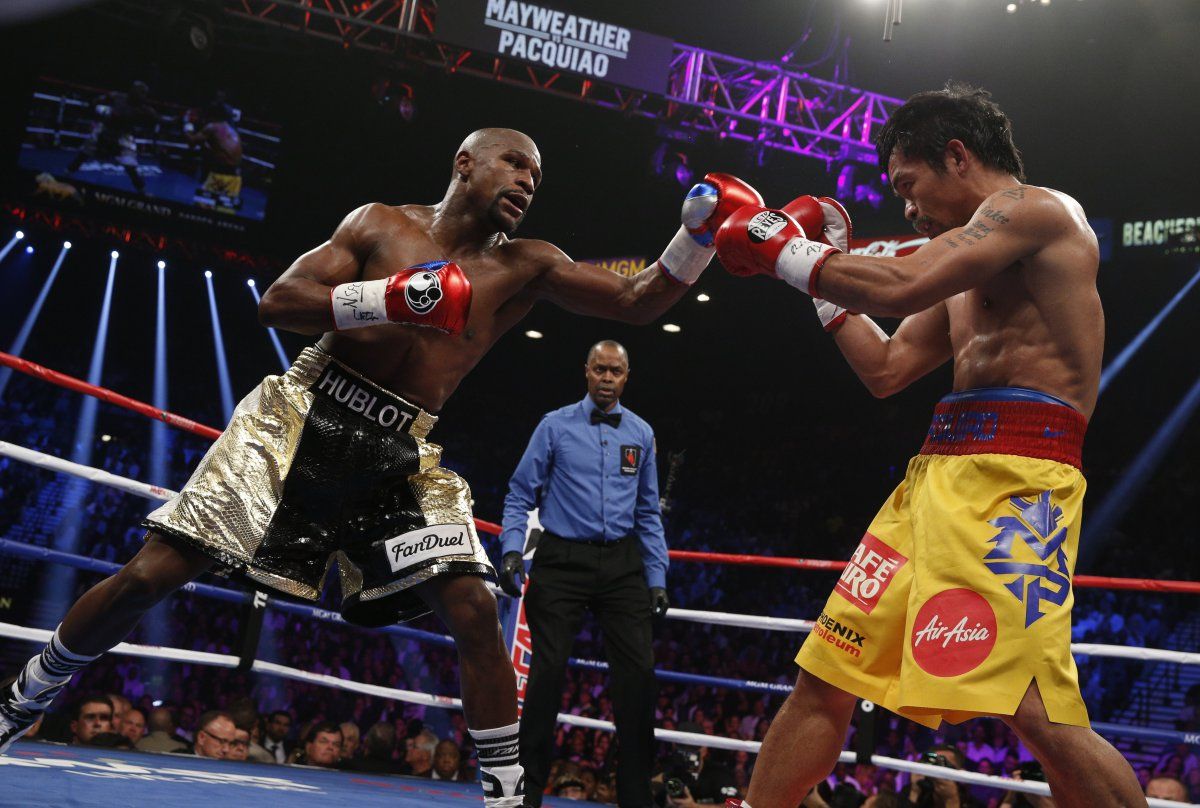 On Saturday, the two superstars announced they would indeed square off for a second time. Pacquiao told reporters in his native Philippines that the fight would be finalized this week.
Ring Magazine says December 1 and December 8 are the date favorites, and MGM's T-Mobile Arena in Las Vegas the likely host venue.
Pacquiao, 39, has fought four times since his 2015 loss to Mayweather. He's 3-1 in those events, his only loss coming in a unanimous decision against Jeff Horn in 2017. Manny fought in July in Malaysia where he knocked out Lucas Matthysse.
Mayweather, 41, has fought twice since beating Pacquiao. He won by decision against Andre Berto in 2015, and then knocked out Conor McGregor in the much-hyped UFC-boxing crossover in August 2017.
Odds (Again) Favor Floyd
Despite not boxing in more than a year, Mayweather (50-0) is the early odds-on favorite to win the rematch.
The Westgate SuperBook has the undefeated champ at -220, or implied odds of 68.75 percent. A $100 wager would net just $45.45 on that line.
Pacquiao (60-7-2) is the underdog, with the SuperBook listing him at +180, or implied odds of 35.7 percent. The same $100 bet and the upset taking place nets the gambler $180.
In an Instagram video posted by Mayweather over the weekend, the two fighters are already engaging in some friendly trash talking. Together at a musical festival in Tokyo, Manny tells Floyd, "I have the belt." Mayweather responds, "I'm going to take it from you like I did before."
"We're going to take the belt. We're going to get the payday. And I don't want no shoulder excuses," Floyd declares in reference to Manny's after the fact 2015 revelation that he was battling an injury during the fight.
Blown Hype
Mayweather and Pacquiao's first come to blows was long in the works. When it finally occurred in 2015, the boxing and sporting worlds were in full-blown hysteria.
The MGM Grand fight between the boxing veterans became the highest grossing fight ever, a record it still holds to this day.
The Showtime PPV event sold 4.4 million purchases, which equated to about $410 million in revenue. That shattered the previous record set by Mayweather vs. Canelo Alvarez in 2013 when their fight generated $150 million in PPV buys.
While hype was at an all-time high, the overwhelming majority of viewers were left disappointed. Floyd took a defensively methodical approach, and Pacquiao struggled to land punches.
After a unanimous decision declaring Mayweather the victor, Pacquiao's team revealed he wasn't only fighting perhaps the best boxer to ever step foot in the ring, but also a nagging shoulder injury. Lawsuits were filed against Pacquiao and his management team for failing to disclose the injury before the fight, but the cases were dismissed.