Florida Casino Boat Entices New Guests with Freebies and Discounts Days After Deadly Fire
Posted on: January 18, 2018, 05:00h.
Last updated on: January 19, 2018, 03:15h.
The Florida casino boat Tropical Breeze is back open for business less than four days after its shuttle vessel that previously carried patrons from port to the floating casino caught fire and led to the death of one person. The horrific event took place during the casino's Sunday night departure on Jan. 14.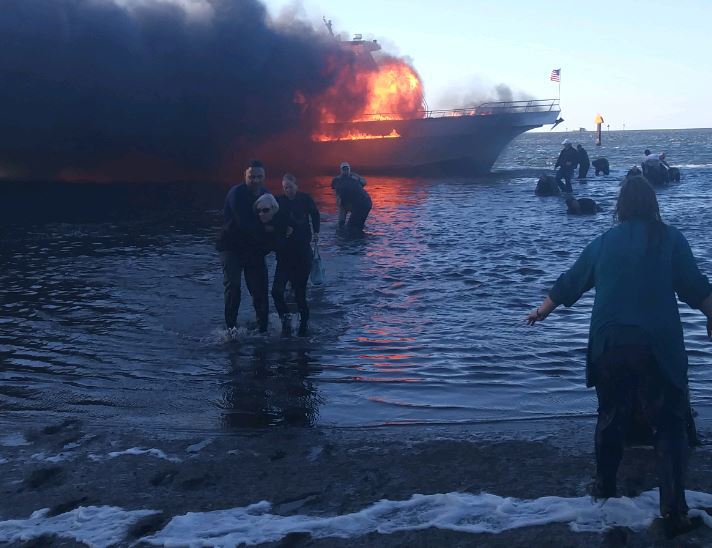 All 50 passengers and crew aboard the shuttle were quickly forced to jump ship after it erupted in flames just moments after the vessel departed Port Richey, Florida. Evacuees swam in chilly, albeit shallow, Gulf of Mexico water about 100 yards to shore.
More than a dozen people were transported to a nearby emergency center. A 42-year-old widow and mother of 12-year-old twins later died as a result of her injuries. A GoFundMe campaign has raised nearly $24,000 for the deceased's family.
Now just four days later, the Tropical Breeze has its seafaring casino back up and running. With the shuttle damaged beyond pair, the casino ship began picking up passengers in Port Richey this morning. Once the boat is at least 12 miles offshore where Florida laws no longer govern gambling, the slots and table games can start taking wagers.
PR Response
To entice customers, the Florida casino company is advertising on its Facebook various incentives including free boarding, up to $10 in free play credits, table minimums as low as $3, and up to three free drinks.
Despite advertising about its casino boat returning to operation and trying to attract guests aboard, Tropical Breeze has said nothing on its website or Facebook page regarding the tragedy. WFLA, Tampa's local NBC News affiliate, said the casino is encouraging guests who were injured in the fire to get in touch with the company regarding their medical bills.
Tropical Breeze isn't the first casino boat to run amuck in controversial public relation mishaps. Last April, the Jacks or Better Texas casino boat seemingly asked if it should fire one of its captains after he struck a jetty and scared passengers.
Checkered Past
The Tampa Bay Times is reporting that the Tropical Breeze has a long-troubled past, and the owners of the boat have some rather incredulous ties. The newspaper says the casino has switched names numerous times over the years, and has used such identities as SunCruz, Paradise of Port Richey, Pair-A-Dice, and Port Richey Casino.
Owners Alex and Mollie Kolokithas allegedly have a rather strong political influence in the area. And according to Tampa Bay Times writer Zachary Sampson, the Kolokithas previous business associate, South Florida millionaire businessman Gus Boulis, was murdered by a mob hitman in 2001.
In 2004, then known as the Paradise of Port Richey, one of the shuttle boats also caught fire. Fortunately, the vessel had just unloaded passengers at the casino and only two crew members were forced to evacuate.
Four years later, the actual casino boat was found to be out of compliance with Florida environmental regulations.
The US Coast Guard is investigating this week's shuttle fire.
Similar Guides On This Topic
Most Read

Latest Casino Stocks:
Retrieving stocks data...
Retrieving stocks data...
Retrieving stocks data...
Retrieving stocks data...
Retrieving stocks data...