Flamingo Hotel Alleged Robber Assigned Trial Date for Pistol-Whipping
Posted on: November 14, 2023, 08:07h.
Last updated on: November 15, 2023, 03:00h.
A convict pleaded not guilty last week to charges he allegedly pistol-whipped and robbed a woman earlier this year in a room at the Flamingo Las Vegas Hotel & Casino.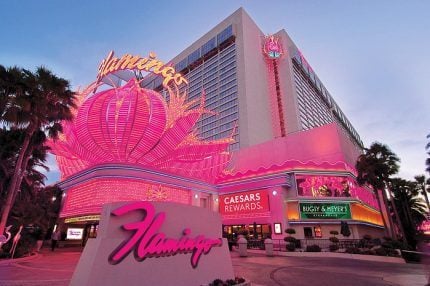 A Clark County grand jury returned an indictment against Quavaus Williams, 37, for the August 19 holdup. His trial is scheduled to start next April.
Williams is charged with residential burglary while in possession of a firearm, robbery with the use of a deadly weapon, discharging a firearm within or from an occupied structure, and another firearm count. 
Williams is currently being held without bail.
In October, he was sentenced to at least two years in prison for an earlier unrelated weapons charge. He's currently serving that sentence at Nevada's High Desert State Prison. He has several other theft and gun charges, according to KLAS.
Bachelorette Party
The unnamed victim was staying at the hotel to attend a bachelorette party, according to Las Vegas TV station KLAS. Williams entered the hotel room after a woman staying there left the door open a crack while she went into the hallway to make a phone call, police said.
Williams walked over to a suitcase belonging to the victim.
I was woken up to a Black male going through my suitcase," the woman testified to the grand jury, KLAS reported. "I stood up and I said, 'Who are you? What are you doing?' Once I realized there was a man in the room I walked around the bed, walked towards him and that's when he pointed the gun at me and said 'I'll [expletive] kill you.'"
Williams then demanded her phone and wallet, the victim said.
I walked around to my bed realizing that was where I left my purse, grabbed my wallet, I handed him my wallet and then he punched me in the face with the gun," the woman further testified.
She suffered multiple fractures on her nose and elsewhere on her face, KLAS reported.
The victim fell onto the floor from the impact. That's when the gun discharged, shooting a bullet into a headboard before Williams fled the scene.
Las Vegas Metropolitan Police Department (LVMPD) officers were then notified. They identified Williams as the suspect based on the evidence they collected at the scene. Officers later searched his Las Vegas apartment, where they found the victim's phone and other items from the hotel room.
Williams was arrested on August 30.