FanDuel, DraftKings Spend Over $2.75M on Maryland Sports Betting Campaign
Posted on: October 12, 2020, 04:00h.
Last updated on: October 13, 2020, 09:54h.
FanDuel and DraftKings are spending heavily in hopes of adding Maryland to the list of states with legal sports betting.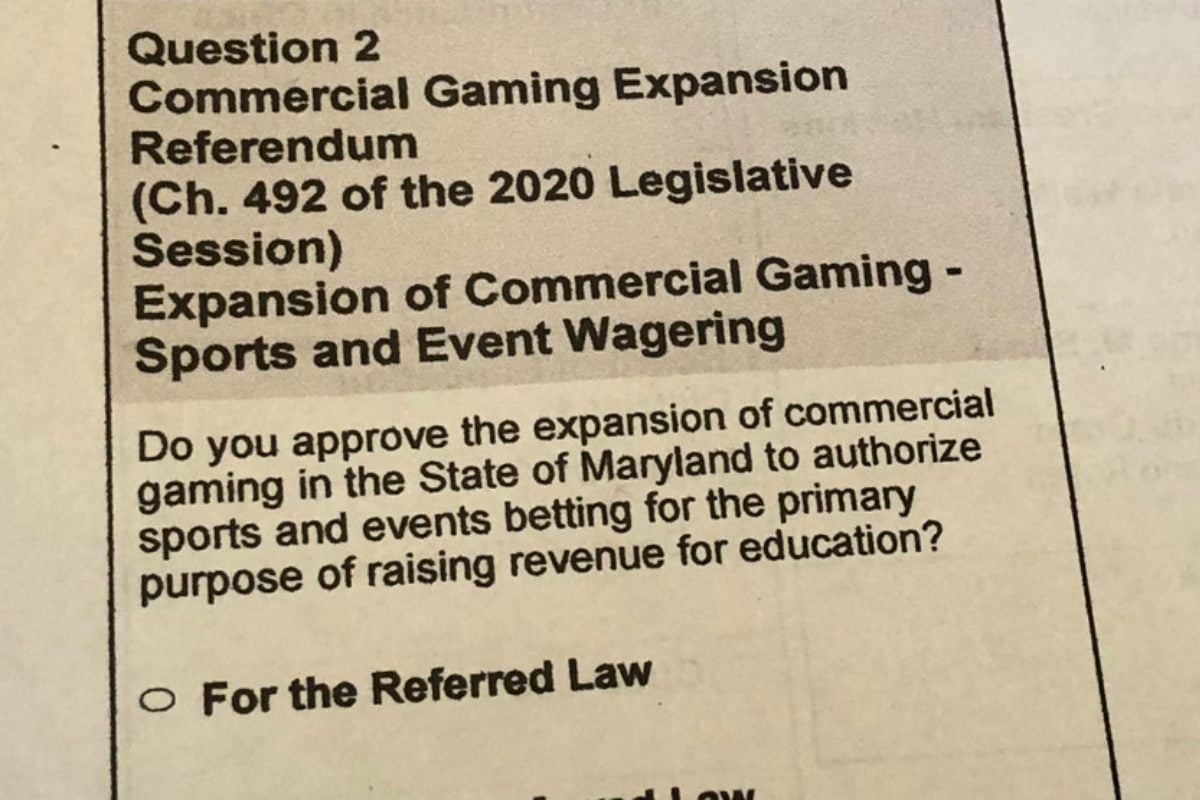 In a campaign finance summary filed last week with the Maryland State Board of Elections, the group "Vote Yes on Question 2" reveals that the two sportsbook operators gave $2.5 million since August.
FanDuel made two contributions totaling $1.5 million, while DraftKings made two donations totaling $1 million. DraftKings had previously given $275,000 to the campaign, bringing the collective donations from the two sportsbooks to $2.775 million.
On November 3, Maryland voters will be asked if they want to legalize sports betting. Only a simple majority is needed for the ballot referendum to pass.
Ad Blitz
Legal sports bets have now been placed in 18 states, including three that border Maryland — Pennsylvania, Delaware, and West Virginia.
FanDuel currently operates in seven states: Colorado, Illinois, Indiana, Iowa, New Jersey, Pennsylvania, and West Virginia. DraftKings is up and running in eight: Colorado, Illinois, Indiana, Iowa, New Hampshire, New Jersey, Pennsylvania, and West Virginia.
With Maryland ranking No. 1 in median household income — residents commanding more than $83,000 a year — sportsbooks see a golden opportunity in Maryland should voters back Question 2.
Per the campaign filing, "Vote Yes on Question 2" has already spent more than $2 million in trying to sway voters. Nearly $1.3 million has been spent on media, including television, radio, and online advertising, as well as robocalls.
The committee has spent $648,800 on direct mailings and $28,000 on yard signs and brochures. $40,500 was allocated to conduct surveys and polls.
As of October 9, "Vote Yes on Question 2" says it has $486,370 on hand.
If Question 2 passes, state lawmakers would be tasked with deciding where sports betting would be legal, how much each sportsbook license would cost, and what tax rate would be imposed on betting revenue.
The state's six licensed commercial land-based casinos would almost certainly be included, and potentially Maryland's three horse racetracks. Mobile wagering is also likely.
The Maryland Jockey Club, which operates Pimlico Race Course, home of the Preakness Stakes, and Laurel Park Racecourse, has donated to another pro-sports betting campaign in Maryland called "Fund Our Future." Horseshoe Baltimore, Hollywood Perryville, and Maryland Live! casinos have also given to that campaign.
"Fund Our Future," according to its own campaign filing, has $32,221 on hand. It is primarily focusing on social media advertising urging Marylanders to vote yes on Question 2.
Opposition Limited
Maryland isn't alone in asking voters if they want to legalize sports betting on November 3. Ballot referendums regarding expanded gambling will go before voters in Louisiana, as well as in certain parts of Virginia.
While there's been opposition to expanding gambling in those two states, Ballotpedia, the digital encyclopedia of American politics and elections, says it cannot find any organized opposition to Question 2.
"Ballotpedia did not identify any committees opposing the measure," the website states.
Goucher College found earlier this year that 49 percent of Maryland likely voters oppose further expansion to the state's gaming industry. However, that survey was conducted long prior to Marylanders being inundated with "Vote Yes on Question 2" advertisements.