FanDuel, DraftKings May Cut New York Spending if 51 Percent Sports Betting Tax Stays
Posted on: January 31, 2023, 11:50h.
Last updated on: February 1, 2023, 04:03h.
Top executives from FanDuel and DraftKings told New York lawmakers on Tuesday their companies will need to make drastic changes to operations in the largest US sports betting market. That's if the state's 51% tax on revenues remains in place.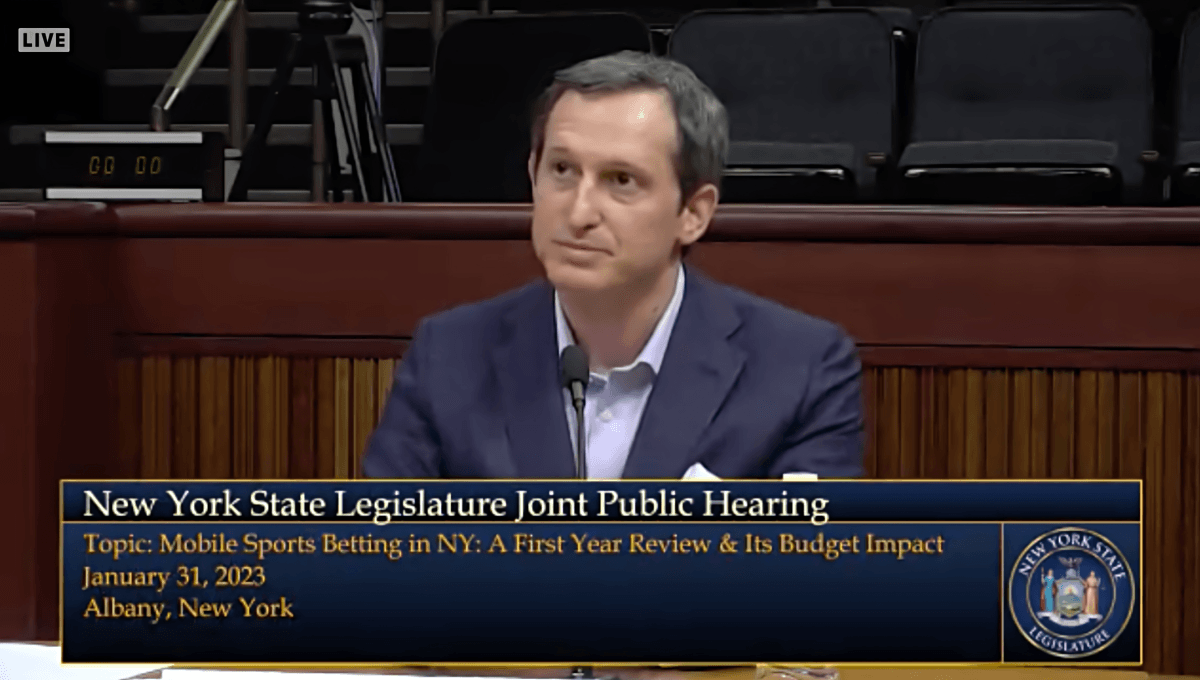 DraftKings Cofounder, CEO, and Chairman Jason Robins, and FanDuel President Christian Genetski testified during a hearing called by state Sen. Joseph Addabbo, D-Queens, and Assemblyman Gary Pretlow, D-Mount Vernon, on the impact online sports betting has had in New York during its first year. Addabbo and Pretlow chair the gaming committees in their respective legislative chambers.
New York state leaders have raved about the first year of online sports betting being a booming success story for the state. More than $16 billion was wagered through the 3.8 million unique accounts registered to the nine licensed operators in the state, and those operators generated roughly $1.4 billion in revenue.
The state received more than $709 million of that, with almost all of that going to fund education. That amount easily eclipsed what state budget officials expected sports betting to generate. However, the two industry giants say that has come at a cost.
While New York produces the highest handles and revenues of any sports betting state, the tax structure, which keeps operators from deducting bonuses as they can in other states, has already created a downward trending market, Genetski said.
"In New York, operators sprinted out of the gate with generous customer bonusing," he added. "Once operators understood how bonuses were being taxed, and it was evident no tax relief was forthcoming in 2022, their approaches immediately changed."
Bettors May See Worse Odds Without Changes
Despite New York being FanDuel's top market, the company has decided to spend less per capita on advertising in the Empire State. In states like Maryland and New Jersey, Genetski said the per capita investment to attract new customers is three times the rate in New York.
The decreases in marketing and promotional spending aren't the only potential changes operators may be forced to take if the tax rate doesn't change.
I think we'd be forced to take the actions, or some set of the actions, we described by making the odds worse for consumers, having the promotions be nonexistent or at least heavily dialed back, (and) cutting relationships with teams and local marketing partners," Robins said. "We would make nowhere near the total amount of revenue and profit that I think we could make in a more favorable setup, but at least we would be able to have a sustainable market."
Addabbo and Pretlow have made proposals to reduce the tax rate to 35% in exchange for additional licenses becoming available. Based on that rate, the sportsbooks would need to produce about $600 million more in revenue in order for the state to receive the same amount of tax dollars it's currently receiving.
That was met with some skepticism by at least one lawmaker.
"If we lower the tax rate and you don't do anything different than you're doing now, that's not going to … that's not going to fix anything," Assemblywoman Carrie Woerner, D-Round Lake, said.
'Counterintuitive' Proposal
Any proposal to cut the sports betting tax will likely meet some resistance in New York. Online sports betting was legalized in 2021 to help the state generate more revenue as it faced potential budget deficits in the billions of dollars. While the federal government provided short-term funding to shore up budgets during the COVID-19 pandemic, the state still forecasts multibillion-dollar budget deficits in the near future.
Genetski admitted that it seems "counterintuitive" to call for a tax cut. Still, FanDuel believes if New York adopted the 35% rate, it would allow the company to invest up to $250 million in advertising and promotional spending in the state. That would help FanDuel land 300K new customers and generate $350 million in gross revenue over three years.
"We want the same outcome the state does," he added. "We want the state to make more tax revenue because that means that our business is growing, and we do believe that by lowering the rate to increase investment, we do get there."
The 51% tax came about due to the negotiations between lawmakers and then-Gov. Andrew Cuomo in 2021. Cuomo had previously resisted calls to legalize online betting but changed his tune as the state needed new revenue sources. He insisted any plan would require sportsbooks to pay at least a 50% tax.
Restaurants Want Kiosks in New York
Should an expansion of sports betting be on the table in Albany this year, the online operators aren't the only ones who want to have a say.
The New York State Restaurant Association (NYSRA) wants to see any expanded gaming bill include an option for kiosks at restaurants and bars.
The restaurant industry is well positioned to take advantage of this burgeoning marketplace and grow New York's sports betting footprint," Melissa Fleischut, president and CEO of the industry trade group, said in a statement. "We understand sports betting terminals and kiosks might not have a place in every restaurant, and expanding available licenses may not be a silver bullet for the industry. However, for those where this is a fit, the additional revenue from on-premises sports betting could mean the difference between closing and survival."
Kiosks have been implemented in places like Ohio and the District of Columbia. NYSRA noted a DC sports bar generated nearly $1.5 million in gross gaming revenue since the start of the current NFL season last September.
Supporting the restaurants and bars in the quest to get in on the action is Elys Game Technology Corp., a gaming kiosk producer. Elys Executive Chairman Michele Ciavarella said New York is "an optimal landscape" for additional retail sports betting outlets.
"Expanding sports betting to the neighborhood sector, as proven in Europe for over 30 years, could play a pivotal role in recovery in the hard-hit leisure and hospitality sector, a vital component of New York City's economy," Ciavarella said. "We believe that fostering a retail market is a question of convenience that would allow a sports bettor the option of patronizing a local restaurant or sports bar while enjoying a sports event, as adopted in DC, Maryland, and Ohio, as well as Canadian provinces while contributing tax revenue for community services and infrastructure."