eSports Innovator Rahul Sood Stresses Importance of Casinos Reaching New Demographic
Posted on: October 2, 2015, 03:06h.
Last updated on: October 2, 2015, 03:06h.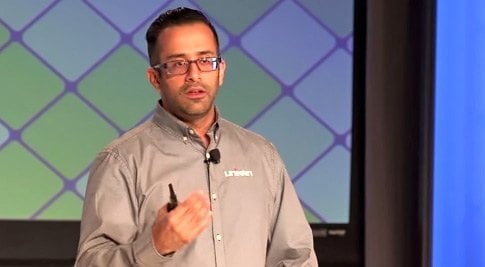 Rahul Sood was yet another speaker at last week's Global Gaming Expo (G2E) that stressed the gambling industry's need to reach out and attract a new demographic of players, specifically a younger audience.
His remarks came a day after Caesars CEO Mark Frissora said millennials are critical to growing casino gambling.
During his Thursday keynote address, Sood argued that the 20 and 30-somethings routinely bypass the casino floor as quickly as they can to reach the nightclub, noting that today "to build a successful casino, you have to build a nightclub."
He places the blame for that truth on the failure of casinos to modernize and adapt to consumer demand, admitting he hadn't been to Las Vegas in quite some time. "In order to change the game, you really have to think outside the box," he said.
Sood is a leader in eSports gaming, a rapidly growing entertainment sector that brings players and fans alike to arenas for competitive video game playing.
His latest venture is Unikrn, an eSports wagering service.
Pull The Slots
Among the most criticized elements of Sood's address was that of conventional slots, a medium he feels is outdated and has little interest among young adults.
"The Britney Spears slot machine?" Sood pondered before addressing skill-based slots. "You earn free spins … What's up with that?"
His comments seemed to echo Frissora in that overall casinos have failed to market the millennial generation and that the group is disinterested with traditional casino games.
Unikrn is on the forefront of captivating that new untapped population of gamers. Sood told the audience that eSports is where gambling is headed, and his industry has already attracted sponsorships from Fortune 500 companies including Coca-Cola and Qualcomm.
Betting on eSports
The top video game players are earning upwards of $60,000 per competition, and 205 million people watched eSports last year according to Sood's statistics.
"Millions of people watch other people play video games all around the world," Sood said during a recent interview with Triple J, an Australian radio station. "Not surprisingly, bookies want in … they want to make money on eSports."
Similar to the success of daily fantasy sports (DFS) operators DraftKings and FanDuel, Unikrn serves as an online platform for users to place bets on the outcome of video game matches.
The company has received investments from "Shark Tank" personality and Dallas Mavericks owner Mark Cuban, as well as from actor Ashton Kutcher. The site has signed up seven million users to date.
A recent study performed by Eilers, a California-based interactive gaming research firm, eSports wagering will reach "over a quarter of a billion dollars" in 2015 and is predicted to exceed $23 billion by 2020.
eSports betting is currently illegal in the United States, something Sood takes issue with considering DFS' legality loophole.
Should his company find a way to provide Americans with the ability to bet on "League of Legends," "Call of Duty," "Counter-Strike: Global Offensive," and more, the industry could bring those massive revenue projections into reality.