England's Premier League Wraps Sunday with Manchester United-Leicester City Highlighting
Posted on: July 26, 2020, 03:25h.
Last updated on: July 27, 2020, 02:31h.
While major league sports are just getting started again in the United States, across the pond, soccer fans in England are preparing for the final match day of the Premier League season on Sunday.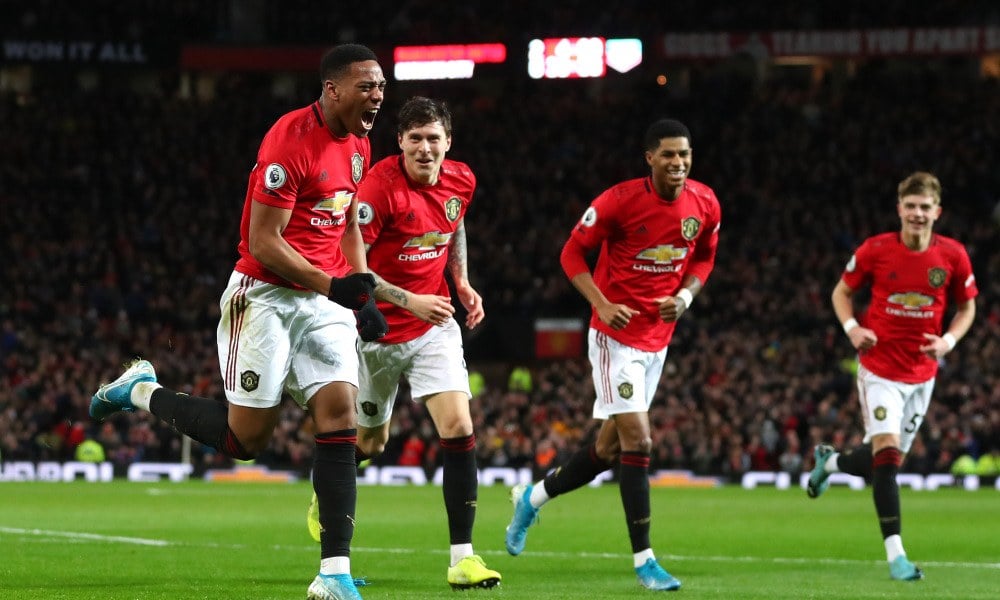 As is custom, all 10 games will start at the same time, 4 pm BST (11 am ET).
There is no drama at the top of the table. Liverpool essentially had the league trophy salted away when EPL suspended the season in mid-March, and Manchester City had long ago secured second place in the table. However, just two weeks ago, ManCity scored a crucial victory in the Court of Arbitration for Sport when a three-person panel overturned a two-year UEFA Champions League (UCL) ban.
ManCity's gain will likely end up being either Manchester United, Chelsea, or Leicester City's loss. Those three teams are log-jammed in third, fourth, and fifth place respectively, and only one point separates United and Chelsea (63, each) from Leicester (62).
Further, United and Leicester have better goal differentials (+28 each) than Chelsea (+13), and that stat, which is the league's first tiebreaker, could very well come into play come Sunday evening.
That's because Leicester will host United in the season finale, while Chelsea will look to earn precious points at home against a hungry Wolverhampton Wanderers squad that sits sixth.
United secures a UCL spot with a win or draw against Leicester, and they can also back into a spot if Chelsea loses. Leicester gets a spot with a win or a draw against United, coupled with a Chelsea loss. Chelsea needs a win or tie or a Leicester loss to claim a UCL spot. However, Chelsea's still alive in this season's UCL knockout stage and could earn a spot by winning Europe's most prestigious team award.
Meanwhile, United and Wolverhampton are competing for a Europa League title this year as well, and that could also get either team into the Champions League for next season.
Oddsmakers Back United
Despite being the road team, Manchester United is the favorite. According to oddsFire.com, United's odds range from +115 at Wynn Resorts to +123 at PlaySugarHouse. Leicester's odds vary from +210 at Wynn to +235 at SugarHouse.
Odds for a draw go from +230 at Wynn to +255 at SugarHouse.
United has not lost in Premier League play since dropping a 2-0 decision to Burnely back on Jan. 22. Since Jan. 1, the squad made up a 14-point deficit to surpass Leicester in the standings. But that stretch of dominating play could go for naught if they slip up on the road.
Still, manager Ole Gunnar Solskjaer likes how his team is performing right now.
You just have to trust yourself, go and enjoy it, of course be focused and prepare as well as you can, and you know that when you walk off the pitch, you've done everything you can to help the team," Solskjaer said.
The manager, though, cautioned against looking forward to a UCL spot.
"Now is not the time to think about that at all, though. Now it's time to think about getting this game played and winning it," he said.
FA Cup, Euro Contests Remain
While Sunday is the last day for the Premier League, several English soccer teams will continue playing next month as the FA Cup, Champions League, and Europa League will be decided.
DraftKings lists ManCity as its second choice to win the Champions League. It's +375 odds are right behind the +350 odds offered Bayern Munich.
Chelsea is also alive, barely, in Champions League, as it must make up a 3-0 deficit against Bayern. The two teams play their second and final leg of the quarterfinal match on Aug. 8 in Munich.
Europa League play resumes on Aug. 5, and in futures betting, DraftKings lists Manchester United as the favorite at +150. Wolverhampton is the co-third choice at +800.
Next week, Chelsea is set to face Arsenal, as the two London squads meet in the FA Cup at Wembley Stadium. DraftKings lists Chelsea as the +120 favorite to win the cup, with Arsenal at +230. That's also the same odds as the match ending in a tie.
Similar Guides On This Topic
Latest Casino Stocks:
Retrieving stocks data...
Retrieving stocks data...
Retrieving stocks data...
Retrieving stocks data...
Retrieving stocks data...